Jesus said, "For where two or three gather in my name, there am I with them" (Matthew 18:20 NIV). There was no Internet when Jesus said those words, but He certainly knew it was coming! And here we are today praying for each other around the world.
This Prayer Wall is a safe place for two or three or more to gather in Jesus' Name and pray for each other. God invites us to participate in the unleashing of His power by praying and turning the key to the storehouse of heaven's door for blessings outpoured. The Prayer Wall is here for us to pray for each other, and to share praises with each other.
Let me also say what the Prayer Wall is not. This is not a place to vent. Whether it is venting about husbands or politics, this is not the place to do it. It is not a place to disparage others, embarrass others, or disrespect others in any way.
The Prayer Wall is not a place to give advice. Let's let God be the One to give advice to our sisters. Our job is to pray and we never want human advice to interfere with God's direction.
We don't need to tell a lot of details about certain situations. God already knows the details, and we wouldn't want anyone to post something she would later regret. Therefore, some details maybe edited out.
Each prayer request will remain on the Prayer Wall for 60 days and will then drop off. If you would like for this amazing community of praying women to continue praying for a certain request, simply enter it again.
I am so excited to see what God will do in each of our lives!
Blessings!
Sharon
---
---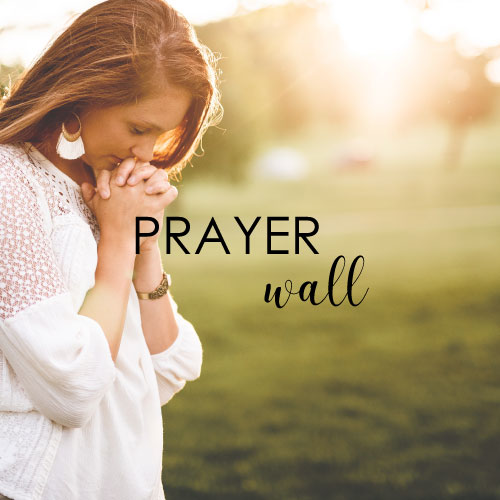 I pray for my two grown kids and my son letting me see my grandbabies.

I pray for the homeless of my community and my state and my country.

I pray for my fiance\'s

To be confident and exhale from any fear and anxiety in my life which prevent me to succeed.

Please pray for me. I need to own a house.

I pray that my daughter can discern God's will in her broken marriage.

Pray for our young adult sons to find Godly women as wives. Pray that they will draw closer to Jesus.

Lord please help my 26yr old daughter with her health, please heal her and put a good dr. Be the almighty God and stop her bleeding. Not knowing what\'s causing her health issue hurt me. Need prayers for her to live a healthy and better life. Tha k you.

In the past four months my daughter has told us that she is attracted to women and has moved out of our home and in with a woman. I am devastated. Our whole family is grieving this and is broken.

Please pray that any bondage is broken, that she hears Gods truth and seeks forgiveness. Her name is Hope. She knows God.

That my marriage will heal and we can continue to work on our blended family. For the conflict to stop between children. For our financial situation change and us to get ahead.

My 14 year old granddaughter has anorexia nervosa and struggles with eating. She\'s been hospitalized and is working through an eating disorder clinic. But the pain in her heart and mind when she eats breaks this Nonna\'s heart. Please pray for God to rescue her from this horror.

I have a herniated disc in my lower back that is pressing on some nerves that go into my hip area, derriere, and leg. I am considering surgery to fix it because it has gotten to the point that the extreme discomfort is messing with my daily activities. I would request prayer for peace for me about the surgery and that the operation goes well and the disc can be completely healed.

Thank you!

Praying for husbands surgery and recovery to go smoothly.

My son Cody was very devoted to following Jesus. Two years ago he met a very aggressive girl who was determined to get what she wanted. She had no religious up bringing or knowledge of the truth or way. Instead of her coming to God he's moved away some. His views and personality have changed since meeting her. They just got engaged and no one not even his friends like her for many reasons none being good. He cannot see her for who and what she's is really like. I ask for prayer for Gods will, her salvation and that if she's not going to come to know Jesus as her savior and walk along side of my son in the Lord that He would open my sons eyes to the truth and remove her from his life before the marriage next year. Thank you for your prays from a mom with a very heavy heart. Gods Blessings!

My Husband is recovering from cancer, I ask for prayers for his awakening-to trust God through his healing, to make him a better Christian, husband and father- he worries too much about his adult brother, needs to let him grow up-put his brother in God\'s hand and leave him there; asking God to strengthen our marriage-renew the relationship, put us on the path to pray together, to love one another as Christ has ordained.

After a recent move to another state, I need new true friends! And stable health as migraine and cardiac conditions are not currently controlled. I need strength and support as I try to provide a safe, loving, atmosphere of opportunity, peace, joy, and fun for my young grandchildren.,who\'s home life is stressful.

Thank you for praying for me!

I pray the Lord helps breaks the bondages of anger and addiction from my family

Please pray for complete healing and a smooth recovery for my daughter, Izabella. Please pray for Mathias to adjust well to his new home and to be happy there. Thank you so much!

My son is struggling with major depression and anxiety. In addition, he has struggled with Anorexia for the past two years and no one seems willing or able to help him. Please pray for Jesus to give mercy and relief from his struggle and put someone in his path that will spark hope in him. Please pray to remove Satan's hold and blinders and finally, for the Holy Spirit to make him open to hear the message and he will see the goodness of God. Thank you for being a prayer warrior and for sharing the love of Jesus.

I was diagnosed with Stage lV lung cancer in April please pray for healing . My son is in prison and taking this news very hard he does know the Lord , thank you

Please pray for my son that has a gambling addiction. He's doing well, right now. Please pray that this will continue, and he will trust God to give him that strength he needs to never gamble again! Also, my husband of 51 1/2 years, went to be with the Lord, last September. Please pray for strength for me. This is hard...I miss him so much. Thank you all sooooo much!!

Prayer for healing. In a lot of pain. Doctors are trying to find out whats wrong. they are thinking auto immune disease just not sure which one.

Fourth time diagnosed with cancer and struggling to remain positive this time around. Different type of cancer with painful physical symptoms. Dont know what to prayer for any more. Trying to keep my faith strong and turn over to God. Need continued strength, endurance and positivity to get thru this.

First, thank you for this unbelievable platform and I pray for continued spiritual growth and blessings for you all. I would like to request prayers for my doubt. I believe I am in a season of holding. Nothing is happening and I have a spirit of impatience which is growing into bitterness. I lost my husband and Dad 4 years ago and will live with the grief of their loss for the rest of my life but I don\'t want that to be an excuse. I thank you in advance for your prayers and may God continue to bless you all and your families.

A friend had a massive heart attack only 37

Her name is Heather

She had surgery and needed a trach she is still not out of the woods

Also for my dad he is still struggling with the loss of my mother in January

Healing of my granddaughters heart along with strength and endurance for my son and DIL. Also praying that as my oldest son enters into his marriage, he feels Gods presence and pours that into his relationship with his future wife and their relationship grows stronger with the Lord.

Lord, I come to you and pray for my husband, Mark, as he is working so hard to find suitable employment. Be with him today Lord during his interview and everyday as he navigates the next steps in his career.

That God continue to work thru me so that my children will want to have a better relationship with our God. That He grows my relationship with Him more and more. In Jesus Name Amen

For the Lord to make a way for me to minister to young adults about the importance of godly dating/waiting for marriage. I have felt a gentle tug on my heart that I believe is from the Lord. I pray that the Lord will speak to me and guide me on how to use my past mistakes, that the enemy tried to use for bad, and with God\'s help to turn the bad around to make it good and to give God the glory.

For my daughter to receive the right job offer soon and be healed from the past.

My mother had knee surgery on June 28. She just isn\'t bouncing back very good. She physically is doing well. Her knee is healing good. She is just worried about falling and is just not using it very much like she should. If you could pray that she overcomes her fear and starts really moving.

Thanks.

Praises that my daughter (Kim) has a new job after being let go from another job due to funding.

Prayers that she find peace and success in this new job.