Sign up for updates and receive the Enough: Silencing the Lies that Steal Your Confidence Coloring Book Journal.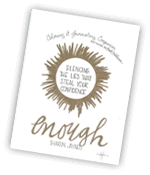 Welcome
to my website. It is my hope that you will be encouraged in your journey to become all that God has created you to be! Grab a cup of coffee and browse the pages of my "home." I invite you to visit often! The door is always open. The welcome mat is always out, and fresh insights from God's Word appear daily.
Join Sharon for the FREE
---

---
7 days to transforming your thought life by replacing the lies that
steal your confidence with God's truth.
---
---
featured post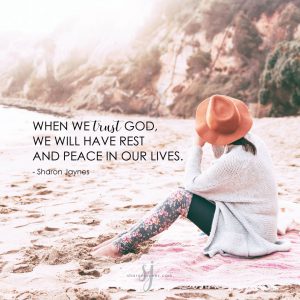 Sit Down and Be Quiet
Have you ever noticed this pattern in the gospels: the disciples get in a bind and Jesus bails them out? Hmmm. It sounds a little bit about my life. How about you? In John 6:1-15, we find the disciples in a precarious situation. Their lawn party had turned into quite a bash. The guests far exceeded their expectations, the disciples …
---
---
Her passion is to encourage, and empower women to walk in courage and confidence as they grasp their true identity as a child of God and a co-heir with Christ.
---
---