Sign up for updates and receive the Enough: Silencing the Lies that Steal Your Confidence Coloring Book Journal.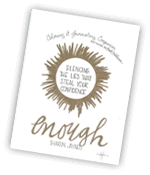 Welcome
to my website. It is my hope that you will be encouraged in your journey to become all that God has created you to be! Grab a cup of coffee and browse the pages of my "home." I invite you to visit often! The door is always open. The welcome mat is always out, and fresh insights from God's Word appear daily.
Join Sharon for the FREE
---

---
7 days to transforming your thought life by replacing the lies that
steal your confidence with God's truth.
---
Sign Up Now!
---
featured post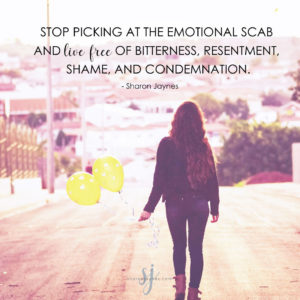 The Scab You Won't Stop Picking
Five-year-old Brooke was sitting in the backseat of a minivan while her mom and I ran errands. "Mommy," she asked, "Is it worse to pick a scab or pick a mosquito bite?" "You shouldn't be picking at either one." her mom replied. I glanced back at Brooke as she tried to wipe away the bloody evidence that she'd done both. …
---
---
Her passion is to encourage, and empower women to walk in courage and confidence as they grasp their true identity as a child of God and a co-heir with Christ.
---
Learn More
---