Jesus said, "For where two or three gather in my name, there am I with them" (Matthew 18:20 NIV). There was no Internet when Jesus said those words, but He certainly knew it was coming! And here we are today praying for each other around the world.
This Prayer Wall is a safe place for two or three or more to gather in Jesus' Name and pray for each other. God invites us to participate in the unleashing of His power by praying and turning the key to the storehouse of heaven's door for blessings outpoured. The Prayer Wall is here for us to pray for each other, and to share praises with each other.
Let me also say what the Prayer Wall is not. This is not a place to vent. Whether it is venting about husbands or politics, this is not the place to do it. It is not a place to disparage others, embarrass others, or disrespect others in any way.
The Prayer Wall is not a place to give advice. Let's let God be the One to give advice to our sisters. Our job is to pray and we never want human advice to interfere with God's direction.
We don't need to tell a lot of details about certain situations. God already knows the details, and we wouldn't want anyone to post something she would later regret. Therefore, some details maybe edited out.
Each prayer request will remain on the Prayer Wall for 60 days and will then drop off. If you would like for this amazing community of praying women to continue praying for a certain request, simply enter it again.
I am so excited to see what God will do in each of our lives!
Blessings!
Sharon
---
---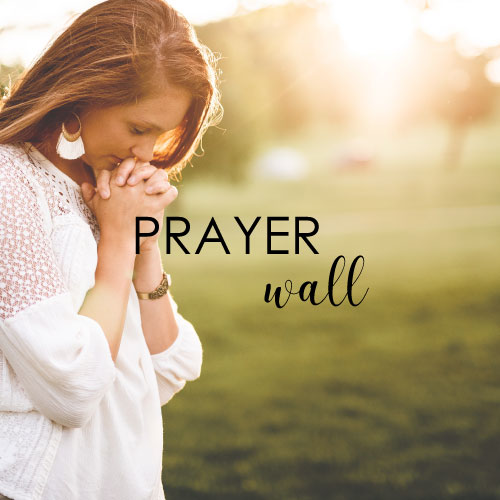 Please pray for my husband (employment), my marriage, my children and the respective spiritual warfare we are all experiencing. Please pray that the Holy Spirit will be near to us and guide us through everything.

Thank you

Please pray for me and I repent that God let me live and not die. I seen some one plotting my demise and had a gun like a drive by shooting and I was up a a store to take my life. Please heavy prayer. Haven't happen yet.

Several people are involved.

Please pray for both of my children who are experiencing trouble in their marriages.Both marriages have mental health, physical, spiritual and financial health issues. Also pray for the grandchildren who are taking all of this in. Thank you. Karen

Please pray for my unequally yoked marriage of 27 years. We are living together, but are separated spiritually, emotionally and physically. Our teen children notice and are affected by the distance and coldness my husband is displaying. Praying for God's hand to restore us, open hearts and minds if it is in His will. I can't imagine He would want to see another marriage broken by divorce. Thank you.

Please pray for my unequally yoked marriage of 27 years. We are living together, but are separated spiritually, emotionally and physically. Our teen children notice and are affected by the distance and coldness my husband is displaying. Praying for God's hand to restore us, open hearts and minds if it is in His will. I can't imagine He would want to see another marriage broken by divorce. Thank you.

Please join me in praying for my husband who is a non believer , or should I say, not a follower of Christ. We have two vulnerable children ages 10 and 15 who watch us everyday. Please pray that the holy spirit would convict him in Jesus Name, Amen!!! Thank you

Praying for my husband Rick. For him to remember our marriage vows. For him to seek God's directions, and to be a good example for our son. The lies infidelity, neglect and generational chains must be broken in Jesus's name.

Hello. I'd am requesting prayer for my marriage. At times my husband is abusive and he gambles. We've been married over 9 years. He's better than in the first several years but every now and then tha spirit creeps in. Mostly verbal and emotional abuse but I at the end of my rope.

Hi. Please pray for my healing. Thank you, Darko Irgolič

May you please pray that the Lord will permanently remove the individuals from my life who have been violating me. Thank you for your prayers I sincerely and deeply do appreciate it.

Please pray for me (indah) i am in the verge of losing hope and faith in Jesus. As many years i have prayed and it all got even worse.

Please pray so that i am at age 42 will be able to be married and have children despite my age. Please pray also so that i can move to overseas and work independently and be financially independent and have a place of my own.

as i am still living with my parents. being asian woman not allowed to move out of house unless married.

Please pray for healing of my father from stroke so he can walk and from diabetes.

Thank you for praying for me. God bless you

Please pray for my daughter, Lily (she will be 8 tomorrow). She had surgery almost 2 weeks ago and is in bad pain still. No medicine will help. Thank you so much

Pray for Chaska as he continues to engage in an adulterous affair. He doesn't go to church anymore, and his mistress has helped to turn away from his walk with the Lord. Pray for the strongholds to be broken from his life and that he has strength to let his adulterous affair go, and return to his true relationship and walk with the Lord.

Please pray for my daughter Mary Elise. She is 38 and so desperately wants to be married and have children. She has been divorced for 8 years. She suffered abuse in this marriage. I believe God can send her a Godly man without being on the dating sites. Please pray God will bless her with a Godly husband. She is a beautiful Christian women that love the Lord. She is an elementary teacher in SAvannah, GA

Hello everyone,

May I ask you to please stand in agreement for my healing.

Interstitial cystitis, fibroids in uterus, anemia, leaky blood brain barrier, central nervous system damage and in fight flight, auto-immune issues (mast cell activation syndrome), eyebrows falling out (alopecia), pelvic organs to receive a creative miracle due to botched surgery which has affected other organs. It would be most wonderful to receive a miracle from the top of my head to the soles of my feet :).

I would very much appreciate your help.

Many thanks

God soften my husbands heart. Pray for healing and deliverance to set his captive heart free in Jesus name. Strengthen our marriage and communication.

Heal my shoulder joint, fibromyalgia, blood cancer and anemia. help to be absorbed in the prayer ministry. Thank you,

Dawn

My husband and I lost our first baby to miscarriage a few months ago. We have begun trying again and I am pregnant! This is a tremendous gift but I am also praying against fear or anxiety. Please pray for an overflow of hope and peace and that I trust God fully. The enemy tries to cloud me with fear and anxiety and I do not want this baby, or this pregnancy to be marked by fear but instead with an unshakable hope and trust in the Lord.

In 2023 I want to set my eyes on God and get to know him even better than I ever have before. I pray that I keep my focus on Him and remember that I can do All things through Christ who gives me strength. I pray that I give Him full control of my life and stop trying to control things myself.

My husband has been sick and needs healing. Doctors are unable to diagnose and treat properly. He's having a lot of pain and procedures. Thank you for praying. He's in hospital today.

Praying God will restore Leland's life whole and grant favor & blessings upon him in All aspects of his life. Praying for reconciliation of his father son relationship w/ his dad & our family unit to reconciled whole.

I'm having nothing but roadblocks to getting access to my trust fund or inheritance. I'm getting denied at banks even after doing probate. I have one other bank that has offered to help me and I am desperately praying that they allow me access to my money. I have a house to repair and bills to pay

Please pray for my husband Gene & his adult daughter Melissa that the Lord send a miracle into their relationship now & that God grant them repentance leading to knowledge of the truth & they may come to their senses according to Timothy 2:24.

I am praying that the Lord provides all of my needs. I need to get approved for disability this year (as soon as possible). I've been sick for over 5 years. I have a condition where I cannot eat or drink properly, I'm not able to work as much as I need so my expenses are a burden. I pray for no delays!

My brother Vernon has very low bp and is fighting for his life.

Tysssm, for extending kindness to him with your faith-filled PRAYERS!

God bless you all!!

Hi please pray for me and my family I've recently fell away into my old ways and I didn't obey God's word when he was telling me to repent and pray now I feel that I've drifted too far and now my heart feels far and hard I miss Jesus I don't want to the belief I had in God to be God please pray that my heart be opened and that God isn't done with me or my family yet please my name is Jersey thank you

Shalom!

Kindly join me intercede for the miraculous healing of my brother Vernon Pozon.

He has now been hospitalized and intubated.

Much appreciated!

God bless!

Hello ! I Jacqueline Montgomery Writing Asking For Prayer. I Am Praying God Deliver My Upstairs Neighbors From There Evil Hateful Wicked Ways. This Lady And Man Keep Picking At Me Because I Am Black. I Am A Senior And A Christian And Don't know This Couple. Every Time I Come Home They Start Banging Downstairs And Stomping Across The Floor And Banging On The Walls Because They Hate Me. The 2 Managers Sarah And Maria Will Not Tell Them To Leave Me Alone. This Is So Hurtful And Sad. I Am Looking For Another Apartment And I Pray God Bless Me To Be Approve . Thanks And God Bless

Hi pastor Sharon and all my wonderful brothers and sisters!I desperately need your prayer!I have met a wonderful sister in the LORD sister Gretchen and she like 1 million other Americans is suffering greatly from long covid!It leaves you weak with brain fog and feeling just sick all over!Maybe the worst part is no one seems to care!If she does not get a miracle she has no strength left to fight and we will lose one precious sister!GOD bless you brother Danny 11/17/22

Father God I Declare Divine Breakthroughs and financial blessings be provided for Leland to obtain & maintain steady full time employment, housing & transportation needs. Praying for Gods protection & favor to be upon him to keep him encouraged and positively moving forward.