Jesus said, "For where two or three gather in my name, there am I with them" (Matthew 18:20 NIV). There was no Internet when Jesus said those words, but He certainly knew it was coming! And here we are today praying for each other around the world.
This Prayer Wall is a safe place for two or three or more to gather in Jesus' Name and pray for each other. God invites us to participate in the unleashing of His power by praying and turning the key to the storehouse of heaven's door for blessings outpoured. The Prayer Wall is here for us to pray for each other, and to share praises with each other.
Let me also say what the Prayer Wall is not. This is not a place to vent. Whether it is venting about husbands or politics, this is not the place to do it. It is not a place to disparage others, embarrass others, or disrespect others in any way.
The Prayer Wall is not a place to give advice. Let's let God be the One to give advice to our sisters. Our job is to pray and we never want human advice to interfere with God's direction.
We don't need to tell a lot of details about certain situations. God already knows the details, and we wouldn't want anyone to post something she would later regret.
Each prayer request will remain on the Prayer Wall for 60 days and will then drop off. If you would like for this amazing community of praying women to continue praying for a certain request, simply enter it again.
I am so excited to see what God will do in each of our lives!
Blessings!
Sharon
---
---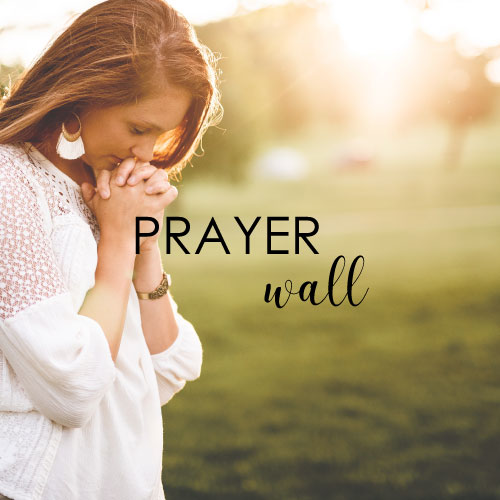 Prayers for my daughter, who has been struggling with RA. She experienced remission during her pregnancy/birth of her 5 month old son. She is experiencing flare ups. She and her husband also have a 4 yr old son , who is speech delayed. Her husband lost his platinum health insurance plan from a company he co-founded.

The stress and anxiety of these other factors is contributing to the flare ups.

Praise God, He is greater than our worst fears! Thank you for holding our family up in prayer.

Lord continue to give me strength and do his will while standing for our marriage. Lord open my covenant husband\'s, Matthew, eyes so that he will return to you Lord and to his covenant family. Some days are more difficult then others and the trials are sometimes overwhelming in this journey.

Today I want to lift up my friends and family whom I love so much. May they be blessed and all their needs be met by the most awesome God ever. And for the friends and family members who have yet to build a relationship with Jesus....may a seed be sowed in your life that you want to come to know our Lord, Jesus Christ. I ask that the right people are put in your life so that you know you need Him. Amen. I also want to lift up my son Steve who is in jail right now due to his addiction to alcohol. Lord comfort him, keep him safe and fill his heart full of hope for a brighter future. Know Lord that I repent if I played even the smallest role in his addiction.....forgive me for being his enabler. I pray that people are put in is life to guide him to a better life with You Lord. Amen and praise Your holy name.

asking for prayers for my daughter. She is a believer but is experiencing extreme anxiety and has difficulty sleeping. She is concerned that it is affecting her employment, which adds more to her anxiety. Am so thankful for all prayer warriors and for the Lord\'s grace.

My daughter is currently suffering from a skin disorder called Lupus. Please, pray for God\'s healing touch to be upon her. Her name is Bae.

Please pray for my right eye to be healed of the cyst that formed without warning. Medical providers have told there isn\'t any more that can be done for me. My eye hurts and I request healing and comfort. Praying for everyone!

I ask for prayers for me and my family....for fears to be taken, for anxiety to be taken, for new paths to be illuminated. We are going through a difficult season, and have been for almost a year. My husband has lost his job and is struggling to get his foot in the door for new opportunities. Any new opportunity will cause our family to have to move to another state/city. Our young children are starting to understand that changes are on the horizon and ask me all the time when these changes will take place and I can\'t answer them. I feel that I\'m in a constant state of anxiety, stress and unknown and it is wearing on me as a mom, wife and professional....I feel like I\'m failing at life right now.

Please pray for my Momma . She has liver cancer and she is having complications from the treatments she received. She is acute kidney failure, has pneumonia, and has about 50pounds of fluid in her body that needs to be removed. I ask that God lights up all her cells with healing and heals her body . Amen

My Son left for Army National Guard basic and he has a wife and 8month old precious baby girl. Please pray for his strength during this time. He was very sad leaving his family behind for 6 months. Please pray that this is what Gods plan is for him S he has wanted this for sometime to serve.

Pray for my 3 great grandchildren. Bad home situation. Possible abuse. They need a safe home environment. Oh Lord deliver them from evil.

Please pray for my daughter. She has decided to drop out of college and move in with her boyfriend. Please pray that she goes back to school to finish her education. Please pray that she comes to trust God with her life and move out of her boyfriend\'s house. My heart is broken. Thank you.

Thank You for being here for us & making a place to feel comfortable in asking for other prayer warriors to help us in prayer, no matter what it might be. I\'m asking for prayers of guidance for my son, he surly needs to find GOD but is reluctant to fully believe in GOD\'S power. He is thinking that he can do it all himself and is conformed to the \"world\'s\" theme of \"take care of # 1\", which is himself. I ask for prayers that he will find the comfort of trusting in GOD and letting Him lead his heart and soul. Thank you all, Blessings to your day... 🙂

I am new to this. I am not use to ask for prayer for me. My depression is very deep for the last few days. My doctor is taking me down on some meds. Not sure if that is it or the fact I haven't been able to talk about some things to her because she is always talking about her church where she is a Pastor. I zoom it.

I have had a couple of surgeries on my nose. It is still sore. I think the rain might be the cause of this. I have had to go male Doctors I have another new one Friday Ear. Doctor. Neurologist tomorrow. I had her once and she does not have a good bed side manner. Anxiety high. Thanks for any prayers. ❤️

Healing for my brother who is hospitalized, strength for my sister-in-law who is with him at the hospital and God\'s love/presence/peace/understanding/help for my 11 year old nephew who is with me and can\'t see his parents.

A family has lost their 16 year old son in a car accident. Prayers for them during this difficult time.

Please pray for protection over my son who is a fire fighter in California as he has been fighting so many wild fires and please pray for him to loose his desire to drink too much alcohol. Thank you for your prayers.

for my single granddaughter (24) having a baby girl mid September

and my grandson (27) who thinks he is gay and not living a Godly life

and granddaughter (18) going off to college for the first time

Hi I was needing to ask for prayer for my soon to be daughter in law\'s Mother her name is Connie she has Covid 19 and is in ICU

and on a ventilator please pray for her complete healing. thank you

Jackie Prue- cancer

Donna White- cancer

Beverly Curlings- cancer

Bill Tucker- heart, back, liver

I pray for healing and restoration in my health.

Praise God and thank you for your prayers.

In the matchless name of Jesus, Amen

My landlord, Bud, will be getting treatment for skin cancer located directly under his left eye. Please pray that all cancer is removed with this treatment.

Also, he isn't a Christian but upon learning that I am (I just moved in a few weeks ago btw) he has been bringing up biblical and spiritual topics. I know the Lord is going to save him, it's just a matter of time, but please pray that the enemy is bound and does not steal any truth that Bud received from the Lord.

Thank you and God bless

I need prayer for my son. He seems lost as to what is the next step after graduating High School. He seems to have lost his confidence and I do not know how to help. As a mom I want to \"fix it\" but I feel it is now time for him to seek God\'s plan for his life. I know God has a plan for him, he just needs guidance.

Today I pray that my mother's surgery is successful. She is 83 and is having her stomach removed due to cancer. She is at peace with the Lord's will. Although I'm not ready for her to leave this earth I know she is is God's hands. Please give me the peace and understanding should the Lord decide it it time for her to join him in heaven.

Today I ask prayer for the daughter of my friend. Lucille is an adolescent who has a recurring Giant Cell Granuloma Tumor that has put her life in danger.

Please pray that I can fight the darkness with God's strength and be able to determine my next steps by reading His Word and listening to His voice.

My husband and I are considering a big move. I am nervous about being impulsive and reactionary, but I also want to trust my husband hears from the Lord as we consider our options.

Prayers for my sister in law who is completely disabled due to B1 deficiency and a brain tumor. She was healthy 6 months ago but now she has 24/7 care. She cannot do anything for herself , but feed herself. Praying for a miracle that her doctors will help find the root cause and help her body and brain to heal. Prays her husband can allow suggestions to let others help him more. Prayers for God to continue to him strength- faith- comfort to deal with all the many things he has to do for her, as well as care for his health.

My landlord, Bud, will be getting treatment for skin cancer located directly under his left eye. Please pray that all cancer is removed with this treatment.

Also, he isn't a Christian but upon learning that I am (I just moved in a few weeks ago btw) he has been bringing up biblical and spiritual topics. I know the Lord is going to save him, it's just a matter of time, but please pray that the enemy is bound and does not steal any truth that Bud received from the Lord.

Thank you and God bless

Prayers for our son who is having back pain and is unable to work due to severe pain in lower back- legs and feet. He is 33 and just bought his first home. Prayer to be referred to the doctor who God has planned to help heal his issue and bring him back to good health.