Love is patient, love is kind…it is not self-seeking, it is not easily angered, it keeps no records of wrongs, (1 Corinthians 13:4-5, NIV).

She was at it again. Mrs. Barnett was getting out the scorecards and tallying up the points.
I sat with an older woman as she began enumerating her family's shortcomings. "Callie never comes to see me," she began to complain about her granddaughter. "And she never calls me either. I saw her sitting on the other side of the church last week and she didn't even come over and give me a hug."
"Benjamin is just as bad," she continued, talking about her grandson. "He never comes by unless he wants something. I never hear from him, but if he wants money for a mission trip you better believe I get a letter. He's just like his father," she continued. "He never pays any attention to me unless he wants something."
Throughout our time together, Mrs. Barnett mentioned several family members and friends who had disappointed her, who had not lived up to her expectations, and who had not given her the love she "deserved." The more I listened; the clearer a picture began to take shape in my mind.
I envisioned Mrs. Barnett with a big stack of scorecards. At the top of each card was a name: a grandchild, a child, a friend, a pastor, and yes, even one with my name printed across the top. If someone telephoned her, they got 1point. If they stopped by for a visit, they got 1 point. If they gave her a hug without being asked, they got 1 point. If they told her she looked pretty, they got 2 points.
However, if they did not show the proper display of affection, they lost 5 points. If they did not come by for a visit within the expected amount of time, they lost 5 points. If they did not send her a card on the appropriate days, they lost 5 points. Birthday cards, Christmas gifts, phone calls, visits, etc, were all tallied on mental scorecards for later retrieval. She was very busy keeping track of all the plusses and minuses for each person.
I shook my head to clear away the movie being played in the theater of my mind and tried to pay attention to our conversation. After all, I didn't want to get a bad mark on my scorecard that day.
Friend, let me tell you a great life lesson. As long as this woman keeps mental scorecards on the people in her life, she is going to be miserable. And if you or I keep scorecards for the people in our lives, we will be miserable as well.
First Corinthians 13 says, "Love is patient, love is kind…it is not self-seeking, it is not easily angered, it keeps no records of wrongs," (1 Corinthians 13:4-5).
Love is about giving – not necessarily about giving money or gifts, but giving love. Can I say that again? Love is about giving love. Love does not keep arecord of wrongs or perceived wrongs. It does not involve an accounting tally sheet of debits and credits or scorecards of plusses and minuses. It does not keep a running list of kindnesses to reward those who come out on top and shun those who do not.
Self-centeredness says, "What has that person done for me lately?" Love says, "What can I do for that person today?"
Self-centeredness makes mental lists of how others have disappointed them. Love makes mental lists of ways they can bless others.
Self-centeredness withholds affection and approval from those who don't deserve it. Love gives affection unconditionally because none of us do deserve it.
Self-centeredness says, "Come here and give me a hug." Love says, "Come here and let me hug you."
Can you tell the difference? A ten-year-old certainly can. He or she might not be able to verbalize the difference or even recognize it, but they certainly feel the difference in the pit of their stomachs and in the tenderness of their hearts.
With genuine love, there are no scorecards. I'm certainly glad God tore up mine long ago.
David wrote, "If you, O LORD, kept a record of sin, O Lord, who could stand?" (Psalm 130:3 NIV). Certainly not me!
If God doesn't keep a scorecard, making notes of the ways I have offended Him, disappointed Him, or not given Him the attention He deserves, then why do I think I have the right to keep scorecards on the people in my little world? He doesn't give plusses and minuses and then tally up our cards to see whether or not we deserve His love. So why do we do it to others? God gives and gives and gives, and gets very little in return. Why does He do that? Because He loves you and me perfectly, wholly, and unconditionally.
Scorecards. Do you keep them? Do you keep mental lists of what people do and don't do to deserve your love? If so, you'll never be content or at peace in your relationships. No one may see the scorecards sitting on your coffee table, but they'll know they are there. They will see them in your eyes, hear them in your tone, and sense them in your touch. And there may be a few brave souls who refuse to play the game and decide to bow out of your life altogether.
Here is what I would like to suggest. Tear up the scorecards. Here's how:
Get a stack of index cards. Write one person's name at the top of each card. Start with your children, your grandchildren, your parents, your in-laws, your spouse, your siblings, your pastor. Then move on to your circle of friends. Beside each name, write the words, "Scorecard." For example: Beth's Scorecard.
Hold the stack of scorecards in your hand and pray:
"Dear Lord, I am no longer going to keep a scorecard for ____________. Help me love like You love – unconditionally, with no strings attached. Help me to be thankful for the attention I do receive rather than resentful for what I don't. I do not want to become a bitter old woman that people avoid, but a grateful, graceful lady people enjoy. And Lord, whenever I begin to fall into the old habit of making mental notes of how someone did not live up to my expectations, I pray that You will convict me quickly and help me to replace the negative thoughts with a prayer of thanksgiving. In Jesus' Name, Amen.
After you have prayed, take each scorecard in your hands and tear it into tiny pieces. Now, throw them away. Be free. Be blessed. Enjoy life.
If you actually did this exercise, I'd love to hear about it. Leave a comment and say, I did it!
Want More?
One of the ways we build relationships or destroy relationships is with the words we speak. Words can make or break a marriage, encourage or discourage a child, draw in or push away a friend. If you would like to tame your tongue and learn how to use your words to speak life into those in your sphere of influence, check out my book, The Power of a Woman's Words and accompanying study guide. It is a favorite for Women's Bible studies and small groups.
Click here to comment

5
Finally, brothers (and sisters), whatever is true, whatever is noble, whatever is right, whatever is pure, whatever is lovely, whatever is admirable–if anything is excellent or praiseworthy–think about such things. Whatever you have learned or received or heard from me, or seen in me–put it into practice. And the God of peace will be with you (Philippians 4:8-9, NIV).
Martha was so frustrated with her marriage. She had dreams of marrying her knight in shining armor who would leave flower petals on her pillow, be distracted by her beauty, and pledge his undying love on a regular basis. She dreamed of having three doting, obedient, well-mannered children that she could dress-up in cute little outfits and parade down the church aisle on Sundays. Her tidy home would come with a well-manicured lawn, two and a half baths, and perfectly coordinated décor.
She would be the happy homemaker who joyfully mopped the beautiful kitchen floor in her size six khaki slacks, shabby chic blouse, and stylish haircut. She could almost picture Mr. Clean winking at her from the corner of the room, giving his hearty approval of the smile on her flawless face.
But life had not turned out like Martha expected. Her knight did come along, but his armor began to tarnish soon after they said, "I do." He left his smelly socks on the floor, had a love affair with the TV remote, and hardly noticed all the work she did to keep the house clean and orderly.
Life sure has not turned out the way I thought it would, she thought. I am bored and unappreciated. Romance: that's what I want. This man wouldn't know romance if it hit him in the face. Why should I care how I look? He sure doesn't care about his appearance. Look at that gut? He complains about me gaining weight? Well, he hasn't seen nothin' yet. I've made a huge mistake. I just want someone who will love me and appreciate me. Is that too much to ask?
And the kids? They never do what I ask. They're disobedient, loud, and messy. I don't know when I've seen a clean floor last. And where is Mr. Clean anyway?
The enemy had slowly crept in while Martha was unaware. Unmet expectations became the breeding ground for the lies to grow. He planted the seeds of discontent one disappointment at a time.
Rather than thinking how she could make her marriage better, she began thinking about how she could get out of it. Rather than enjoying her rambunctious children, she loathed their energy. Rather than being thankful that she had a home and family to clean up after, she complained about the dirt.
"Martha just needs to give her life to Jesus," you might say. But she has! She is a Christian. So on top of her disappointment with life, she added guilt to it all. I'm a bad Christian, she thinks. If I was a better Christian, I'd be happy. What's wrong with me?
Girlfriend, the enemy's fingerprints are all over this woman's thought life. He has pointed her down the road of stinkin' thinkin' and she's stumbled into the pit. While she assumes these thoughts are her own concoction, it is the enemy who has made the suggestion. She simply bought into them and made them her own. They became her own version of reality – her own version of the truth.
Paul gave us an effective lie detector through which to filter our thoughts in Philippians 4:8-9.
Finally, brothers, whatever is true, whatever is noble, whatever is right, whatever is pure, whatever is lovely, whatever is admirable–if anything is excellent or praiseworthy–think about such things. Whatever you have learned or received or heard from me, or seen in me–put it into practice. And the God of peace will be with you.
Now that is a lot to think about, considering that the mind thinks about 130 words per minute. But the good news is – we are not on our own. God has given us the power of the Holy Spirit to enable us to do all that He has called us to do.
Paul doesn't just leave us with the qualifying list; he gives us the means by which to implement it. "Whatever you have learned or received or heard from me, or seen in me–put it into practice."
It takes practice! Practice! Practice! Practice!
But look at the result…"And the God of peace will be with you."
Let's Pray
Dear heavenly Father, help me to realize when my thinking needs adjusting. I know that I cannot act differently than I think. Help me to run my thoughts through the sieve of Philippians 4:8so that Your peace will rule in my heart.
In Jesus' Name,
Amen.
What do you think? 
Make a list of the litmus test for right thinking and carry it around with you today.
Ask yourself, is this thought:
True
Noble
Right
Pure
Lovely
Admirable
Excellent
Praiseworthy
If your words or thoughts don't pass the test, then push the delete button and erase that stinkin' thinkin'!
Want More?
Today's devotion was taken from my book, I'm Not Good Enough and Other Lies Women Tell Themselves.If you need to start speaking the truth to yourself about yourself, then this is the book for you. And if it is the words that you speak to others that need an overhaul, then you'll want to see The Power of a Woman's Words. In this book we look at our words and the power we posses, the people we influence, and the power to change.
If you prefer an e-book, I don't carry them, but this book is on sale now at your favorite on-line stores.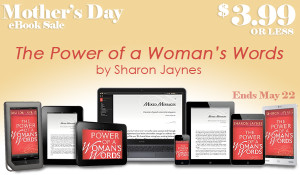 Click here to comment

2
He sat behind me in the airplane. He didn't speak, but I felt him rummaging about. His occasional kicks and presses against the back of my seat. Little boy noises. Restless, "get me out of here," stirrings.
And then I saw fingers. Five little fingers exploring the space between my and my neighbor's seats.
Little finger tips. Then a hand. A well-suited arm.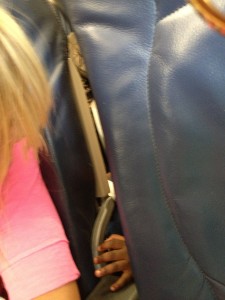 I held up my hand  to the space filled with trust, and he grabbed hold. No fear. Just trust.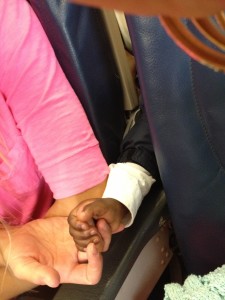 Jesus' words painted with little  fingers. "Let the little children come to me, and do not hinder them, for the kingdom of God belongs to such as these. Truly I tell you, anyone who will not receive the kingdom of God like a little child will never enter it." Mark 10:14-15
"Like a child of God…" Simple trust. Unadulterated faith. Reaching through the space and grabbing hold. Groping through the cracked and broken places of life and grasping tight. A Sudden Glory.
That is my prayer for you this weekend. Grab hold. Grasp tightly. Trust.
Sharon
Click here to comment

9