2014
A
new year with new challenges…and a few old ones that slid right on over into 2014 like grease on a slick countertop.
Tell me, have you ever wanted to throw up your hands because the same old struggles cling to your heart and wrap around your soul.
"Why bother! I've prayed. I've tried. I've cried. And nothing ever changes! New year, same old struggle." Any of that sound familiar?
Perhaps like me you've quoted the words, "All things are possible for those who believe," but a little voice whispers back, "possible, but not probable."
Can I take you over to a passage I've been pondering this week? It's Mark 5. Usually my heart gravitates to the "woman with the issue of blood" –a woman who was defined by what was wrong with her, rather than what was right. But that's a post for another day.
Today, I want us to stand in the crowd and listen to Jesus' exchange with Jairus. My Bible heading calls the passage: A Dead Girl and a Sick Woman. Can't get much plainer than that.
Jesus arrived on the scene in Mark 5, and a crowd of people gathered round. Jairus, one of the synagogue rulers, parted the sea of people and fell at Jesus' feet. He pled earnestly with the Healer, "My little daughter is dying. Please come and put your hands on her so that she will be healed and live." So Jesus went with him. Just like that. Just that simple.
But then our friend, the woman who was defined by what was wrong with her rather than what was right, the woman who was not even supposed to be around people because she was considered unclean…that bodacious faith-filled gal reached for Jesus' robe like a sprinter reaching for the finish line, stole her healing right out of him, and interrupted the entire processional. But like I said, that is a story for another day.
Right on the heels of her healing, a couple of Jairus' friends showed up with the news: "Your daughter is dead," they said. "Why bother the teacher any more?"
Why bother?
Maybe you feel that way as you head into another year with the same old struggle.
Why bother?
Oh sister, that is EXACTLY what the devil wants you to say.
I've tried to have a loving marriage, but it's never going to change. Why bother?
I've tried to lose weight, but I'm still fifty-pounds over weight. Why bother?
I've tried to exercise regularly, but something always comes up. Why bother?
I've already made so many parenting mistakes, it's too late to change now. Why bother?
I've prayed for my brother to come to Christ, but he's meaner than ever. Why bother?
I've looked for a job for ten months and keep getting rejected. Why bother?
I've tried to remain sexually pure, but keep falling into temptation. Why bother?
I work so hard at my job, but no one seems to notice. Why bother?
I could go on. I have my own list of why bothers.  Satan has uniquely crafted one just for me, just as he has contrived one specifically for you.
Two weeks ago I had a why bother breakdown. Several little gnawing termites of trouble had been nibbling away at my heart for weeks. And then I got a discouraging email from a woman who fussed at me for having a typo in my blog. It was then that I threw up my hands and cried: "Why bother."
I called Gwen Smith (my ministry partner), and she tried to talk me down off the emotional ledge. It was not pretty.
So what are we going to do about those why bother moments that are sure to come in 2014? Give up? Give in?  Give way?
What did Jesus do? (Oh I love this!) Let's go back to Mark 5 and pick up in verse 36.
"Ignoring what they said, Jesus told the synagogue ruler, 'Don't be afraid; just believe.'"
Ignoring
What
They
Said
Ponder that. He ignored the naysayers. He ignored the doubters.
And sometimes the voice we need to ignore is our own.
Jesus kept walking. He kept moving toward the miracle. When he went to Jairus' home, and told the mourners that the little girl was not dead, but simply asleep, they laughed at him.
They
Laughed
At
Him
What did Jesus do next (Oh I love this too!) "He put them all out."  He put them out and shut the door. He simply went into the room, performed the miracle, and then went on his way to his next assignment…leaving all the doubters scratching their heads.
So here's what I'm going to do in 2014, and I hope you'll join me. When I feel a "why bother" rising up in my throat, I'm going to ignore the voice in my head and  keep moving toward my miracle. When I sense the devil planting a "not probable" smack dab in the middle of my "all things are possible," I'm going to ignore him and keep moving toward my miracle.
When others tell me "why bother" and encourage me to lower my expectations to the mediocrity of lukewarm believers, I'm going to ignore them and keep moving toward my calling.
When doubts hop on me like fleas and discouragement dumps on me like rain, I'm going to turn to Mark 5 and read the story all over again.
How about you? Want to join me. If so, leave a comment that says, "I'm going to keep moving toward my miracle."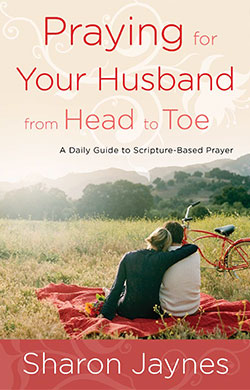 It's finally here! Learn how to pray Scripture over your man in 5-7 minutes a day. And make sure and sign up for the 30-Day Prayer Dare that will begin mid-January! Learn more at www.prayingforyourhusband.com.