I stood in a circle with a group of ladies to pray before heading to the podium to speak. They had been planning and preparing for about a year, and now the Christmas event was finally here.
As we held hands in a circle of intercession, one of the women said, "This morning as I was sitting in the church praying for the event, God showed me that Sharon is very valuable to Him."
At that moment I began to weep. I, in my speaker outfit and makeup, began to cry like a baby.
I travel all around the country telling people about God's love for them, but you know what? Sometimes I forget that He loves me too.
I know how rotten I am. I know the ugliness that escapes my lips, the thoughts that rattle around in my mind, and the wickedness that pops up unexpectedly in my heart.
Why would He love me, much less like me? I wonder.
There is no earthly reason. There is only a heavenly one. He just does.
The heartbeat of Christianity is God's relentless pursuit of our hearts. (Click to Tweet) That's what He longs for more than anything—our hearts. And whether we realize it or not, it is His love that we want as well.
We desire to be loved—wholly, completely, unabashedly—despite the warts and wrinkles, oddities and idiosyncrasies, faults and failures. But somewhere along the way, we settle for something less–human love that is incapable of satisfying our desire for love in its purest form.
We long for a love unadulterated by sin, but settle for human love that must pass through the filter of fallen man's inability to really love.
I am in no way belittling my husband's precious and treasured love for me, nor mine for him. I had no idea that depth of love was possible until I met him. As wonder-filled as our love may be, it still cannot satisfy the depth of longing in my soul for the unconditional, agape love of God.
I suspect this is a great tension in marriages, because many wives and husbands expect the love of God to be met in their spouse. In reality, a spouse is not capable of supplying, and was never intended to satisfy, the longing God has placed in every human heart to be loved by Him and to love Him in return.
In the Bible, each time the words unfailing love are used, they refer to the love God has for His children. "Unfailing love" is never attributed to human affection.
We love as we can, but our emotions must pass through a filter of sin, selfish desire, and imperfect humanness. However, God's love doesn't have to sift through a filter at all. He is love, and that love never fails.
Though the mountains be shaken and the hills be removed, yet my unfailing love for you will not be shaken nor my covenant of peace be removed,' says the LORD, who has compassion on you" (Isaiah 54:10).
So today, I revel in God's love for me. I encourage you to do the same. See, this morning God spoke to MY heart and showed me that YOU are very valuable to HIM. 
Want More?
I don't think there is any book that I have ever written that stirs the heart to grasp just how much God loves you as much as A Sudden Glory. The sub-title says it all: God's Lavish Response to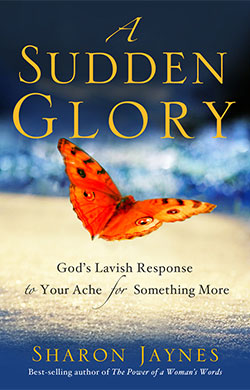 Your Ache for Something More. If you want to catch a glimpse of God's passionate pursuit and relentless romance of your heart…if you are willing to raise your expectations and embrace all that God has for you, then I encourage you to click here and check it out.