It's been hard. Really hard.
These past five weeks have taken their toll.
I'm amazed at how such a little thing turned into such a big deal.
Ever been there?
One word turned into a world of argument?
One decision turned into a downward decline?
One email turned into an erased relationship.
One mistake turned into a messed up menagerie of mishaps?
It can happen.
A few weeks ago I noticed the door to my pantry was sticking when I tried to close it. That was odd.
The next morning I noticed the wooden baseboard was sagging. That was strange.
And then there was mold on the wall. Where did that come from?
I pulled the refrigerator away from the wall and discovered the icemaker tube was broken. Snapped right in two.
For several days, perhaps weeks, water had been leaking under the tile in the kitchen. Into the wall of the pantry. Under the hardwood floor of the dining room.
Then the man came.  The one with the little black box called a moisture reader.
He put the hand held device against the beautiful tile floor and called out the numbers.
30. 40. 25. 33.
While everything looked just fine on the surface, water pooled under the tile and seeped into the nooks and crannies of the downstairs. And even though fans, dehumidifiers, and heaters were brought in, the sub-flooring under the tile remained wet.
So the demolition began.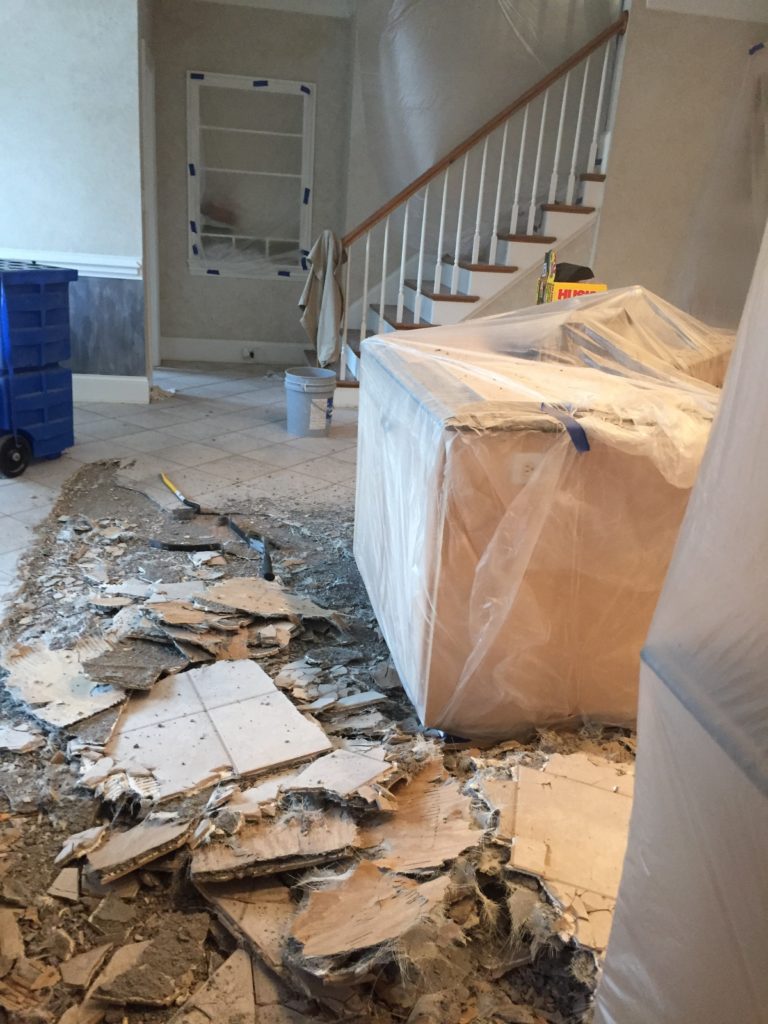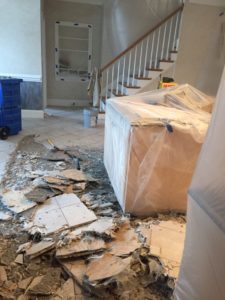 Demolition of the floor.
Demolition of cabinetry.
Demolition of walls.
Demolition of my emotions.
Concrete dust covered every piece of furniture.
Noise infiltrated every nook of silence.
I did pretty well for the first three weeks.
But on week four I crashed.
Even ran away to a hotel for two nights just to breath clean air, sleep on clean sheets, and listen to the quiet. (Friend, I will always be honest with you. I will never lead you to think that I am better than I am. We're in this together.)
Here's one thing I learned. I already knew it, and I bet you do too. But this was a vivid reminder.
Before the hammer and chisel hit the floor for the "tear out" to begin, everything appeared just fine.
Beautiful. Pristine. Problem free.
And so it is with life. It can look pretty good on the outside…but what lies beneath the surface could be quite a different matter.
Here's an email I just received and the sender has graciously given me permission to share it with you:
My divorce was just final last Friday. We were the perfect couple. Active in church, we both had good careers, and many friends and loved our life together. Then his job got us transferred back to a city up north where we are originally from. Deep down I hated him. My life was pulled out from under me. Things between us began to unravel in 2013 when another man caught my eye and charmed his way into my life. Now I am alone and starting my life all over again at 48.I realize all the things I did wrong with my marriage and the regret I have is at times unbearable. My husband and I are still friends. He is a wonderful Christian man and he forgives me. What happened is not all my fault. It was a symptom of troubles in our marriage that we ignored. I just wish I would have listened to God and I wouldn't be where I am today. I'm praying for God to help me through this turbulent time…even praying that if it's His will that my husband and I find our way back to each other some day.
A constant dripping can ruin a marriage.
A little leak can destroy a friendship.
A disconnected heart can chill a faith.
A cracked trust can undermine the underbelly of otherwise stable life.
All might appear just dandy on the surface, but what lies beneath may be destroying the very foundation of a relationship, a friendship, a faith, or a family.
The best thing we can do is to look for the signs and catch it early.
A sticking door.
A warped baseboard.
A moldy wall.
A chilled communication.
A distant attitude.
A lack of desire to read God's Word.
An inability to pray.
Don't let the subfloor of life rot away before you notice what's happening.
Don't allow the mold of bitterness make you sick.
Don't ignore the warped wood of a hardened attitude.
I love how Eugene Peterson paraphrases 1 Peter 4:8
Be sober [well balanced and self-disciplined], be alert and cautious at all times. That enemy of yours, the devil, prowls around like a roaring lion [fiercely hungry], seeking someone to devour.
Be alert. Pay attention. Don't ignore the warning signs.
On a happy note, after five weeks I have my house back!
Let's chat! What is one warning sign that you ignored and lived to regret?
Congratulations to Rondolyn Baker—the winner of the Starbuck's gift card from the responses from the last blog!