Welcome to SharonJaynes.com
Welcome to my website. It is my hope that you will be encouraged in your journey to become all that God has created
you to be! Grab a cup of coffee and browse the pages of my "home."  I invite you to visit often!  The door is always open.
The welcome mat is always out, and fresh insights from God's Word appear daily.
Book Sharon For An Event
Sharon's in-depth knowledge of Scripture, combined with an engaging story telling style, keeps listeners on the edge of their seats. Learn More… 
Available Now!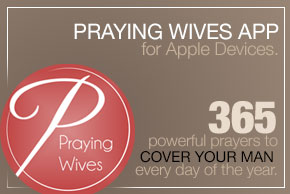 One of the most important things you can do for your marriage and your man is pray. Download the Praying Wives App for daily Scripture and prayers to cover your husband from head to toe.
Read Insights in Sharon's Blog
Sign up to receive my blog posts via e-mail and get a download of my 10 most popular posts FREE. Privacy Guarantee: I will never share your e-mail address with anyone else. Sign Up Now
Sharon's Recent Blog Posts