Yesterday I blogged over at Ann Voskamp's A Holy Experience. I thought you might enjoy the post. I hope you feel as loved as you are.
She was beautiful.
She was bright.
And she was mad at God.
I sat across the table picking at a salad and trying to digest Jan's words. Her startlingly teal eyes were tinted with frustration at God, primarily because of how she perceived He felt about women.
"I don't understand God. It seems like He is against women. He's set us up to fail. Even our bodies are weaker, and that just invites men to abuse us."
"Today, there's so much abuse toward women," she continued.
"Where's God in all that? There are so many inequalities and injustices between how men are treated and how women are treated. What kind of God does that?
I think the bottom line is that God just doesn't like women."
Jan knew her Bible. She grew up in the church, had loving Christian parents, and accepted Christ when she was eight-years-old.
But Jan was brave…brave enough to voice the questions that many women ponder…musings that many of our daughters fear.
So we opened the Bible and delved in. But before we did, I set the stage.
I reminded Jan of what the culture was like for women when Jesus walked the earth. Not so different than it is for our many of our sisters all around the world.
By the time Jesus entered the world on that starry night in Bethlehem, His first cry echoed the heart-cries of women who had been misused and abused for centuries.
By the time Jesus took his first steps onto the dusty ground of Galilee, women
Were not allowed to speak to men in public.
Were seen as unreliable and not allowed to testify in court.
Were not allowed to mingle with or eat with men at social gatherings.
Were not allowed to sit under a Rabbi's teaching to learn.
Were kept on a separate level in Solomon's Temple and behind a partition in the local synagogues.
 Were not counted as people, but were considered as property.
Property.
With no rights.
Women lived in the shadows of society…rarely seen and seldom heard.
But Jesus came to change all that. Simply put, He rocked the house.
Every time Jesus interacted with a woman in the gospels—the God-made-man broke the man-made-rules of His culture to honor women, to elevate women, to call them out of the shadows to play leading roles in the gospel story.
Everytime.
Jesus restored women and their rightful place of dignity as one-half of a whole, as co-heirs and co-workers with their male counterparts.
His radical counter-cultural attitude toward women flew in the face of a culture that considered women "less than" in all regards. Jesus was a radical reformer who showed the world just what God thinks about women.
He ignored cultural taboos and associated freely and openly with women. He spoke with women in broad daylight, even though the disciples disapproved.
Jesus welcomed the worshipful anointing of the woman with the sinful past, even though the religious leader thought it scandalous.
Jesus called the woman with the crippled back forward into the men's area of the temple, even though the synagogue ruler thought it inappropriate.
Rabi Jesus welcomed Mary of Bethany to sit as His feet to learn, even though women were forbidden to do so.
Jesus reveled His true identity for the first time, that He was the Messiah, to a woman.
Jesus' longest recorded conversation was with a woman.
Jesus entrusted the most important message in all of human history—that He had risen from the dead—to a woman. And then He told her to "go and tell."
Jesus noticed the unnoticeable silent sufferers who moved about as little gray shadows…and He still does.
When it came to women…Jesus risked His reputation to save theirs.
To save yours.
To save mine
And in one sweeping gloriously wrenching moment, He called women center stage to play leading roles in the gospel story…and He still does.
From Mary of Nazareth to Mary of Magdalena, God used women to accomplish His divine purposes. Brave women stepped forward.
Courageous women spoke up. Committed women joined hands.
Not only did He accept them as they were, He challenged them to become more.
Jesus took the fearful and forgotten and transformed them into the faithful and forever remembered. "I tell you the truth," He said, "wherever this gospel is preached throughout the world, what she has done will also be told, in memory of her."
Jan and I closed The Book.
We took a deep breath.
It was all right there in black and white and some in red.
Grace upon Grace. Heaped high.
We both felt loved.
Cherished.
Worth fighting for.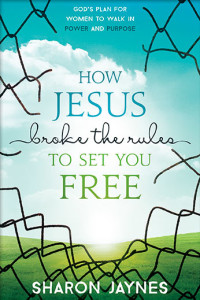 Click here to watch book trailer.