I watched the news and mourned the hatred of mankind. I read the paper and questioned the senseless headlines. I listened to the radio and cried about the wildfires out west. Silently I prayed, God, why is the world so messed up? And then the Holy Spirit reminded me of where broken began.
When God fashioned, fitted, and filled the earth, there was nothing but goodness. The lion and the lamb lay side-by-side. Adam and Eve lived a harmonious existence without a hint of discord. God and human beings communed with no barrier between them. All creation ebbed and flowed with the rhythm of the tides and the breath of God. There was no lack, only abundance; no fear, only calm assurance; no violence, only peace; no hatred, only love; no sickness, only health. "God saw all that he had made, and it was very good" (Genesis 1:31).
God gave Adam and Eve just one restriction within a bounty of freedom—a restriction that was for their protection and provision. But he also gave them free will: the choice to obey or disobey—to stay within the protective boundaries of his perfect plan or step beyond them.
Adam and Eve had unveiled communion with God, unadulterated community with each other, and unlimited access to all that God had made . . . except for one little thing.
The Tree.
But we know what happened next. Genesis 3 begins with the daunting words, "Now the serpent . . ." The devil slithered into the garden and tempted the pair with the one thing they didn't have. Isn't that just like him? Whatever we don't have, the devil will tell us, "You'd be happy if . . ." He wants us to believe that God is holding out on us.
Unfortunately, the "you'd-be-happy-if" lie has introduced a destructive detour into many stories. Click & Tweet!
The devil launched his plan of deception in the garden by asking a question. "Did God really say, 'You must not eat from any tree in the garden'?" (Genesis 3:1, emphasis added).
Anytime we have a thought that essentially begins, "Did God really say," we need to stop and ask, where did that thought come from? Many self-destructive decisions have begun with the question, "Did God really say?" Did God really say I shouldn't watch that movie? Did God really say I shouldn't reconnect with my old high school boyfriend on Facebook? Did God really say I shouldn't spend money on . . . ?
Eve's first mistake was engaging the serpent in conversation in the first place. "We may eat fruit from the trees in the garden," she said, "but God did say, 'You must not eat fruit from the tree that is in the middle of the garden, and you must not touch it, or you will die'" (vv. 2–3).
Satan's next words are the first lie recorded in the Bible: "You will not certainly die" (v. 4). In other words, God is not telling the truth. Sin has no consequences.
Satan went on to say, "For God knows that when you eat from it your eyes will be opened, and you will be like God, knowing good and evil" (v. 5). In other words, You can be your own god.
Eve bought what the devil was peddling and made a disastrous decision that led to the downfall of all creation. She ate…she gave it to her husband who was with her and he ate.
As soon as Adam and Eve sunk their teeth into the forbidden fruit, shame entered the world. The man and woman who were previously naked and felt no shame became the man and woman who cowered and were consumed by shame. Shame blanketed the earth and creation was never the same. And that's where broken began.
Here's the good news—Before everything fell apart, God had a plan to put it back together. Jesus, God's Son, put on flesh and stepped into the human story so he could pay the price for our sins, conquer death, and restore our union and communion with God. "The reason the Son of God appeared was to destroy the devil's work" (1 John 3:8 NIV).
One day, the consequences of the fall will be reversed. Jesus will come again, and we will live in the New Jerusalem for all eternity. There will be no more tears, no more death, no more mourning, no more pain. He will make everything new. Broken will be no more.
If you are looking forward to that day, then click on comment and leave a shout out!
If you're not sure that heaven is in your future, click here and let's make sure.
If you are sure, leave a comment and say, "I'm sure! I'm grateful!"
God, thank You for sending Your Son to destroy the devil's work and for making a way for us to leave the brokenness of this earth for the perfection of heaven. In Jesus' Name, Amen.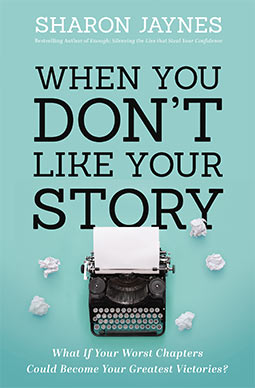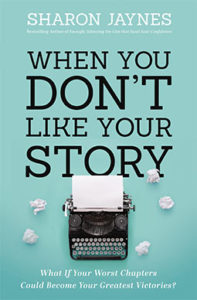 What if your worst chapters could become your greatest victories? I know that they can!
Today's devotion is only a taste of the study regarding why bad things happen. If you would like to learn more, check out my new book, When You Don't Like Your Story: What if Your Worst Chapters Could Become Your Greatest Victories. You'll also learn how to change the seemingly worst parts of your story into your greatest victories, and then use them for good!