Today is my and Steve's 39 wedding anniversary. I know you thought I was 39…right? Oops. This is a day to remember all the good things we've shared. Sometimes, we as women tend to focus on the negative. In today's devotion, I want to share about a day I did just that. I'm not proud of it, but I learned from it. I wonder if you will too.
Steve and I were on a trip to celebrate my birthday. He's not a very techy guy, so I did most of the reservations online. One night, we were trying to get tickets to a show using our hotel internet. I kept getting kicked off, and I grew frustrated.
In a huff, I said, "I wish you could do this! I feel like I'm having to do all the work, and it's my birthday!"
With the saddest face ever, Steve looked down and said, "Well, I am good at some things."
That broke my heart into a thousand pieces.
Of course, he's amazing at many things. He's a fabulous husband, a godly man, and friend. He's gentle, strong, handsome and smart. At that moment, I was focusing on the .0001% negative rather than the 99.9999% positive. Now I was the one hanging my head.
In the Song of Solomon, Solomon and his Shulammite bride had a little spat. Even though she couldn't wait to be intimate with her man before they got married, she was indifferent about it after they were married. One night he knocked, and she didn't answer.
When she changed her mind, he was gone.
Trying to console her, the Shulammite's amazing friends said, "Girl, tell us, what do you love about your man. Let's talk about that." (my translation)
"My beloved is radiant and ruddy,
outstanding among ten thousand.
His head is purest gold;
his hair is wavy
and black as a raven.
His eyes are like doves
by the water streams,
washed in milk,
mounted like jewels.
His cheeks are like beds of spice
 yielding perfume.
His lips are like lilies
dripping with myrrh.
His mouth is sweetness itself;
he is altogether lovely.
This is my beloved, this is my friend,
daughters of Jerusalem" (Song of Songs 5:10-13, 16, NIV).
She recalled that he was ruddy and radiant — glowing and tanned by the sun. She loved his looks, his masculine strength, and his sweet words. I envision her wanting to hold his face in her hands and giving him that kiss he wanted earlier.
Her conclusion? "This is my beloved; this is my friend. Thank you for reminding me."
A wife has the power to bolster her husband's confidence or break his spirit with just a word. As Proverbs 12:25 reminds us, "Anxiety weighs down the heart, but a kind word cheers it up." All through the day, our husbands have words thrown at them that could cause anxiety to rise and self-esteem to fall. We have no control over what happens to our men in the workplace, but we do have some control over what they feel in the homeplace. With one word, we can make their heart glad. Click & Tweet!
Notice Proverbs 12:25 says, "a kind word." We don't have to wax eloquent, write a discourse or make a speech. Just one little word of encouragement can make all the difference. I'm not all that great at one word, but I can certainly do less than 10.
Things like:
I'm so proud of you.
I missed you today.
I love you so much.
Thank you for working so hard.
I'm so glad I married you.
Robert Louis Stevenson said, "Make the most of the best and the least of the worse." Too many times we flip what Stevenson said and make the most of the worst and least of the best. Let's change that. Right now. Today.
Heavenly Father, I don't know why I focus on the negative rather than the positive, but I want to change. Help me to see the best in my husband and in other people. Help me to be a person who builds others up rather than tears them down, who encourages rather than discourages, and who fans the flames of excitement rather than extinguish the flames of passion. In Jesus' Name, Amen.
Make a list of 10 qualities that you love about your husband … and then give it to him. And while you're at it, leave a comment and share one quality you love most about your man (or another special someone in your life).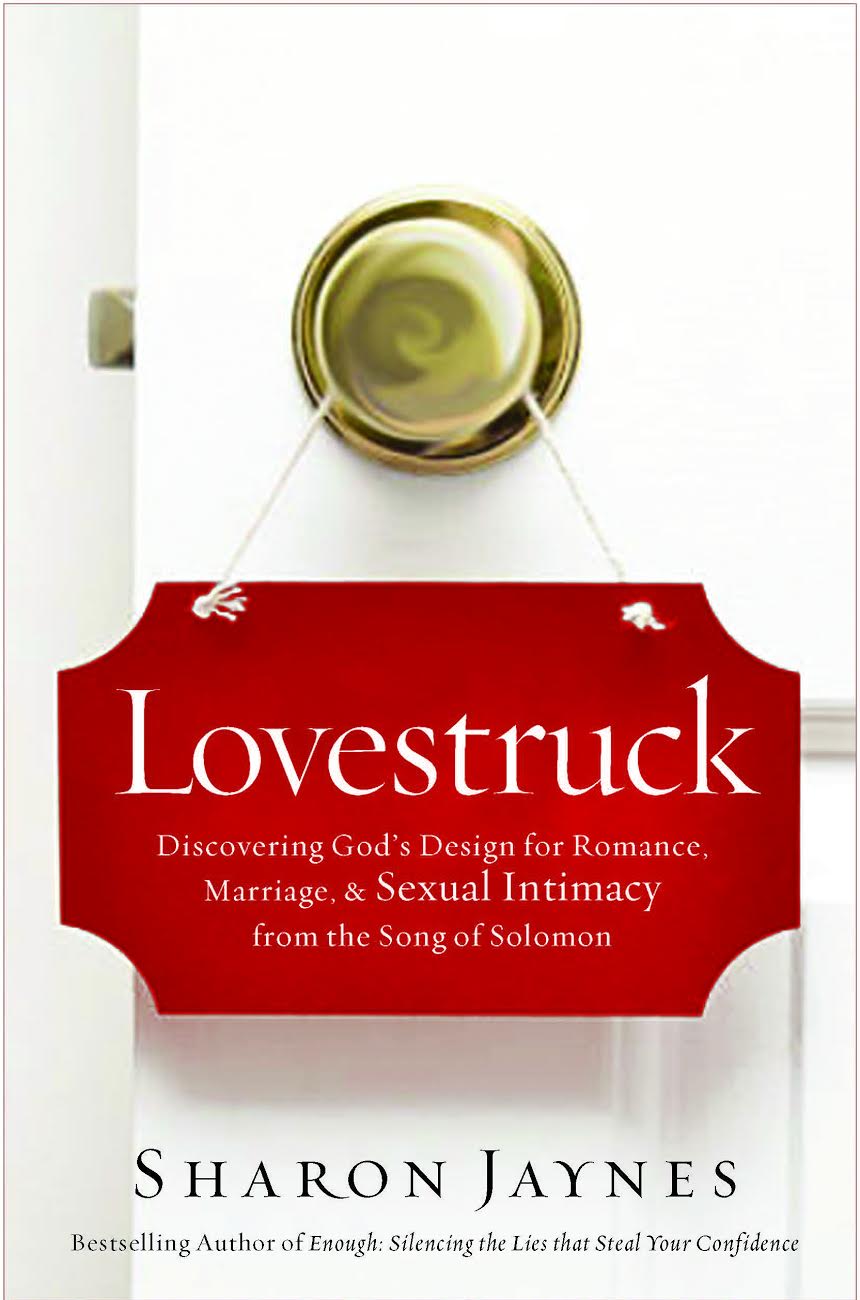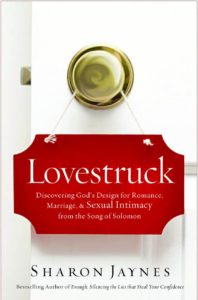 The Song of Solomon is a confusing book for many. But when you break the code and decipher the romantic language, it all makes sense. Everywhere we turn in our sex-saturated culture, we are bombarded by destructive and unrealistic depictions of romance and intimacy. The problem isn't that the culture focuses on sex too much but that it values sex too little. In Sharon Jaynes' new book, Lovestruck: Discovering God's Design for Romance, Marriage, and Sexual Intimacy from the Song of Solomon, you'll see God's design for one of His greatest gifts. Parts of it will have you saying, "Is that really in the Bible?" Yep, God made sure of it.