A sign was posted on a telephone pole by the grocery store:  LOST DOG with three legs, blind in left eye, missing right ear, tail broken and recently castrated. Answers to the name of "Lucky!"
Perhaps as you've had times in your life when you've felt about that lucky! You've wondered how you can help someone else or encourage someone else when you feel so empty.
There was a woman in the Bible who knows just how you feel. She also felt that she had nothing left to give, but God showed her just how wrong she was. The story is found in 1 Kings Chapter 17.
Elijah was a good prophet who gave some bad news to a king named Ahab: "As the LORD, the God of Israel, lives, whom I serve, there will be neither dew nor rain in the next few years except at my word." God knew that news would not go over very well with the King, so He told Elijah to flee eastward and hide in the Kerith Ravine east of the Jordan. For several months, Elijah drank from the brook and ate bread and meat delivered by ravens that God miraculously provided.  Only Kings could afford to eat meat every day, and God provided the very best for his servant.
Sometime later, the brook dried up. Now if God could supply meat and bread every day, He could have easily provided water. But God had a different idea. He sent Elijah to Zarepath to a Gentile widow who needed a miracle in her life.
Elijah did as the LORD said and traveled to this widow's home. But he didn't find a woman with abundance ready to provide sustenance. No, what he found was a widow who had given up on life and felt as though she had nothing left to give. When he arrived, she was stooping to the ground picking up sticks and placing them in a bundle.
"Excuse me," Elijah called, "could you please bring me a cup of water?"
As she turned to get the traveler a cup to quench his thirst, he continued. "Oh, and can you bring me a piece of bread?"
With this request, I imagine the woman sarcastically grumbled. And would you like a lamb chop to go along with it?
"I don't have any bread – only a handful of flour in a jar and a little oil in a jug," she said. "I am gathering a few sticks to take home and make a meal for myself and my son, that we may eat it – and die" (1 Kings 17:12).
Now that was a discouraged woman! But Elijah had good news for her.
"Don't be afraid," Elijah said. "Go home and do as you have said. But first make a small cake of bread for me from what you have and bring it to me, and then make something for yourself and your son. For this is what the LORD, the God of Israel says: 'The jar of flour will not be used up and the jug of oil will not run dry until the day the LORD gives rain on the land.'"
She went away and did what Elijah had told her.
Can't you just see this woman taking the last bit of flour and oil to make Elijah a meal?  What difference does it make? I'm going to die anyway? So what if it's one day early?
She took the last bit of flour and oil, made and delivered Elijah a little cake, and returned home.  As she goes to wash the dirty dishes, she picks up the jar and the jug and her senses are jostled!  The jar is full of flour and the jug is to the brim with oil. She was an empty woman, but as she took what little she had to offer encouragement to another, God filled her up.
Jesus said, "Give and it will be given to you. A good measure, pressed down, shaken together and running over, poured into your lap. For the measure you use, it will be measured to you," (Luke 6:38). When you pour into others, God pours back into you. Click & Tweet!
So if you are feeling empty today, here's a suggestion: give to someone else. Encourage a co-worker. Help a struggling friend. Minister to a homeless person. Open the door for a stranger.
What happened to the woman from Zarephath? "For the jar of flour was not used up and the jug of oil did not run dry, in keeping with the word of the LORD spoken by Elijah" (1 Kings 17:16).
LORD, I feel pretty empty today. But I'm going to get my focus off of myself and onto someone else. Show me someone who needs a helping hand or an encouraging word today. Help me to use a big measuring cup as I pour out Your love on others today. In Jesus' Name, Amen.
What is one way you can bless someone else today? Click here and scroll down on today's blog to leave your comment.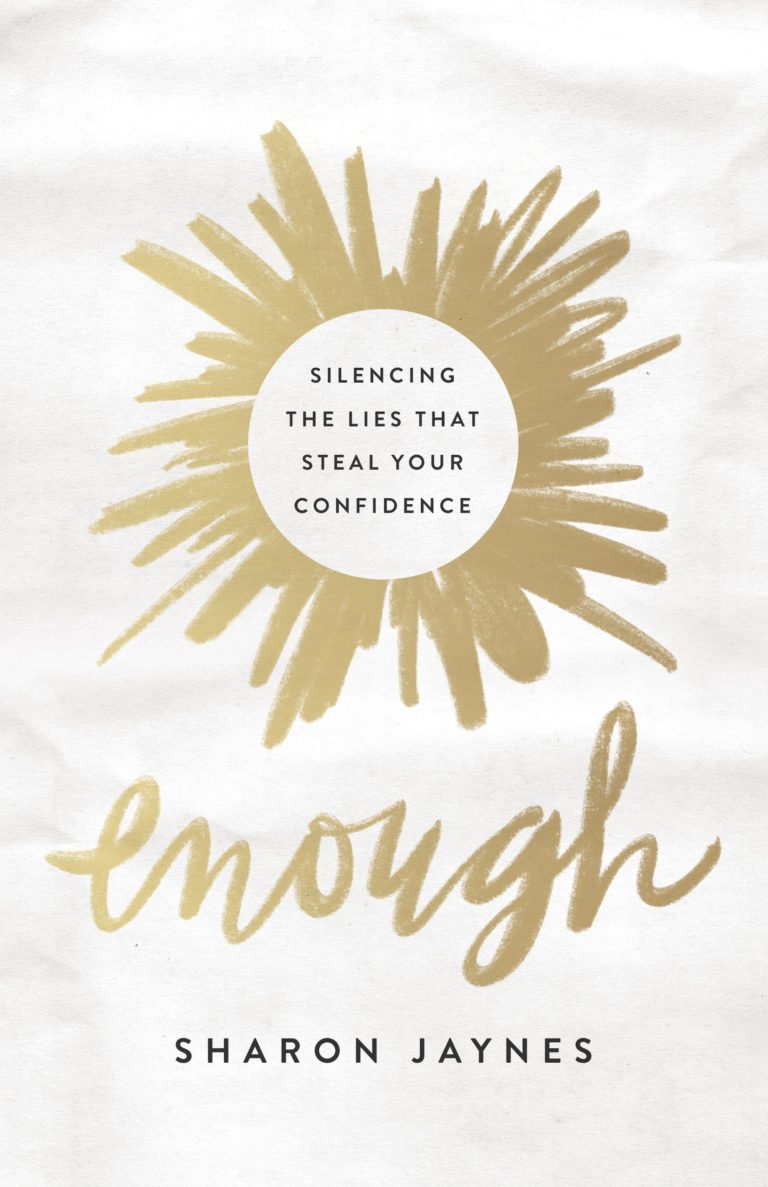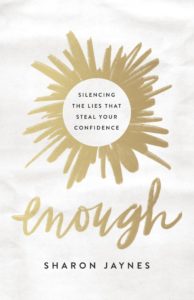 Do the voices in your head tell you that you are not good enough, smart enough, pretty enough, or just not enough, period?  If so, it's time to stop listening to the lies that sabotage your confidence and start embracing the truth of your true identity in Christ. In Enough: Silencing the Lies that Steal Your Confidence, Sharon Jaynes exposes the lies that keep you bogged down in guilt, shame, and insecurity. By recognizing the lies, rejecting the lies, and replacing the lies with truth, you'll be able to
silence the voice inside that whispers you're not good enough.
accept God's grace and no longer allow past failures to define you or confine you
be preloaded with the truth to fight insecurities
walk in the surefooted confidence of God's unconditional love