Being from North Carolina, I love the old black-and-white episodes of The Andy Griffith Show. (And no, we don't all talk like that.) In one episode, the neighborhood bully is picking on Andy's boy, Opie. This blond-headed newcomer taunts and makes fun of Opie until he feels like a total loser.
Opie's ashamed of his own cowardice and embarrassed in front of his friends. After Andy, the wise father, figures out what is disturbing his moping son, he gives him a little lesson on standing up to bullies. The next day, when the bully threatens Opie, the little freckle-faced boy looks his opponent in the eye and refuses to crumble under his threats.
"Do you want to fight?" the bully taunts.
Opie doesn't say a word. He just puts up his fists.
"Oh yeah? Well, knock this rock off my shoulder and I'll—"
Opie knocks the rock off his shoulder before the bully has time to finish his sentence.
"Oh yeah? Well, step into this circle," the bully continues as he draws a circle around himself in the dirt.
Opie steps into the circle.
Suddenly, the bully grows nervous. "You better be glad I've got on my good pants," the bully says as he backs away.
Opie never had to throw the first punch. All he did was stand his ground and the bully backed away. Bullies don't like it when we stand our ground. Never have. Never will.
Notice how many times Paul admonishes us to stand in Ephesians 6:13-14. "Therefore put on the full armor of God, so that when the day of evil comes, you may be able to stand your ground, and after you have done everything, to stand. Stand firm then…" No one can stand for us. We must stand on our own two feet and stand up against the Enemy—and we stand on the Word of Truth to do it.
In his book The Reason for God, Timothy Keller said this:
"If anything threatens your identity, you will not just be anxious but paralyzed with fear. If you lose your identity through the failings of someone else, you will not just be resentful but locked into bitterness. If you lose it through your own failings, you will hate or despise yourself as a failure as long as you live. Only if your identity is built on God and his love…can you have a self that can endure anything, face anything."
We need to take our stand when the big bad bully tells us that we are no good losers who can't do anything right, who will never change, who will always struggle with doubt, or who will never be free. He's just messing with you. Don't let him.
Paul said, "Now it is God who makes both us and you stand firm in Christ. He anointed us, set his seal of ownership on us, and put his Spirit in our hearts as a deposit, guaranteeing what is to come" (2 Corinthians 1:21-22).
Maybe you've been running from the bully for way too long. Go ahead and take your stand. He'll probably slink away because he has his good pants on.
If you're ready to stand firm in Christ and not cave into the bully's threats, leave a comment and say, "I'm taking my stand!"
(Click here to watch a clip of Opie and the bully.)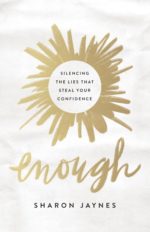 Do you ever feel that you're not good enough, smart enough, or just not enough, period? If so, it's time to silence the lies that steal your confidence and awaken the truth that you're amazingly created and equipped by God. Today's devotion was adapted from my new book being released April 3, 2018, Enough: Silencing the Lies that Steal Your Confidence. It is an expanded and revised version of the book, I'm Not Good Enough, with 50-percent new material. If you pre-order before April 3, you'll receive a passel of free goodies including 3 FREE e-books: Your Scars are Beautiful to God, Listening to God Day-by-Day, and 5 Dreams of Every Woman. Click here for more details.
Congratulations to Alicia Buratti! The winner of Make Your Move by Lynn Cowell!