Today's blog is short and sweet. Oh so sweet.
Last weekend I spoke in Palmer, Iowa, surrounded by wheat fields, cornfields, and soybean fields.
Combines worked through the night.
Lights beaming.
Engines roaring.
Men working.
Bringing in the last of the late harvest.
On Saturday, we experienced a harvest of a different kind.
Hearts.
Souls.
Lives.
I stayed in a little hotel in Pocahontas, right down the road a piece.
By the sink in my room, God preached a sermon as loud and clear as any I've ever heard. It was on a little note lying on an old scruffy blue washcloth.
The sermon sat folded neatly by the sink with the following note atop.
I'm nothing but a rag.
I am old, tattered and torn, but clean.
WAIT!
I can still be put to work.
I can still be used to
clean your shoes
remove your makeup
clean your car.

I am worn, but clean.
Ready to be used in place of a fluffy white towel.
When I'm grimy and beyond your use,
throw me on the floor to be cleaned and used again.
Thank you,
THE RAG
Yes, Lord, I prayed. I am the rag. I feel worn and tattered, but clean. Use me, Lord, even though there are newer fluffier options all around. I can still be used for something. And when I'm grimy, nappy, worn, and torn, cleanse me and use me again. Amen.
If that is your prayer today, to be used, cleansed, and used again, leave a comment as your prayer to say, "Use me Lord."
I know He will.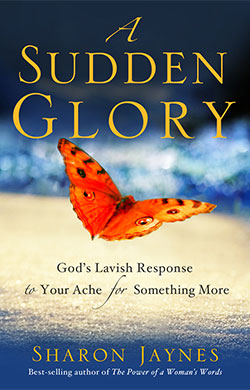 It's moments like these, when God speaks to me through something as simple as an old rag, that I call a sudden glory. God is speaking to you…everyday…and He wants you to recognize His voice and experience His presence. That is what the book A Sudden Glory is all about…experiencing God's lavish response to your ache for something more. It also includes a study guide for those who want to go deeper.