In my last blog I shared about my husband and I experiencing years of secondary infertility. But miraculously, one day I discovered I was pregnant!
Several months into the pregnancy, I sat on the floor playing a card game with my young son, Steven. It was shaping up to be one of the best summers ever. Steven was savoring every minute of the long hot days, our Golden Retriever, Ginger, had delivered seven adorable puppies, and after years of negative pregnancy tests and doctor visits, I had a new life growing in my womb.
In the middle of enjoying the moment with Steven, I felt a warm, sticky sensation that made my world stand still. A trip to the bathroom confirmed my greatest fear.
Later that day, as I sat in the doctor's office listening to his condolences for the loss of this much-prayed-for child, all I could think of was God, how could you?
I drove home. Climbed into bed. Pulled the covers over my empty womb and my empty heart and cried. I was mad at God. If this is how You love me, then forget it.
I gave God the silent treatment as if I could somehow pay Him back.
God and I had a lover's quarrel that summer. Actually, I was the only one arguing. I was mad.
I was hurt.
I felt betrayed by the One who was supposed to love me most. (I wonder if you've ever felt that way too.)
But He stayed right by my side, waiting, wooing, and eventually drawing my broken heart back so that He could heal it once again.
His passionate pursuit and relentless romance continued.
Even though I was mad at God, I knew in the deepest parts of me, that He did love me and that He was somehow going to use all this pain for good—but I sure didn't like it.
Ann Voskamp wrote: "I wonder…if the rent in the canvas of our life's backdrop, the losses that puncture our world, our own emptiness, might actually become places to see. To see through to God."
This was a see-through place, but until I opened my eyes, I would not see God.
Could it be that the puncture wounds in the canvas of your life—the losses, the disappointments, the crushing blows—might actually become the rent places of the soul through which you can see God?
Through which you can peer beyond your earthly trappings into glory moments beyond?
Through which you can see His light bursting through the openings?
I believe they could be.
Trials rip away the flimsy fabric of self-sufficiency and provide raw material for miracles Click & Tweet! .
Several years after the loss of our second child, I stood in the doorframe of my son's bedroom watching him sleep.
This sixteen-year-old man-child was six feet long and a tangle of sheets and limbs. One hairy leg hung off the bed, his thick shock of hair was sticking out in every direction, and his face needed a shave. I was struck once again with just how much I loved this boy…my only son.
"God," I prayed, "You know how much I love children. Why was there only one? Do You have a nugget of gold for me today?"
Then John 3:16 washed over me like rain. For God So loved the world, that He gave His one and only Son, that whoever believes in Him shall not perish but have everlasting life.
"Is that it, Lord? Is that my nugget of gold?"
Again the words rained down. For God so loved the world, that He gave His one and only Son, that whosoever shall believe in Him shall not perish but have everlasting life.
Tears filled my eyes as I understood God's great sacrifice as never before. Why had I missed it these sixteen years?
I have a one and only son. There are many people I love in this world, but there is no one, absolutely no one, that I love enough to give my only son.
And yet, God loved me enough to give His Son for me. Not only that, He has given me a living, walking, talking example of that great love every time I see my son's face.
If that is the only reason for the years of infertility and loss, then it is enough.
A sudden glory! God's great love took my breath away once again.
I want to encourage you to look through the rent places of your soul today.
Peer closely.
Listen carefully.
Ask humbly.
God, what do You want me to see.
Share one way you saw God presence in a difficult situation. I'm going to randomly pick one comment and send a free copy of my book, A Sudden Glory.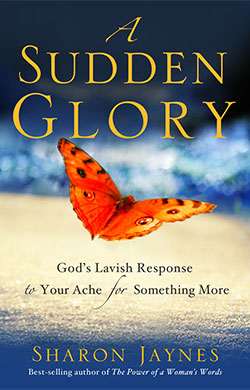 Do you long for something more in your relationship with God?
The good news is that "something" more does not mean "doing more." God's not waiting for you to get your spiritual life "right." He's pursuing you smack dab in the middle of your busy, messy day. He desires to commune with you right where you are. So take a deep breath, grab God's hand, and discover the secret to experiencing God's presence in a deeper and more intimate way than ever before. A Sudden Glory: God's Lavish Response to Your Ache for Something More, includes a Bible study and free on-line Bible study video.