Jesus said, "For where two or three gather in my name, there am I with them" (Matthew 18:20 NIV). There was no Internet when Jesus said those words, but He certainly knew it was coming! And here we are today praying for each other around the world.
This Prayer Wall is a safe place for two or three or more to gather in Jesus' Name and pray for each other. God invites us to participate in the unleashing of His power by praying and turning the key to the storehouse of heaven's door for blessings outpoured. The Prayer Wall is here for us to pray for each other, and to share praises with each other.
Let me also say what the Prayer Wall is not. This is not a place to vent. Whether it is venting about husbands or politics, this is not the place to do it. It is not a place to disparage others, embarrass others, or disrespect others in any way.
The Prayer Wall is not a place to give advice. Let's let God be the One to give advice to our sisters. Our job is to pray and we never want human advice to interfere with God's direction.
We don't need to tell a lot of details about certain situations. God already knows the details, and we wouldn't want anyone to post something she would later regret.
Each prayer request will remain on the Prayer Wall for 60 days and will then drop off. If you would like for this amazing community of praying women to continue praying for a certain request, simply enter it again.
I am so excited to see what God will do in each of our lives!
Blessings!
Sharon
---
---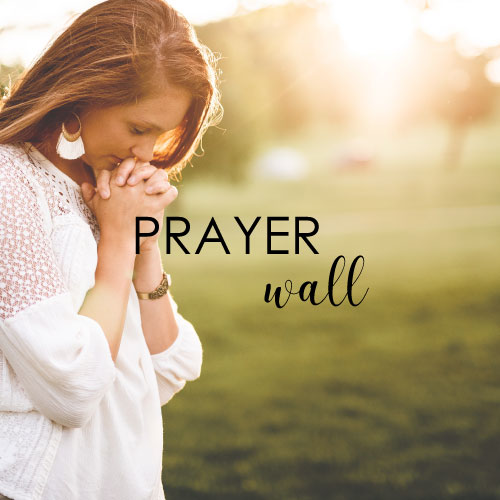 I need prayers to draw closer to God. My husband has filed for a divorce 24.4 years after we were married. I haven't been too preoccupied with my children, their health, my work and maintaining our home for the past 4 years. My husband was neglected and found a relationship. I pray God will soften his heart and bring him home - to God and to our family.

Praying for spiritual mental healing for my entire family. That we all will be able to completely forgive love and let go of past hurts and pain and move forward to what our Heavenly Father have for us. Be able to go back to college and finish. Help my daughter pay off student loans. Praying she'll get the job she being Praying for she graduates in December with her teaching degree. Send my 2 adopted son through college when their old enough.

Please pray for my sons Mark and James. They are both experiencing life changing illnesses. Pray for spiritual growith and healing for them and their families. .

Please pray for healing for me from abuse, trauma, and resentment from past relationships, for forgiveness for sins that have lead to consequences, for recovery from those consequences, for recovery from trauma from my son's death, for healing for my other son, who is now incarcerated, as well as gentle guidance for him to recover and walk a Godly path in life. Also praise for my current marriage and prayer to better develop closer relationships with my adult stepchildren.

I cant get pass of not quitting my job and keeping my Mom at home when she had Alzheimer's. Even though I knew I couldn't lift her.

She was taken care of and I saw her almost everyday. I just cant get passed the quilt. Please pray for me to know that God has forgiven me. OH how I miss her. She lived to 91

Please pray that I heal from the infidelity of my husband and forgive the other party. I pray for a fully forgiving heart and peace of mind. Thank you.

I've meet this beautiful man of God whom I've know for years and do to my lack of trust it affecting not only me but also him. My pray request is for God to teach me how to heal from all my hurts and pains and learning how to trusted again.

Please pray for my daughter Liz that her Social Security Benefits will be Approved she sees a judge on it November 2 please pray for me that my Cholesterol and sugar will go down

Please pray for me as I help my elderly mom. I homeschool my two younger children as well as help my Dad and Stepmom as needed. I need help keeping my priorities balanced for my husband and kids. Also really struggle in relationship with my Mom. There is a history of physical, mental and emotional abuse during my childhood. Thank you for praying. I want to be Gods girl in every situation!!!

My husband made some really bad financial decisions and caused us to owe a lot of money. He also has not worked in 2 years. I have end stage renal disease and I resent him for all of this. I am not sure how to get past it and he will not go to counseling. I am not sure if our marriage will survive.

I'm going through a divorce and I need my girls lifted up and be given a sense of peace. My 14 yo is really struggling with her grades in school. She has never liked school and struggles to keep up and turn in assignments. I have a separate issue of my mind wandering to an old boyfriend that o have been talking to. I feel guilty and ashamed because he's married and has a family. The devotion about picked scars fits true today. My spiritual connection is weak right not. I need guidance and strength.

Pray I have wisdom and courage. My porn addicted husband left two days ago to figure out what he wants.9/19/21 He needs an encounter with God. He is struggling and feels God is ignoring him and doesn't hear his prayers. He says he hates himself. I don't want a divorce I want healing and restoration. I found out 6 weeks ago that this has been a problem our entire marriage of 40+ years so there is anger and grief. I don't know how to set healthy boundaries. I have a real problem with control and need prayers for release of that specifically. Our church does have a wonderful ministry to men and women facing sexual sin. My husband has been attending for 6 weeks the class. Pray he continues every Wednesday and chooses to attend couples counseling like he said he would. Pray I will continue to draw closer to the Lord in this. My husband made a profession of faith and was baptized years ago but only God knows the heart. There have been so many lies and so much deceit. I pray my husband finds his way to Jesus and gets free of this shameful trap of the enemy. I confess I have placed my husband and our marriage as idols before God until now without knowing it. I repent and I pray he will repent also. I pray he comes home soon with a change of attitude and desire to really do the work to change. Up til now he says he has just been doing what people tell him and he hasn't really wanted to do any of it. The lady who runs the women's healing group called betrayed and beyond told me I can only trust his actions and his words are not to be trusted. I pray our marriage and our restoration story will bring God glory and praise. Pray I stay strong in the Lord. This is such a mental torment.

Plz pray that God will help me move past the resentment towards my estranged husband whom I'm in process of divorcing for unrepentant ongoing adultery. He has taken everything from me financially. I need God's healing so I can move forward.

Please pray for my dad. He is in his final days with his Alzheimer's journey. Our family needs not lots of prayer as we let him go to his heavenly father.

I feel as if I'm in a cloud of confusion and lack direction regarding my purpose. I'm a certified speaker, trainer and coach (personal development) and no matter what I attempt or how hard I put forth effort, doors of opportunities are not happening for me. My passion is to help women who are impacted by codependency and domestic abuse, I am also a DV survivor and understand all too well the feelings of insignificance, unworthy and hopelessness, and want to make a difference in the lives of women experiencing such. May I ask that you please pray for me to have vision, clarity, guidance, direction and spiritual resources that will present opportunities for doors to open to impact lives, create income streams and give God all the glory.

Prayers to release the pain , anger and resentment that I have towards my ex husband . Too realize I do have some value. Thank you so much!!

My 18 year old son told me this summer that he is transgender. He is away at college now as a sophomore. He has said he's not coming home for Thanksgiving, he said he'd rather I not come for parents' weekend and he didn't call me for my birthday, but sent a text. I continue to pursue him, writing him a letter every week( I do this for all my kids while they live away at college), I've told him I love him. He also knows I can't support his decision and can't call him by the new name he's chosen or use female pronouns. He believes love equals approval. Because I love him and know the Truth I don't approve. He made a profession of faith at 13. I know I have the greatest weapons- love because it never fails and prayer because I pray to THE ONE who can break strongholds. May my son know the depth of love God has for him and that he is never too far that he can't turn back to Christ. May he know that I love him until it hurts. May he walk away from this life and run back to Jesus. May the Lord continue to meet me in my grief.

Pray that I will know what God is saying to me and will obey. My husband's unending sex addiction is affecting me physically. I am praying for direction. Please pray for me as I ask for help with the stress and what to do. Pray for me on Thursday as I have been diagnosed with a weak heart and will get a pacemaker/defibrillator

I am unsure of what God wants me to do. I feel like I am at a cross-roads in my life. Every past decision I have made had brought me pain and hurt. Now i want to move forward but I am unsure how to go about asking God for help. Please pray for me.

I am asking prayer for a healthy, flexible, and enjoyable work environment. I am also asking God for healing and love in my relationships. I ask for equally yoked sisterhood and companionship with a man God has chosen as my significant other. I am praying for deep loving friendships.

I am battling a deep depression and questioning my worth. I feel abandoned, alone, lonely, unworthy and have dark thoughts. I have started seeing a therapist. However, I have heard recently that I should meditate on Go's power not my problems. Hard to do since I am overwhelmed by my problems. Please pray that God puts me on the right path and that I feel His presence and am comforted my him. Let me hear his words and may He have mercy on my soul.

Pray that all the body changes pray about would come through. Pray for money to help poor people and pray to see in spirit realm. Pray for wisdom and pray for protection for family. Pray for JESUS returned.

Please pray for restoration, forgiveness, renewing & revival in my marriage. My husbands broken heart would heal, that he would feel & know the presence of Gods peace around him & the decisions he makes for our family. Pray for my 3 young children in all of this. Please for me to learn to communicate with grace, wisdom, discernment & gentleness. Amen.

I am at a loss. I don't know what direction to take. There are things going on with my health, I am living in a motel, in which I can't afford much longer. I have so many health problems. I am unable to find a job which I am able to do, seeing I have limitations. It seems like in my life I've been trying to move forward and end up moving backwards. I am really struggling with this and don't know how much more I can handle. Please pray for me that God directs me to where I should be. Thanks.

I am at a loss. I don't know what direction to take. There are things going on with my health, I am living in a motel, in which I can't afford much longer. I have so many health problems. I am unable to find a job which I am able to do, seeing I have limitations. It seems like in my life I've been trying to move forward and end up moving backwards. I am really struggling with this and don't know how much more I can handle. Please pray for me that God directs me to where I should be. Thanks.

Please pray for me, i have had to 2 miscarriages since then i have been struggling with feeling o self doubt, believing i am not good enough, this has also affected my ability to perfom in my new job. Please pray for me for God to remove the feelings of shame, a successful pregnancy and success in my new job.

My boyfriend ended our relationship after almost 2 years. I'm hurt and confused. Please pray for both of us. Thank you

Please pray for me that my faith will be strengthened. That God will bring home my prodigal sons. Joshua and Luke and their wives. I need prayer for my health and mental health. Thank you. God bless you ⚘

I have been married for almost 25 years this coming year. I had a lot of expectations in my mind I thought would happen in our marriage, but has not. I struggle with the disappointment. His was are not kind and he seems oblivious to my plight. It's been this way for many years and though I pray and sent help from our Pastor. Nothing really changes. I'm asking god to help me know how to deal with this on going disappointment!

Please pray for me to blot out my past, I lived with a man 26 years ago and had numerous abortions,. I accepted God into my life 6 years after the break up. Even though I have repented I still carry the shame and hurt.