Jesus said, "For where two or three gather in my name, there am I with them" (Matthew 18:20 NIV). There was no Internet when Jesus said those words, but He certainly knew it was coming! And here we are today praying for each other around the world.
This Prayer Wall is a safe place for two or three or more to gather in Jesus' Name and pray for each other. God invites us to participate in the unleashing of His power by praying and turning the key to the storehouse of heaven's door for blessings outpoured. The Prayer Wall is here for us to pray for each other, and to share praises with each other.
Let me also say what the Prayer Wall is not. This is not a place to vent. Whether it is venting about husbands or politics, this is not the place to do it. It is not a place to disparage others, embarrass others, or disrespect others in any way.
The Prayer Wall is not a place to give advice. Let's let God be the One to give advice to our sisters. Our job is to pray and we never want human advice to interfere with God's direction.
We don't need to tell a lot of details about certain situations. God already knows the details, and we wouldn't want anyone to post something she would later regret.
Each prayer request will remain on the Prayer Wall for 60 days and will then drop off. If you would like for this amazing community of praying women to continue praying for a certain request, simply enter it again.
I am so excited to see what God will do in each of our lives!
Blessings!
Sharon
---
---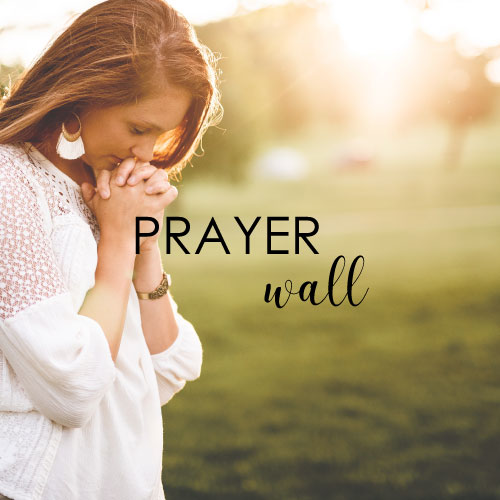 This is a praise of sorts, but also includes a prayer that my brother finds healing from the past through Jesus. When I was 7 years old my Mother committed suicide, leaving me, my two younger sisters and my Dad to grieve her loss. I was born after 10 years of my parents marriage. My Dad was a truck driver and our family owned a lake cabin with another truck driver family. One year before my Mother's death, the other couple divorced and the woman, Rose, received their part of the cabin in the divorce. My Dad and Rose (Mom) were married the next year. Mom had a 4 year old son; he was very upset that his parents were divorced. I was very upset, after Mom and Dad were married, that Mom was my mom. My brother and I were hell raisers. We are now in our 60s and 50s. I am convicted by the holy spirit that I need to apologize for my actions as a sister to my brother. I did this with my Mom about 20 years ago and it brought great peace to our relationship. I wanted to tell my brother, in person, then on the phone, that I am sorry and will do my best not to revert to previous actions, and that God loves him. Recently he no longer answers my calls - he will text. Per Sharon's post, on GiG, I plan on sharing, "when you do not like your story', and sharing that I am sorry for my actions and love him and so does God. Thank you and God bless this avenue for prayer with the understanding that my brother may never turn to Christ.

I am already overwhelmed taking care of my 99 year old mother in assisted living AND my husband who has Parkinson's. Now I have a bunch of personal health issues and it's hard to carry on. Please pray for strength and wisdom from the Lord. Thank you.

My 53 year old daughter Lisa has a Bi-Polar/Schizoaffective disorder, weights less than 90 pounds, is homeless since April of this year, and not on her medication.

The Mental Health Staff has many resources for her but she refuses. She doesn't like rules and doesn't want to take her medication. A dear friend is helping snd he seems to be able to get through to her. My prayer is that she will agree to go into a home and be safe and warm as winter is approaching.

Thank you

Prayers for my daughter and family. They're wanting to relocate. Seeking God's direction for jobs and a place to live. Thank you

My son spent his college years in seminary preparing to be a missionary to Africa. But he not only dropped out of college, he left the faith altogether. Although married, he says he is bisexual. Our hearts our breaking. We haven't seen him in several years nor heard from him

Healing my sons heart heart for mistreatment by his father when he was a child. Praying to forgive myself for not intervening more

I need God's guidance for our family. God, please put Your healing hands-on us. Protect us from the world and guide us with love and understanding. I pray for love, healing, and strength for everyone on this prayer wall. I love you, Father God!

My husband had a triple bypass and valve replacement 7/9 and then five days later emergency bowel resection due to bowel ischemia. He ended up being in induced coma for a month. He is very weak and needs the Lords strength and healing.

Needing God's healing for my eyes and ears.

Need his Mighty Hand to stay the destruction of this ":incurable' disease.

Jesus did heal the deaf and the blind.

And , nothing is impossible with God.

Please pay for my children as they are encouraged by their father to disrespect me and blame me for every ill in the family. Thank you.

To be released from the shame and guilt I carry for cheating on my husband. To be repentant and have this part of my story repurposed. I need Jesus to continue helping me fight the temptation and to overcome the shame and guilt of the mistakes I have made in the past and continue to make (emotionally) from time to time. I need healing, I need deliverance. I need Jesus.

I have been abused and betrayed by everyone who should have been family.

Knocked unconscious and almost strangled to death, by my "Christian" family.

Grappling with forgiveness when there is no real repentance.

When they blame the victim, and go on as if nothing happened, …

, simply b/c nothing did happen,….to them.

What does forgiveness look like in such a case?

Where the unthinkable is done, I was left so injured I couldn't even walk…

and they just went on and "played church", even holding teaching positions,…

while my life was shattered.

I need so much prayer. My heart is shattered in a million pieces from the loss of my dear husband. Tomorrow is our 20th wedding anniversary and I am so devastated. Every anniversary we would have a mini honeymoon and it is not happening this weekend. He has been gone for 44 days. I cry every night and every morning and then try to put on a strength I just do not have but need for my 11 year old son, the youngest of our 5 and only one left at home. Everything is happening or has happened so fast. The day after the memorial, I moved our oldest daughter back to college and 3 days after that moved our youngest daughter out of state to her first year of college. I feel so lost. In a fog. I am trying to be strong for all of our kids, but can't seem to catch my breath. I'm alive, but I am barely breathing. I miss him so much, I miss what we had and all we were going to have.

I will have Holy Spirit help to be the woman and wife God always intended. That my husband would be able to begin to heal his childhood wounds and continue to recover from porn habit that has had him trapped in shame for 4 decades. For him to hear God clearly through his recovery group and our marriage counselor. For me to be patient and trust God to do a miraculous work in our lives. For complete restoration and God get all the glory for it. For our adult children to be able to understand their pain from this recent disclosure and draw closer to God through it.

Can you pray that I can share the gospel with others too. I've seriously been having trouble with fear and sharing the gospel with others. I think I just need to set my mind on it and be very detirnend. God bless you, and thank you.

Please pray that I get some good scriptures down in my heart, believe God for the breakthrough he wants to give me, stay positive and in agreement with God, and speak good things.

Praying for my friend's son that he recover completely from this injury. Praying also for my husband's upcoming surgery. Please give his care team the skill and knowledge to perform flawlessly so he successfully recovers from his pain.

Dear Abba Father God. I ask that you will heal my broken heart. Restore the joy of my salvation. Good keep me in perfect peace because my mind is stayed on you at all times. God help to be patient with my grief journey and allow you to mend my broken and fragile heart and just love on me like only you can. Amen.

Going through transition into the unknown. I need God's guidance, provision and wisdom.

I would like to get gainful work

Healing of many health issues, wisdom for me and the doctors for many upcoming appointments.

Wisdom in decisions to be made in several areas. Peace and hope,

Help in dealing with loneliness, forming relationships, especially in finding a single Christian man.

Work issues and family issues.

Covid19 to finally go away.

As a believer, the ministry I was in broke up, many scattered back to their home states. I lost my vison and have not seemed to regain my desire for full service to the Lord. Began drinking to fill the void, and it has become an addiction hard to break and completely turn over with full trust to the Lord.

Need prayer and the Lord's help and comfort in so many ways and in so many areas. Please pray for me. Thank you.

Please pray for my husband. I'm concerned greatly about his lack of passion for spiritual things (church, walk with God, etc.) It is very hard for me a lot of times because I feel like I have no one to talk to about my walk with the Lord. Pray that God would do a work in my husband's heart and draw him close to Him. (Also, pray that I can lead by example in my walk each day.)

Thank you in advance!

Dear Lord,

Please help keep Kids and Teens away from The Sinful SpongeBob SquarePants Fans by replacing The Sinful SpongeBob SquarePants Fans with Kids and Teens finding interest in things from the 1980s(Like Ghostbusters) in Jesus Name, Amen!

Please pray for my marriage and better communication for me and my husband. Thank you!

I have had fibromyalgia my whole life and decades of chronic pain. Almost 17 years ago memories began coming up of terrible sexual abuse and Satanic ritual abuse when I was 6 on my dad's farm by the hired hand. Everything was confirmed by a Christian therapist who specialized in SRA. Much inner healing has taken place. But I am like the man at the pool for 38 years. Part of me does not want to get well Because of fear that I cannot handle the responsibilities of life, or the lie that if I do get well something worse will happen to me, and the Holy Spirit has shown me that unconsciously I believe that I am too worthless to get well or do anything with my life. I know these are all lies from the enemy and a I declare the truth of his word, pray constantly, and have experienced his love many times. I need prayer to get unstuck, for the inner unconscious me to want to get healed knowing that I can fully trust my heavenly Father to take care of everything, enable me to live the new healed life He has promised me.

My prayer is that my daughter will have the strength to leave her abusive boyfriend and break free from his and his mom's manipulations. And know that she is worthy of true love.

Thank you

Pray for my daughter who is prostituting herself and may be using drugs. She has had numerous failed relationships with men and has 4 children, none of whom she is taking care of. I called Child Protective Services because she had the children during the summer and I was so concerned for their well-being, I felt it was in their best interest. She allows her 16 year old to hang out with her ex boyfriend, whom she knows is a drug dealer. Also pray for my homosexual son. He married a man four years ago. He has shut me out of his life completely since his wedding because I still believe in God's definition of marriage and let him know that. Neither one of my children are speaking to me. I love them and want to be part of their lives. This estrangement is so difficult to accept. I'm so hurt and ashamed of them and the lifestyle they are living. Please pray for me too that I can move on and be happy. I'm older and feel I don't have much life left. I would give anything to see them turn to Jesus and accept His free gift of salvation before I leave this earth. Thank you so much.

Pray I have wisdom and courage. My porn addicted husband left two days ago to figure out what he wants.9/19/21 He needs an encounter with God. He is struggling and feels God is ignoring him and doesn't hear his prayers. He says he hates himself. I don't want a divorce I want healing and restoration. I found out 6 weeks ago that this has been a problem our entire marriage of 40+ years so there is anger and grief. I don't know how to set healthy boundaries. I have a real problem with control and need prayers for release of that specifically. Our church does have a wonderful ministry to men and women facing sexual sin. My husband has been attending for 6 weeks the class. Pray he continues every Wednesday and chooses to attend couples counseling like he said he would. Pray I will continue to draw closer to the Lord in this. My husband made a profession of faith and was baptized years ago but only God knows the heart. There have been so many lies and so much deceit. I pray my husband finds his way to Jesus and gets free of this shameful trap of the enemy. I confess I have placed my husband and our marriage as idols before God until now without knowing it. I repent and I pray he will repent also. I pray he comes home soon with a change of attitude and desire to really do the work to change. Up til now he says he has just been doing what people tell him and he hasn't really wanted to do any of it. The lady who runs the women's healing group called betrayed and beyond told me I can only trust his actions and his words are not to be trusted. I pray our marriage and our restoration story will bring God glory and praise. Pray I stay strong in the Lord. This is such a mental torment.

I need prayers to draw closer to God. My husband has filed for a divorce 24.4 years after we were married. I have been too preoccupied with my children, their health, my work and maintaining our home for the past 4 years. My husband was neglected and found a relationship. I pray God will soften his heart and bring him home - to God and to our family.