Happy Mother's Day to all the moms in my blog family. Motherhood is one of the most rewarding jobs on earth…but it's not easy. If it were, it wouldn't start with something called "labor!" At the end of this post, you'll see a lovely printable to remind you of just how important your role as a mom is, not only to your children, but also to the world. I encourage you to share this post with your own mom, or a friend who might need a bit of applause. 
Steve, Steven, and I pulled up our chairs at a cowboy barbecue in Jackson Hole, Wyoming. It was a ho-down sure 'nough. About 500 of us pretend cow pokes sidled up to paper covered tables with steaming plates of chow.
Once every one settled in, we began the usual banter of "where ya'll from?" and "what do ya'll do?"   Across the table from me sat a family of four from Birmingham, Alabama: a dad, mom,and two clamoring giggling little girls, ages eight and ten.
At one point, a man a few seats down asked Mary THE question, "Ma'am, what do you do?" She hung her head and said, "Oh, I'm just a mom. I don't have a job."
My son cut his eyes over to me with a mouthful of baked beans mid-chew. He braced himself for what was sure to come.
It did.
"Excuse me, darlin'," I said. "You never need to use the words 'just' and 'mom' in the same sentence. You have the most important job of anybody at this table. You are raising those two precious girls: creating order out of chaos; ensuring their physical, emotional, and spiritual well-being; bringing continuity to your family in a fast-changing world; and shaping and molding the individuals who will one day contribute to the future of our community and nation."
I think Mary was sitting up just a little straighter by the time we finished our "conversation," and I don't think she'll ever use the words "just" and "mom" in the same sentence again.
After I returned to North Carolina, I wrote a poem in honor of mother's with that little gal in mind. It's based on the seven qualities from my book, Being a Great Mom, Raising Great Kids.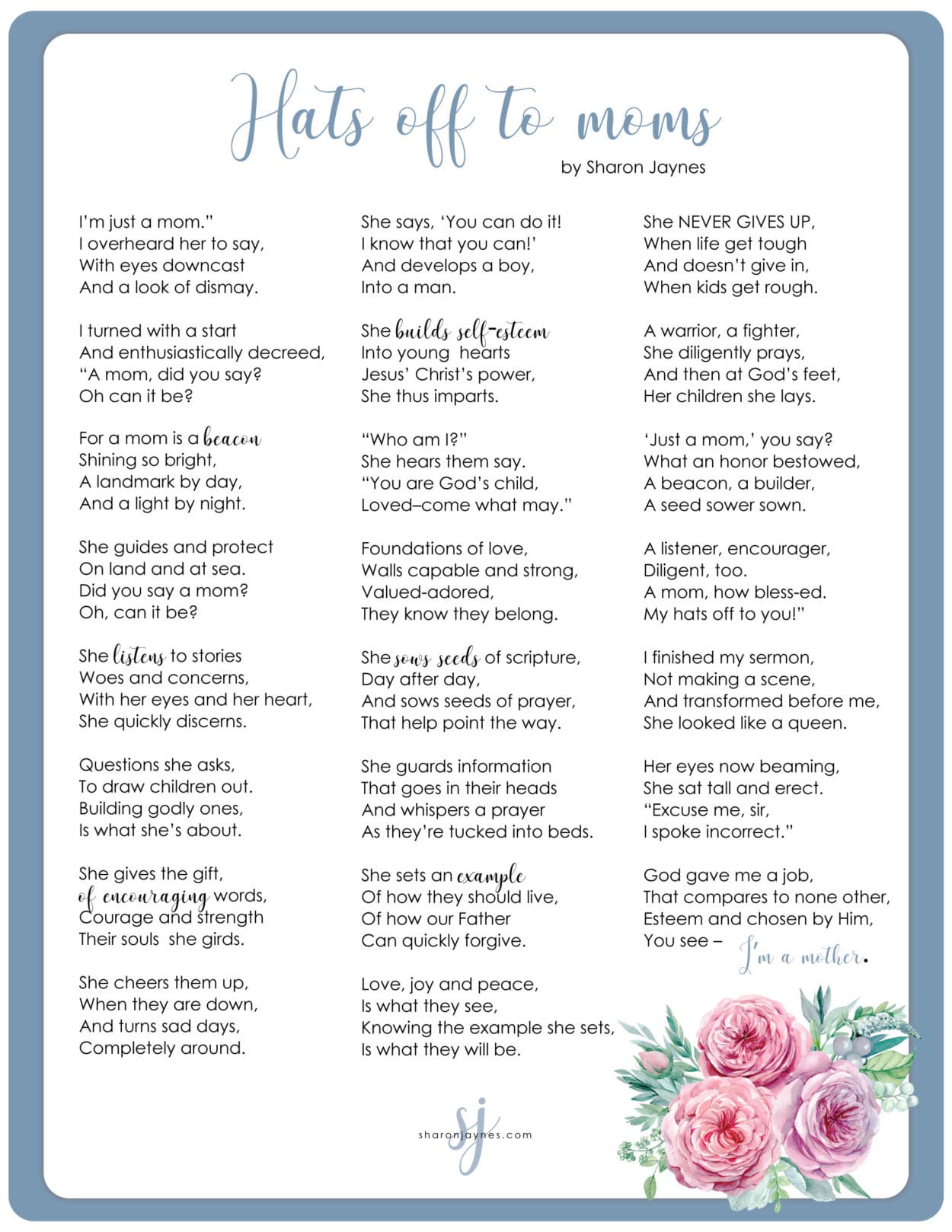 Click here to download a free printable of this poem.
Happy Mother's Day!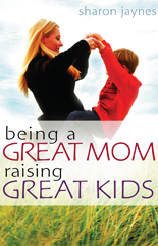 Want More?
Being a great mom reminds me of the story of a world famous violinist. An admiring fan ran up to him one day and cried, "Mr. Kreisler, I'd give my life to play as you do!" To that he replied, "Madam, I did." Being a great mom is a diligent investment of sacrifices that reaps dividends with compounded interest over time. If you'd like to sharpen your parenting skills, check out my book, Being a Great Mom-Raising Great Kids. It is a storehouse of encouragement for one of the most important jobs on earth.