I've been pondering this verse today: It is for freedom that Christ has set us free. Stand firm, then, and do not let yourselves be burdened again by a yoke of slavery (Galatians 5:1 NIV).
Most likely you can't relate to being a slave, but maybe you can relate to the idea of being held captive in some area of your life.
An addictive behavior
A controlling parent
An out of control emotion
A fear of the future
A shameful past
A need for a man
A lustful eye
A desire for approval
An obsession with a goal
A co-dependent relationship
A guilty conscience
Each of these conditions can cause you to be tied up in knots and held captive to the point that you're stuck in a prison of your own making–never realizing that the door has been swung wide open for your release.
Rebekah and Brian had been married for twelve years. During that time he had several affairs. Sometime during his third bout of unfaithfulness, Brian decided he wanted a divorce. Rebekah was left with two wonderful children, a broken heart, and an urgent need to fill the void in her life with another man.
She hooked up with the first man that showed her any attention, and in short order, he moved into her home. Family, friends, and co-workers warned Rebekah that she was making a bad decision. She claimed to be a Christian, but turned a blind eye to God's commands about sex outside of marriage.
Over the past five years, her life has been a roller coaster of disappointment with the current man, disillusionment of her children, and distancing from her family. And while she has tried to break free of the unhealthy and ungodly relationship, she keeps taking him back time and time again.
[tweetherder]You cannot continue to do something that you know is wrong and expect to have an outcome that is right.[/tweetherder]
Rebekah is a slave to her loneliness and the idea that she needs a man to fix the void in her heart. I dare say that loneliness is big reason many women make poor decisions…and the devil takes advantage of that ache every chance he can.
Every believer has been given the power to break free and to live free, but God's not going to force it on any of us. There is always a choice.
If you feel that you need someone to help you break free from an addicting behavior or habit pattern, find someone! Do whatever it takes, but don't try to do it on your own strength or with your own power. God has given us the power of the Holy Spirit to help us get through it and be finished with it…but sometimes we need people too. Get a prayer partner, an accountability partner, a Christian counselor, or a support group.
I have my two best friends who hold my feet to the fire when I'm headed in the wrong direction. God created us to live in community, and we need the support of other people.
Is there any area of your life where you are not living free?
Go back and look at the short list above?
If you need prayer, leave a request in the comment section below. You don't have to share all the details, just as much or as little as you'd like. Then pray for the sister's name above yours. We're in this together!
Additional Resource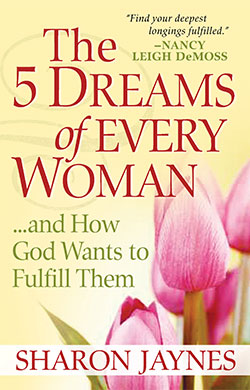 Have you noticed that sometimes life doesn't turn out like you thought it would? Can you risk the hope that God still has dreams for you? That He hasn't forgotten you? Place your hand firmly in His, take a deep breath, and begin the journey to a place you thought you'd never find: the dreams God planned for you all along. Discover that place in 5 Dreams of Every Woman…and How God Wants to Fulfill Them.