I want to see God today. Don't you? What I've discovered is that there is nothing that will shut my eyes to seeing God's presence and working in my life than ingratitude.
Ingratitude leaves us groping about in the dark for what will never satisfy the longings of the soul. The cure comes in capsules of praise, thanksgiving, and a grateful heart.
Gratitude is the antibiotic of the soul to cure a variety of the world's ills.

Click & Tweet!
Gratitude restores a sense of intimacy with God.
First Thessalonians 5:18 says, "Give thanks in all circumstances." Notice it doesn't say to feel thankful in all circumstances. Instead it commands us to "give thanks in all circumstances." When I begin to praise God in a difficult situation, even if I don't feel like it, my perspective changes. God grows larger and my problems grow smaller.
That was a lesson Corrie ten Boon learned from her sister Betsie as they suffered together in a German concentration camp during World War II. She tells her story in the book, The Hiding Place. They lived in Barracks 28 in overcrowded filthy conditions and nauseating stench. Reeking straw. Rancid beds. Overflowing toilets. And fleas. Everywhere fleas.
On their first day in the barracks, as Corrie was fighting the nausea from the reeking straw, and the fleas were biting her one after another, she cried out, "Betsie, how can we live in such a place!" And Betsy remembered a Bible verse they had read that very day. First Thessalonians 5:18: "Give thanks in all circumstances."
"That's it, Corrie!" Betsie exclaimed. "That's His answer. Give thanks in all circumstances!' That's what we can do. We can start right now to thank God for every single thing about this new barracks!"

Corrie stared at her sister; then around the dark, foul-aired room and wondered what in the world they had to be thankful for. With Betsie's help, she agreed to give thanks for the fact that they were together, that they snuck a Bible into the camp, and that the overcrowded conditions made it possible for more women to hear the Scriptures when they read each day. But she could not see clear to thank God for the fleas.

"The fleas!" she cried. "This is too much Betsie. There's no way even God can make me grateful for a flea."

"'Give thanks in all circumstances,'" Betsie quoted. "It doesn't say, 'in pleasant circumstances.' Fleas are part of this place where God has put us."

And so they stood between tiers of bunks and gave thanks for fleas. But this time Corrie was sure Betsie was wrong.

One evening Corrie got back to the barracks late from a wood-gathering foray outside the walls. Betsie was waiting for her, as always, so that they could wait through the food line together. Her eyes were twinkling.

"You're looking extraordinarily pleased with yourself," Corrie told her.

"You know, we've never understood why we had so much freedom in the big room," Betsie replied. "Well—I've found out. This afternoon, there'd been confusion in our knitting group about sock sizes and they'd asked the supervisor to come and settle it. But she wouldn't. She wouldn't step through the door and neither would the guards. And you know why?"

Betsie could not keep the triumph from her voice: "Because of the fleas! That's what she said. That place is crawling with fleas!"
Sometimes I don't see God in difficult situations, but I still can praise Him because I know He is there. Gratitude changes the lens through which we see the circumstances in our little slice of time. Thanksgiving changes our perspective despite shattered dreams, broken relationships, and heart-rending circumstances. It changes our perspective in the accumulation of little nuisances in just plain old every day life.
Gratitude is one of the most significant aspects of our relationship with God.

Click & Tweet!
Looking back on all the ways God has blessed you will steady your feet in shaky times, no matter what you're going through. As you praise God for who He is and thank Him for what He's done, your perspective of Him grows larger and your problems grow smaller.
Let's get this thanksgiving party started. Leave a comment and tell me 5 things you are thankful for!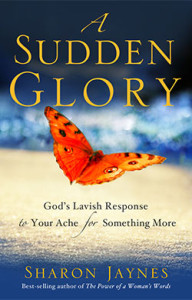 Do you long for something more in your relationship with God? Do you have a "glory ache"—a hunger to experience God's presence on a daily basis? The good news is that God wants that even more than you do. Right smack dab in the spin of the laundry and the sizzle of the bacon—as you live and more and have your being in Him. Dust for His fingerprints on the pages of your everyday life. My book A Sudden Glory: God's Lavish Response to Your Ache for Something More will show you how. Click on the title, find the book, and read a sample chapter. I think you'll be hooked. It also includes a study guide and free online Bible study videos.