I sat in a giant swing with two other crazy women. Strapped in. Hanging on. Poised to be flung out over a cliff…over and above a valley below…way below.
I'm excited to meet Jesus. I really am. But this was not how I envisioned it happening.
We were at a women's retreat in Colorado, and I was the speaker. What possessed me to get in that swing was beyond me. But I allowed this boy (who looked like he was about twelve-years-old) to strap me in.
Once the tether was loosed, and we flew into the air, I understood why the giant swing was called The Screamer. I SCREAMED.
I'm the one on the far left with my mouth wide open.
Sometimes obeying God is like the Screamer. We hang on and the adventure begins!
The adventurous faith begins when we:
#1 Trust God
#2 Obey God
Jesus knew we'd have trust issues when it came to obedience.
"Which of you fathers, if your son asks for a fish, will give him a snake instead?" He asked. "Or if he asks for an egg, will give him a scorpion? If you then, though you are evil, know how to give good gifts to your children, how much more will your Father in heaven give the Holy Spirit to those who ask Him!" (Luke 11:11-13).
If we don't understand that God always, always wants what is best for us, then we will have a difficult time trusting Him. In Him we live and move and have our being will be a halted walk at best. We'll have a coach potato faith, rather than an adventurous faith.
Brennan Manning, in his book, The Furious Longing of God  said this:
"As long as we continue to picture God as a small-minded bookkeeper, a niggling customs officer rifling through our moral suitcase, as a policeman with a club who is going to beat us over the head every time we stumble and fall, or as a whimsical, capricious, and cantankerous thief who delights in raining on our parade and stealing our joy, we flatly deny what John wrote in his first letter (4:16): 'God is love.' In human beings, love is a quality, a high-prized virtue; in God, love is His identity."
And it is because of that love that you can always trust that He has your best interest in mind.
When we truly believe that God always wants what's best for us, then we begin to understand that obedience is not something we have to do, rather obedience is something we get to do.
Do you want to experience an adventurous, intimate relationship with Jesus in which you sense His presence?
Do you want your inloveness with God to grow to new heights and depths that you never thought possible?
Then follow His lead. That's exactly where He wants to take you.
If you're ready, leave me a comment that says, "I'm ready to experience the adventure of faith." And if you're in the middle of one of those adventures right now, let me know and I'll pray for you!
 Want More?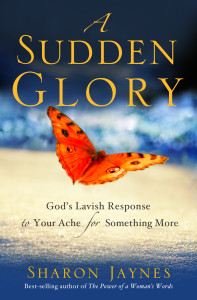 Sometimes we're asking the wrong question. It's not what God wants from you when it comes to obedience, it is what He wants for you. If you'd like to learn more about how to experience the adventurous faith, if your heart aches for something more, then A Sudden Glory might just be what you need to get you there. Click here to read a sneak peak and watch a video.