If you've ever felt like a failure, you're not alone.
We all struggle with feeling like a failure at one time or another—maybe as a mom, as a wife, as a friend, in ministry, at work, at holding our tongues, at loving the unlovable. Life brings us lots of opportunities to fail.
How often have I made a simple mistake, like driving away from the grocery store before putting my groceries in the car? Then I get home and the chatter begins. I am so stupid. What's wrong with me? I'm such a failure.
My friend, Renee Swope wrote, "When our thoughts heap condemning statements like these on us, we get buried in discouragement and defeat. Failure gets the final say. We become our own worst critic, and once again Satan loves it. Whether you are saying these things to yourself or you are repeating what someone else has said, once again they are exactly what the enemy wants you to believe."
Conviction that leads to repentance comes from the Holy Spirit (   John 16:8).
Accusation that leads to condemnation comes from the accuser (Revelation 12:10).
Conviction from the Holy Spirit will be about a specific behavior and will never attach your identity to that behavior. You lied to your coworker… You flirted with your neighbor… You shamed your child. These statements are specific.
Accusation and Condemnation makes broad, sweeping generalizations about your character and identity, such as, You're a failure… You're unreliable… You're a misfit.
Conviction's purpose is to conform you to the image of Christ.
Condemnation's purpose is to contain you and rename you. Scripture assures us that the accuser will be completely defeated in the end, but until then, he accuses us before God day and night (Revelation 12:10).
When you slap a label on your identity other than who God says you are, the enemy takes a victory lap around your heart. Click & Tweet! Learn from your mistakes under the tutelage of the Holy Spirit, but don't get stuck there. Don't sew a label on your heart. Accept God's forgiveness and then move on.
Many men and women failed in the Bible, and yet God did not label them according to their failure. David committed adultery, and yet God referred to him as "a man after my own heart" (Acts 13:22). Moses and Gideon both began as cowards, and yet God called them courageous. Peter denied he even knew Jesus, and yet Jesus labeled him "the rock."
Dr. Neil Anderson once said, "One reason we doubt God's love is that we have an adversary who uses every little offense to accuse us of being good-for-nothings. But your advocate, Jesus Christ, is more powerful than your adversary. He has canceled the debt of your sins—past, present, and future. No matter what you do or how you fail, God has no reason not to love you and accept you completely."
If you have sewn the label of "failure" onto your heart like a kid with her name sewn into her clothes before going off to camp, cut it out or rip it off. Then sew on a new label with the truth of who you really are. You are a dearly loved, chosen, forgiven, redeemed child of God. Click & Tweet!
What label have you sewn onto your heart that needs to be removed today? Leave a comment and let's rip them off together!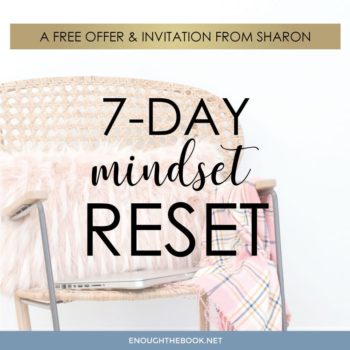 Do the voices in your head say you're not good enough, smart enough, pretty enough…or just not enough, period?
It's time to stop listening to lies that sabotage your confidence and to embrace the truth of who God says you are.
Join me for 7 days to transform your thought life by replacing the lies that steal your confidence with God's truth >>> CLICK HERE to join today! It's FREE.