This morning I went to the grocery store to gather all my goodies to make our traditional Jaynes Family Christmas Breakfast. You would think that after twenty-nine years of whipping up the same dishes, my husband and son would want something different. But kids are funny when it comes to traditions…even when one is twenty-nine-years old and the other is past the half-century mark.
While advertisers boast slogans of "new and improved," it is comforting to know that somethings never change. Family traditions are the lighthouse beacon that welcomes ships passing in the night, inviting them to drop anchor in a safe harbor called home.
So I thought I would share what will be on our breakfast table this Christmas morning…again.
SAUSAGE AND EGG CASSEROLE
The beauty of this recipe is that you prepare it the night before, place it in the refrigerator, and bake it the next morning.
Ingredients:
1 pound of sausage
6 eggs
2 cups of milk
2 slices of bread, cubed
1 cup of grated sharp cheddar cheese
1 teas. salt
1 teas. dry mustard
Saute sausage, and drain off as much of the grease as possible. Beat eggs. Mix beaten eggs with milk, salt, and dry mustard. Place bread cubes in a 9×13 baking dish. Sprinkle cooked sausage over the bread cubes. Sprinkle cheese over the sausage. Pour egg mixture over the cheese. Cover and place in the refrigerator overnight. The next morning, bake uncovered at 350 degrees for 45 minutes. Serves 6-8.
Cheese Grits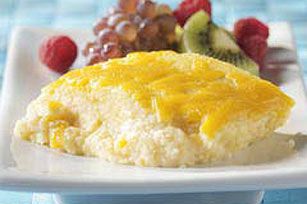 Ingredients:
2 1/2 cups of milk
3/4 cup uncooked regular grits
1/2 cup margarine or butter
1/2 teas. salt
1/3 cup grated Parmesan cheese
1 5 ounce process cheese spread (Cheese Whiz)
Bring milk to a boil; add grits; reduce heat; cook until thickened (about 10 minutes), stirring often. Stir in margarine, salt, and cheeses and cook until all is melted together. Spoon into a greased 1 quart baking dish. Bake at 325 degrees for 20 minutes.
Cinnamon Cheese Blitzes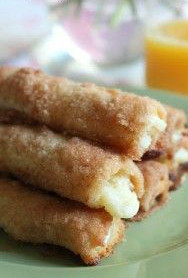 This is another recipe that can also be prepared ahead of time.
Ingredients:
1 Kingsize loaf of white bread, crusts removed
8 ounces of cream cheese softened
1 egg yolk
1 cup of butter or margarine
1 1/2 cup sugar
1 1/2 teas. cinnamon
Mix together softened cream cheese, egg yolk, 1/2 cup of sugar. Set aside.
Melt butter in a small bowl. Set aside,
Mix 1 cup of sugar and cinnamon together. (I put it on a paper plate.)
Flatten bread slices with a rolling pin.
I do the following process one piece of bread at a time.
Spread cheese mixture over a flattened slice of bread. Roll the slice up jellyroll style. Dip it in melted butter, and then roll it in the sugar/cinnamon mixture. Place all the rolls on a cookie sheet and place them in the freezer. After they are frozen, cut them in half. Bake frozen at 400 degrees for 12-15 minutes.
I like to make several batches of the cheese blitzes, store them in ziplock baggies, and then pull them from the freezer to bake a few at a time.
Sausage Pinwheels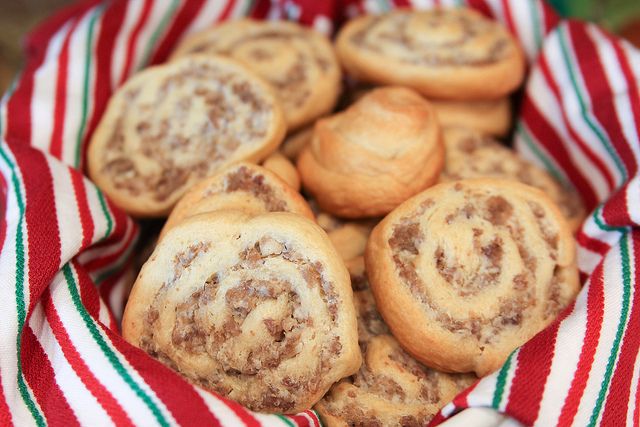 These are so yummy, we have to ration them out! You can also prepare these the night before. Slice and bake the next day.
Ingredients:
1 pound of sausage
2 cans of crescent rolls
2 8 ounce packages of cream cheese
Brown the sausage and drain off as much of the grease as possible. Return the sausage to the pan, and add cream cheese. Stir to melt over low heat. Once the cream cheese has melted and the mixed with the sausage, remove from heat. Allow the sausage/cream cheese mixture to cool completely.
Roll out the contents of the crescent rolls to make 1 rectangle. Press the seams together. Do the same with the other can so that you will have 2 separate rectangles. You will be making 2 sausage rolls.
Pour the cooled sausage/cream cheese mixture evenly over the 2 rectangles. Roll up the dough jelly roll fashion, short end to short end.  Roll onto a piece of aluminum foil, and wrap the log into the foil. Place the aluminum-wrapped logs in the refrigerator. When you are ready to cook, cut the sausage "logs" into 1/2 inch slices with a serated knife,  and place the pinwheels on a cookie sheet. If you have trouble cutting the slices without them crumbling, you can place the "logs" in the freezer for a bit.
Bake at 350 degrees for about 15 minutes until golden brown.
(I gave some of these to my UPS man when he made a delivery. He came back 2 days later, not with another delivery, but sheepishly asking for the recipe. How cute is that!)
Orange Glazed Pillsbury Sweet Rolls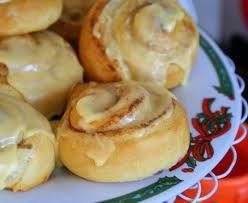 Don't ask my why, but with all the goodies I've fixed over the years, my family still insists that I have Pillsbury Orange Glazed Sweet Rolls.
This might be your favorite recipe.
Go to the grocery store. Buy a can of Pillsbury Orange Sweet Rolls. Follow the directions on the can. Eat one before you put them on the table to make sure that you at least get one.
So that's my Christmas breakfast menu!
I'd love for you to share one of your favorites! Just click on the comment button and share away.