Do you ever feel like you just don't fit in this crazy world? That you're not at home here on earth? That even with Christ in your life something is still missing? The reason is because you're not at home, and something is missing.
[tweetherder]C. S. Lewis said, "If I find in myself desires which nothing in the world can satisfy, the only logical explanation is that I was made for another world."[/tweetherder]
(The sun rising at my house.)
I don't know about you, but I find great comfort in those words. When I feel like there just has to be something more…I can rest in knowing that there is. I'm not crazy after all.
Solomon reminds us, "He (God) has planted eternity in the human heart," (Ecclesiastes 3:11 NLT). You were made for eternity, for glory, and as long as your feet are here on this earth, you will experience a glory ache that only heaven can fully satisfy. You will feel a certain something missing that may be hard to define.
One Spring, our family hosted a ten-year-old Russian foreign exchange student. He went to school with my son and got a taste of what the American Christian family is all about. Alex's English was very limited and we depended on hand signals and facial expressions to get by.
On one occasion, I was trying to get him to write a letter to his parents. I pulled out the stationary, handed him a pen, and pointed to a picture of his mother and father. "Why don't you write a letter to your parents," I suggested. He had no idea what I was talking about.
For twenty minutes I drew pictures and tried to get him to understand what I wanted him to do. Finally, with tears in his eyes, he looked up at me and said, "What do?"
I just hugged him and put the pen and paper away.
Oftentimes I feel like our little foreign exchange student. I see beauty mingled with pain and suffering and wonder…what do? I feel close to God but not close enough, and I cry…what do? I see glimpses of God's presence, but the ache never quite goes completely away, and I look toward heaven and pray…what do?
Then God reminds me that I am not home yet. I am an alien and a stranger in this world in which I temporarily live (1 Peter 1:2, 2:11). My citizenship, your citizenship, is in heaven and we are just passing through this wonderful, very fleeting point in time and space we call life. [tweetherder]There will always be a tension between the physical world and our new born-again spirit that was made for eternity.[/tweetherder]
Another translation of Ecclesiastes 3:11 reads, "He also has planted eternity in men's hearts and minds [a divinely implanted sense of a purpose working through the ages which nothing under the sun but God alone can satisfy]," (AMP).
 Not until we see Jesus face-to-face will the lingering glory ache completely subside. I can almost hear the collective "ahhhh" that is sure to come when we believers exhale our last earthly breath and inhale eternity for the first time.
Through my study of the glory ache and God's balm of sudden glories that brim from living in sacred union, I have come to realize that total healing for the ache will come when I finally make it home. The door upon which I have been knocking all my life will finally swing open when I step into eternity.
The glory ache will not be satisfied by working harder or by doing more, but by living a life of sacred union in which Acts 17:28, "In Him we live and move and have our being," becomes a practical and perpetual reality in your life.
Until then, the glory ache will be soothed …
By erasing the lines that separate the sacred from the secular so that every endeavor becomes an act of worship.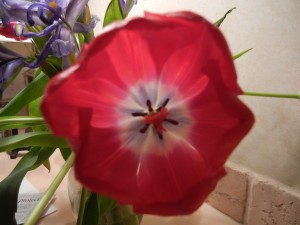 By joining God's continual conversation as He pursues you, romances you, and speaks to you first one way and then another.
By daring to raise your expectations and enter into His world.
By taking His hand and joining Him in the divine dance of obedience where you follow His lead in a unique choreography designed just for you.
By opening the windows of heaven through words of gratitude and grace.
In each of these venues, God softly announces His presence through shimmering hues of radiance, tapping gently at your   consciousnesses and seeking entrance into the moments of your day.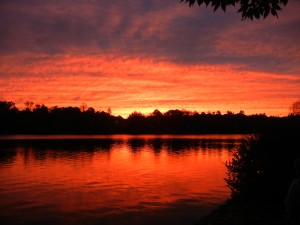 But even then…the glory ache will not go away completely, for we see as through a glass dimly. The dull throb of "homesickness" will remain until we see Him face-to-face and experience the joy of His presence in unrestricted ecstasy. Until then, God gives us glimpses of glory here on earth.
What are some moments of sudden glory you have experienced in the past few weeks? How has God made His presence known to you?
(The sun setting at my house.)
Want More?
If you long to experience the presence of God on a daily basis, know this…God wants it even more. To learn more, click over to y special web-page I have set aside for A Sudden Glory: God's Lavish Response for Something More. Download a sample chapter and watch free video lessons.