Do you ever have days when you just want to give up? Days when you just want to throw up your hands and say, "Forget this!"
If so, you're not alone. I've said it too. I've felt it too.
[tweetherder]The key to success in any endeavor is not
give in
to the human tendency to
give up.[/tweetherder]

William James said, "Most people never run far enough on their first wind to find out they've got a second. Give your dreams all you've got and you'll be amazed at the energy that comes out of you."

Many years ago, before I had my first book published, someone told me that the difference between a published author and an unpublished author is that the published author didn't give up on her dream. I've found that to be true.

Paul encouraged the Philippians, "Brethren, I do not consider myself yet to have taken hold of it. But one thing I do: Forgetting what is behind and straining toward what is ahead, I press on toward the goal to win the prize for which God has called me heavenward in Christ Jesus" (Philippians 3:13,14). The NASB says, "reaching forward to what lies ahead." Paul compared his Christian life to a race and in this verse he tells us to keep our eye on the goal. Press on! Don't give up!

Here are some fun facts to remember when you feel like quitting. They're not Biblical or even spiritual, but they are poignant reminders.

After Fred Astaire's first screen test in 1933, the director noted, "Can't act! Slightly bald.  Can dance a little."

Louisa May Alcott, author of Little Women, was encouraged to find work as a servant or a seamstress.

Beethoven's violin teacher once told him his was a "hopeless composer."

Walt Disney was fired by a newspaper editor for lack of ideas.

Thomas Edison's teacher said he was too stupid to learn anything.

Albert Einstein didn't speak until he was four years old and didn't read until he was seven.  His teachers described him as mentally slow.

Isaac Newton did poorly in grade school.

Henry Ford failed and went bankrupt five times before he finally succeeded.

Babe Ruth, when he retired from baseball, set the home run record (714), but he also held the record for the most strikeouts (1,330).

Winston Churchill failed sixth grade.


One basketball player missed 9,000 shots in his career.  He lost more than 300 games.  Twenty-six times he was trusted to take the game's winning shot and missed.  His name is Michael Jordan.  He said, "I've failed over and over again in my life. And that's why I succeed."

There have been many days when I've wanted to quit. Lugging suitcases through an airport by myself, carting boxes of books from place to place, sleeping in strange beds, eating strange foods, missing my husband, fighting spiritual battles for the souls of the ones I'm speaking to, traveling across the country alone, endless hours at the computer alone,  etc.

Being in ministry is an honor, but it is not glamorous! Many days I wonder, is all this doing anyone any good? That's when God reminds me of the piano story.

Once there was a little nine-year-old boy who wanted to give up. He desperately wanted to stop taking piano lessons. In hopes of encouraging her son to continue, his mother took him to hear the great concert pianist Ignacy Jan Paderewski.

Before the concert began, the boy slipped away from his mother and made his way to the grand Steinway positioned on the stage under the stoplight. He sat down on the piano bench, placed his chubby hands on the keys, and began to bang out the most annoying song known to humankind – "Chopsticks."

The indignant crowd began to yell for someone to get the boy off the stage. Behind the curtain, Paderewski heard the commotion. He grabbed his coat, ran out on stage, and reached his arms around the boy to play a beautiful melody to enhance the boy's "Chopsticks."

All the while he whispered in the boy's ear, "Don't quit. Keep on playing. Don't stop. Don't quit. Never give up."


There may be many days when your life seems just about as melodious as chopsticks. It is on those days when I want you to imagine your Heavenly Father placing His loving arms around you and playing a beautiful melody around you simple efforts.

All the while He's whispering, "Don't quit, don't stop, never give up."

If you're willing to "press on" with Paul and with me, leave a comment that says, "With God's help, I'm pressing on today!"

Want More?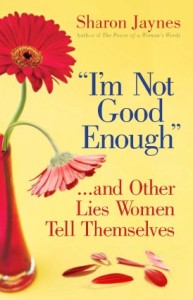 Sometimes what holds us back and makes us feel like quitting is the feeling that we aren't good enough, smart enough, spiritual enough…just plain not enough. If this is something that you struggle with, it is time to stop believing the lies and starting believing the truth. If you know Jesus, you are empowered by the Holy Spirit with a whole passel of promises that are yours for the taking.
I'm Not Good Enough…and Other Lies Women Tell Themselves,
 has helped thousands of women to believe the truth about their identity in Christ. I can help you too!