I don't know about you, but I'm feeling a little overwhelmed going into 2017. I just had a new book come out, and I have a looming deadline for a project I haven't even started yet. So in my overwhelm-ed-ness (yes, that is a new word for today), I have invited my friends Kathi Lipp and Cheri Gregory to share a post from their new book titled…what else but… Overwhelmed: Quiet the Chaos & Restore Your Calm 
How does she do it all?
 Why can't I keep up with her?
 What's wrong with me?
I'd been asking myself these questions for decades, comparing myself unfavorably to other women. But when my friend Kathi Lipp came up with a brilliant analogy that answered my questions, I didn't like the answer.
Not one little bit.
What Size Plate Do You Have?
Kathi compares each woman's productivity capacity to the size of a plate. Many women have a dinner plate. Some have a big turkey platter.
And then, there's those of us who have little demitasse saucers.
It's taken me years to admit that no matter how hard I try to prove otherwise, I'm not a platter or even dinner plate kinda gal.
I'm a tiny plate girl.
And oh, how I questioned God for giving me an itty-bitty plate when I have turkey platter-sized desires.
Why would You do this to me?
If you had to give me such a teensy-weensy capacity, why couldn't you at least reduce my longings to match?
Is this some kind of cruel joke?
I felt like a disciple, stuck with five little loaves and two tiny fishes, facing a famished crowd of thousands.
Turkey Platter Dreams
A few weeks ago, I was whining to Kathi, once again, about how unfair it was for God to give me a pathetic demitasse saucer-sized capacity with turkey platter-sized dreams.
Kathi responded, "But I feel like you do have a platter. Truly. I know you don't, but it sure seems like it to the rest of us."
Our friend Angela added, "Cheri, you must have the largest saucer ever or maybe you have the cup and the saucer capacity put together."
Without thinking, I said, "Then God has got to be multiplying things somewhere along the way."
I paused, as a new thought came to me.
"Maybe this is when he can miraculously transform our little into much: when we accept what we have and quit trying to beg, borrow, and steal plates that aren't ours."
Working With God Instead of Against Him
The more I reflect on our conversation, the more I realize Kathi and Angela are right.
I do have a small capacity. I'm a Highly Sensitive Person — I am especially easily overwhelmed.
But in spite of this, the last six months have been enormously productive for me.
I've been saying "No" to most things, only saying, "Yes" to what I am clear God has asked me to do.
For the first time in my life, rather than pretending I'm capable of more, more, more, I've been surrendering my God-given capacity back to God, trusting Him to do with it what He will.
After so many years of trying to prove God wrong, I'm finally getting out of his way so he can work.
And now I feel like a disciple who's counting baskets of left-overs after the thousands have had their fill.
Overwhelmed With Gratitude
I now realize that when God passed out plates, He did not forget me.
I no longer ask Why would You do this to me?
I know why He gave me an itty-bitty plate with turkey platter-sized desires.
If God had given me a large enough capacity to match my over-sized dreams, I'd be unbearably proud of my amazing abilities.
Instead, I'm watching in wonder as things happen that I'm keenly aware I'm not doing by myself.
And instead of being overwhelmed by performance panic—How will I ever keep this up?!?—I'm overwhelmed by simple gratitude.
It's never a mistake when God gives us a tiny saucer with big desires.
It's always an amazing gift: to be a small part of huge miracles.
And all the credit goes to Him.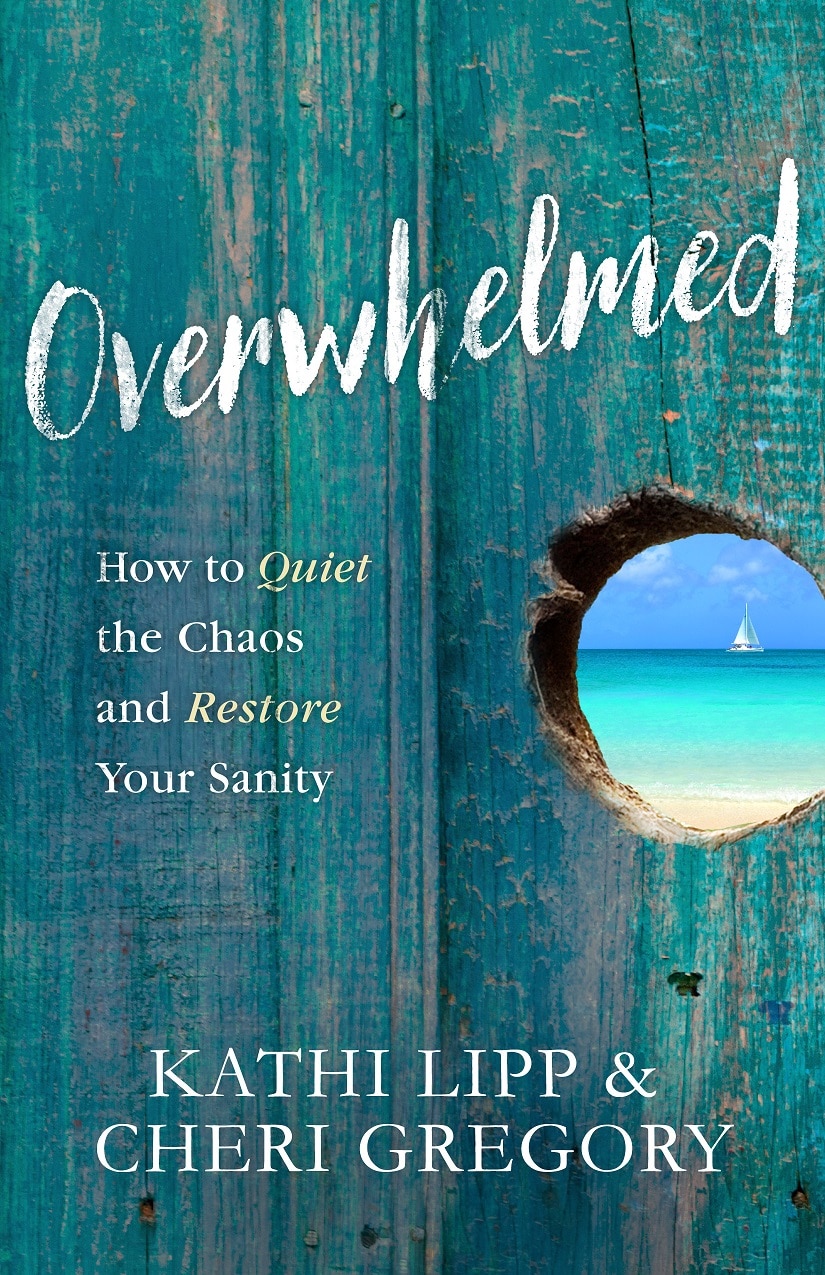 To win a free copy of Overwhelmed: Quiet the Chaos & Restore Your Calm,  leave a comment about one thing that overwhelms you. I'll randomly pick one comment on January 15 and send you a free copy right away! (US & Canadian readers only).
Kathi Lipp (right) is a busy conference and retreat speaker and the bestselling author of several books, including Clutter Free, The Husband Project, and The Get Yourself Organized Project. She and her husband, Roger, live in California and are the parents of four young adults.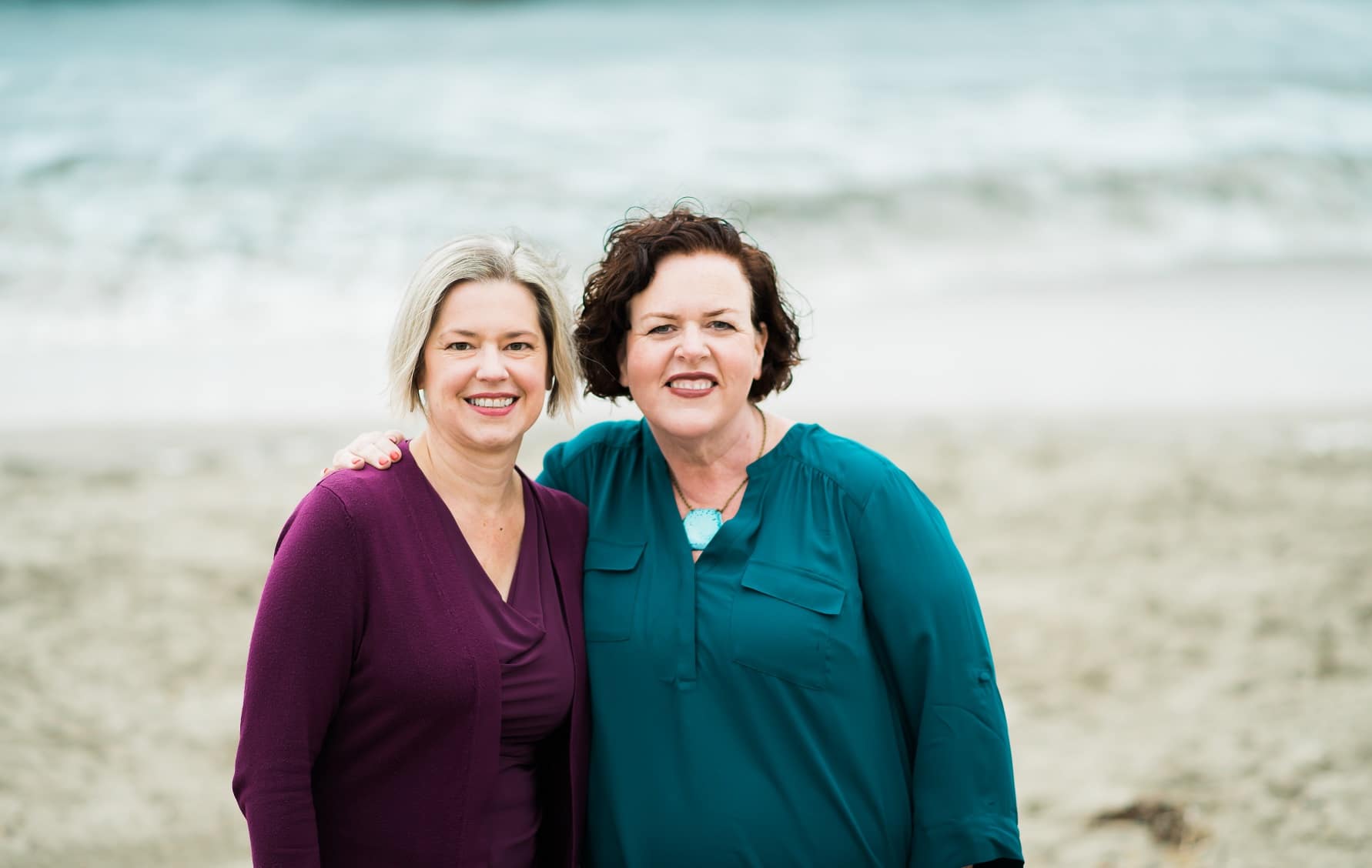 Cheri Gregory (left)  spends her weekdays teaching teens and weekends speaking at women's retreats. She's been married to her college sweetheart, Daniel, for more than 28 years. The Gregorys and their young adult kids, Annemarie and Jonathon, live in California.