The hummingbirds are fighting again today.
The feeder is full. The nectar is fresh. The four yellow perches are available and waiting.
And two hummingbirds are fighting over it.
Every morning I get up and have a cup of coffee with God on my screened-in back porch.  Right outside the door is a bright red hummingbird feeder. And even though there's more than enough food for an army of these enchanting creatures, they fight like there's only one drop to be had.
Swoop…bomb…squeak. There goes another one. They squeak rather than tweet.
As soon as one bird hovers to take a sip from the feeder, another one swoops down, takes aim with his needle-like beak, and drives him away. They fight mid-air for a few seconds, and then flee to separate trees like fighters in two corners of a boxing ring. Neither is satisfied. Neither is happy. Neither is filled.
The hummingbirds are stunning with their beautiful jewel tone feathers of iridescent greens and blues. They flap their tinkerbell wings at about 200 beats per second and flit about like pixies. And even though they appearto be  dainty little darlings, the truth is, they are pretty little mean things.
What I want to say to them is this…actually I do say it. Yes, I talk out loud to the birds as if they had ears to hear.
"Look guys, what are you fighting about? I've got this nice hummingbird feeder all ready for you. There is enough nectar for both of you—for a hundred of you. I'm not going to run out of the sweet sugar water. There's plenty. I promise.
"The feeder has four perches. Count them. 1-2-3-4. And there's only two of you.
"Why can't you both drink at the same time and be happy? Content? Grateful?  Why are you fighting and acting like there's not enough for both of you? [tweetherder]Stop competing for what is so plentifully provided.[/tweetherder]
"Eat up!  Drink up! Rejoice that your fellow feathered friend has food and drink! Celebrate that you have it too!"
Lest you think I'm a little feather brained for talking to the birds, my little speech was not wasted. It hit me square in the face.  It was one of those moments of Sudden Glory I'm so prone to talk about.
I started thinking of God's provisions. Full. Abundant.  Plentiful.  His blessings never run out; they never go dry.
Any yet, sometimes brothers and sisters in the faith act like God has only a limited amount of resources at His disposal.
Some pout when God blesses someone  else, as if He only has a certain allotment of blessings to parcel out.
Others refuse to celebrate when someone succeeds, as if God has only a limited number of success stories to write.
And still others become jealous when someone prospers, as if God is stingy with His promises rather than lavish and eager to give.
I dare say, some even knock another off his or her perch if they think it will help them get ahead. It's certain what Cain did with Abel.
But we would never act like hummingbirds…would we?
Let's determine right now. In our lives, there will be "no hummingbird activity allowed."  NHAA.
Let's determine to rejoice over others' successes and blessings, knowing that God has plenty of goodness to go around. .
As a matter of fact, let's celebrate right now. Tell me one way God has blessed you over the past few months. Leave a comment and tell me a victory, a success, or a miracle, and then let's celebrate together.
Want More?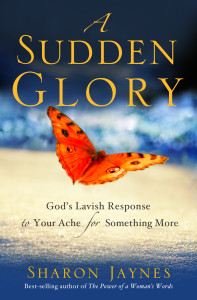 Today's blog post is an example of what I talk about in A Sudden Glory: God's Lavish Response to Your Ache for Something More. God has holy Post-it Notes scattered all through your day…little messages just for you. The key is to learn how to recognize them, to see them, to hear them. That's what A Sudden Glory is all about. Click here to download a free chapter or watch free videos.