I'm writing over at Proverbs 31 Ministries today! I thought you might enjoy it too. If you've ever felt far from God, then keep reading. Make sure and read to the end for free goodie.
One day I was praying for my son a prayer that had almost become as rote as "God is great. God is good." Dear God, please be with Steven today, I whispered.
Just as abruptly as a referee's whistle calling foul, the Holy Spirit stopped me mid-sentence. Why do I pray that every day? God is with Steven. Why am I asking for something that he already has, as if I don't believe it?
So, I amended my mother prayer. Dear Lord, please help Steven be aware of Your presence today.
The truth of God's here-ness and nearness is punctuated throughout Scripture. David wrote:
"Where can I go from your Spirit?
Where can I flee from your presence?
If I go up to the heavens, you are there;
if I make my bed in the depths, you are there.
If I rise on the wings of the dawn,
if I settle on the far side of the sea,
even there your hand will guide me,
your right hand will hold me fast" (Psalm 139:7-10, NIV).
The writer of Hebrews reminds us that God's words to the Israelites also apply to you and me. (And it's confirmed in Deuteronomy 31:6, 8 and Joshua 1:5.)
"Never will I leave you; never will I forsake you" (Hebrews 13:5b).
There was a common saying going around a few years ago: "If you feel far from God, guess who moved?"
But God is not a being that can be moved away from. There is nowhere you can go that is away from His presence. Click & Tweet! But (and this is a big but), you can feel far from God. The cure for the feeling of farness comes in capsules of praise, thanksgiving and acknowledgment of His presence. It comes in practicing the presence of God.
The good news is that "practicing" the presence of God is not as arduous as learning to play a musical instrument or as physically taxing as preparing for a marathon.
Practicing the presence of God is found in acknowledging His presence in all of life. Click & Tweet! It's simply a two-step, danced to the rhythm of God's cadence, in the spin of the laundry and the sizzle of bacon in the pan. Practicing the presence of God is the constant awareness of His presence and the attentive acknowledgment of His workings.
All of us feel closer to God more at one time than another. But it's just a feeling. The truth is, sometimes I feel closer to my husband than other times, but that doesn't mean I'm any less married at some times than others. I usually feel closer to him after we've enjoyed a fun time together, been especially intimate, or gone through a struggle where we've locked arms and walked through it together.
It's not that much different in my relationship with God. I might feel closer to Him when we've had a good time together (as in worship), been especially intimate spiritually (as in a morning quiet time), or gone through a struggle where we've locked arms and walked through the difficulty together (as in mourning the death of a loved one).
But just because I feel closer to God in a particular moment doesn't mean that I am. It's still just a feeling.
We will always feel far from God when we ignore Him, live independently from Him or rush about expecting Him to tag along. And while our humanness falters between spiritual times of plenty and times of want, feeling near to God is always just a whisper away as we acknowledge His presence with us.
Yes, what a joy and a comfort to know that there is nowhere we can go that is away from God's presence. Click & Tweet! He will never leave us or forsake us. The fact that we live in His presence makes every moment of life meaningful. He is in our moments and our moodiness, our days and our dalliances, our weeks and our weaknesses.
There is no place we can go that is away from God's presence. And today, I am thankful that He is with you.
Heavenly Father, I am so thankful that You are with me today and every day. Open my spiritual eyes to see You, my ears to hear You and my heart to sense Your presence. In Jesus' Name, Amen.
Why do you think we go through periods when we don't feel close to God? What activities make you feel closer to God?
Here's a special gift for you today. Click here to download chapter 3 of A Sudden Glory for FREE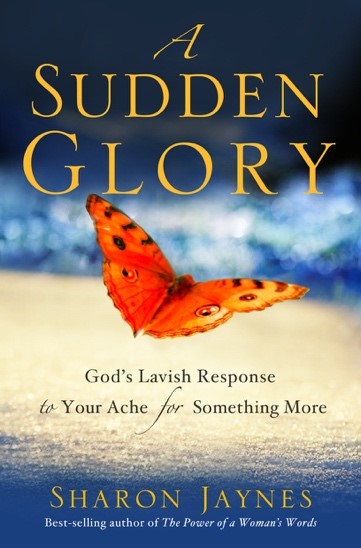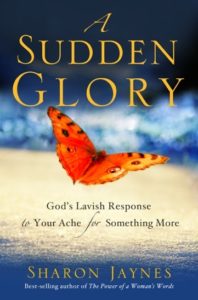 Do you long for more in your relationship with God? Do you long to experience His presence on a daily basis? In Sharon Jaynes' book, A Sudden Glory: God's Lavish Response to Your Ache for Something More, you'll see how to erase the invisible line separating your "spiritual life" from your "daily life" so you can experience God's presence in all of life — even in the middle of your busy, messy day.