Two weeks ago, I was preparing for an upcoming trip to El Salvador with Compassion International and my ministry partners, Gwen Smith and Mary Southerland.
We were going to visit several projects in three different cities to get a better understanding how Compassion breaks the cycle of poverty among some of the world's poorest populations.
Like the smell of approaching rain on a summer day, I sensed that God was about to do something amazing. With the anticipation of a child on the eve of her birthday, I suspected God had a special surprise for me in this little country sandwiched between the two continents.
"Someone is waiting for you," He seemed to say. "You are about to become the answer to someone's prayers."
Stirrings.
Several years ago, while speaking in South America, someone had given me a beautiful Bible with my name engraved on the blue leather cover. It was in Spanish. I don't speak Spanish.
"Take the Bible," God seemed to say as I packed my small carry-on.
Nudges.
We arrived in El Salvador late Monday night and joined our Compassion team.
"Will we have the opportunity to sponsor any children while we are here?" I asked Justin, our trip coordinator.
"Yes," Justin replied. "I have 5 children that need sponsoring where we will be visiting. "
He handed me 5 packets with pictures and descriptions of 5 El Salvadorian children who were living in poverty.
A precious tiny girl dressed in pink.
A cute little princess dressed in blue.
A pair of huggable young boys.
And Miquel…a teenage boy. He seemed out of place in this batch of elementary age urchins…a bit uncomfortable having his picture taken by the concrete wall.
"Is it more difficult for teenagers to find sponsors?" I asked Justin, while never taking my eyes off of this soul wrapped in teenage awkwardness.
"Yes," Justin replied. "People usually want to sponsor the little ones."
This is your miracle.
Heart whispers.
I clung to the packet and pressed it to my chest…letting his name roll off my tongue and into my heart… Miquel.
The next day, someone brought a surprised and confused Miquel to the project I was visiting.
He had had a sponsor in the past, but for some reason they had to discontinue their financial support. He wondered why he was at the center, and sat with the translator to get his answer.
"How did you feel when you lost your sponsor?" the translator asked.
"I was very sad," he explained.
"Did you pray for another sponsor?" she continued.
"Yes, I prayed. I prayed and asked God to help me. I didn't know if I would ever be able to come to the project again to learn about God."
"Miquel, God has answered your prayer. Not not only that, your new sponsor is in the next room." (Most of the thousands of children who are sponsored through Compassion International never meet their sponsors.)
I went out to meet Miquel. I explained that God had told me about him before I even came to El Salvador. While he was praying, God was answering his prayer. I told him that God had seen him, that God knew him, that God was providing for him, that God loved him…and so did I. I handed him the Bible with my name engraved on the front, and his name written on the inside cover.
He was my miracle, and I was his.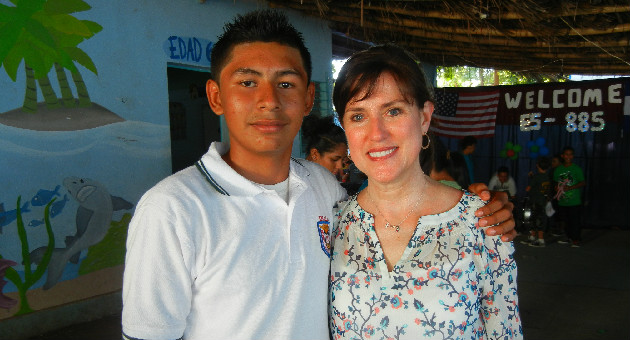 Compassion International strives for every child to be SEEN, to be KNOWN, and to be LOVED.
And when you stop and think about it, isn't that what we all long for?
The woman across the street.
The child in the homeless shelter.
The man on the park bench.
The teenager dressed in Goth.
The woman reading these words.
The woman writing them.
Oh dear friend, God sees you. God knows you. God loves you.
I experienced a little bit of heaven last week as I met this handsome young man. My young man.  It was a moment of SUDDEN GLORY.
What about you? Would you like to be someone's miracle today?
Keep your eyes open to God's direction, your ears attune to God's gentle whisper, and your heart expectant to God's tender tugs.
If you are willing, leave a comment that says, "I want to be someone miracle today."