I'm a guest on Kathi Lipp's Clutter Free Podcast today. Click here to listen in on our conversation about Enough and to download a free gift I'm offering her listeners.

I'm also sharing over at Proverbs 31 today. I thought I'd share this poignant moment with you too. You might want to grab a tissue.
"Mommy, Mommy," Steven cried. "Don't let them hurt me!"
My son, Steven, was about 3 years old when he contracted a severe case of the flu. His slumped body snuggled listlessly like an old, worn rag doll.
When I carried him into the medical clinic, the doctor quickly diagnosed dehydration and immediately sent us to the hospital.
My heart ripped apart as the nurses strapped my little boy onto a table and began placing IVs in his tiny arms.
"Mommy, Mommy," Steven cried. "Make them stop! They're hurting me."
"No, honey," I tried to assure him. "They're going to make you all better."
"Mommy, help me!"
Steven cried. I cried. The nurses cried.
I could only imagine what was going through Steven's little mind. Why are these people hurting me? Why doesn't Mommy make them stop? She must not love me. She's not protecting me. If she loved me she wouldn't let them do this. She must not care about me.
Standing in the corner watching my little boy cry, I wondered if that's how God feels when I'm going through a painful situation that's for my ultimate good. I cried out, "God, why are You letting this happen? Don't You love me? Don't You care about what's happening to me? Why don't You make it stop?"
It was a picture I wouldn't soon forget.
I envisioned God speaking to me in my pain. You don't understand the reason for the pain. You might think I've deserted you, but I will never leave you. You might think I don't love you, but I love you to the height of heaven and the depth of the sea. You might think I don't care about what's happening to you, but I am orchestrating your days and care about every hair on your head. My ways are higher than your ways, and My thoughts are higher than your thoughts. Yes, I do care about you and what's happening to you. In the end, this will make you better.
C.S. Lewis, who watched his beloved wife die of cancer, put it this way: "God whispers to us in our pleasures, speaks in our conscience, but shouts in our pains: It is His megaphone to rouse a deaf world."
Because God loves us, He desires our conformity more than our comfort Click & Tweet! . Allowing troubles, trials and pain is one way our loving God makes that so. No one likes getting stuck with a sharp needle, but if the needle brings healing or prevents greater suffering, it's just what we need. Faith in Jesus Christ does not guarantee an easy life but a perfect eternity.
I don't know what difficulties you're facing today. It could be the toughest time of your life. But I do know that during tough times, the devil will tell you (falsely) God doesn't love you, doesn't care about you or isn't doing anything to help you. Don't listen to him. Satan is a liar—an opportunist who looks for vulnerable times to convince you to question God's power, provision and promises.
Here's my process when those lies wiggle their way into my thoughts:
Realize the enemy's true identity: He's the father of lies.
Recognize the lie: God doesn't love me.
Reject the lie!
Replace the lie with truth: "For I am convinced that neither death nor life, neither angels nor demons, neither the present nor the future, nor any powers, neither height nor depth, nor anything else in all creation, will be able to separate us from the love of God that is in Christ Jesus our Lord" (Romans 8:38-39).
When we feel like a little kid, thinking our heavenly Father's standing in the corner not doing anything, we can know He is. Jesus said, "My Father is always at his work to this very day, and I too am working" (John 5:17b, NIV).
No matter what you're facing today, remember this:
God loves you.
God is good.
God wants what's best for you.
God is always at work on your behalf.
You can trust Him.
And that's the truth.
Heavenly Father, sometimes life is just hard. I'll be honest, sometimes I feel like You're standing in the corner watching and not working. However, I know deep down that's not true. Thank You for never leaving nor forsaking me. You always work for my good even when I can't see it. In Jesus' Name, Amen.
Which of the reminders in today's graphic did you need to be reminded of most today? Leave a comment letting us know and I'll randomly select one winner to receive an Enough bracelet.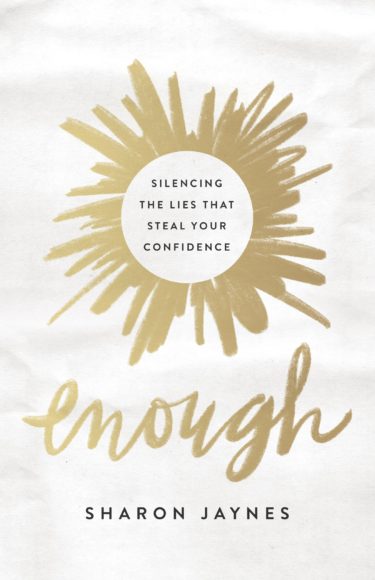 Today's blog post is adapted from my brand new book, Enough: Silencing the Lies that Steal Your Confidence. It's time to silence the voices in your head that say you're not good enough, smart enough, pretty enough … or just not enough, period. Trade in self-defeating thoughts for God's truth that you are an incredible woman of worth, uniquely fashioned and empowered by God! Order today and receive 24 free Truth Cards. Learn more HERE.