I love Christmas, but I didn't always.
Growing up, Christmas meant my dad drank more, my mom fussed more, and my parents fought more.
All I wanted was a little of that "peace on earth," that we sang about in church. (Yes, we went to church.)
Sometimes "peace" is all a kid really wants for Christmas.
I've asked my nephew, Jonathan Edwards, to share a little from his new book, LEFT: The Struggle To Make Sense Of Life When A Parent Leaves
. Peek with me into a child's heart to see what he or she really wants for Christmas.
One More Stocking

 It was a giant underwater city. The complexity and the detail were clearly beyond my age range and ability, but I loved it. I loved the fact that it was too difficult to do by myself. I loved that he sat with me and helped me. To date, it's my favorite Christmas memory, being right next to my dad that Christmas day in Grandmommy's living room. We assembled and fortified the underworld palace. His work clothes were his blue and white bathrobe, classically coupled with his brown leather slippers and, without fail, his coffee by his side.

We prepped all the men for their underwater life. Gave them all their helmets and oxygen tanks and made sure they were ready for the plunge.

They were all smiling.

It's the most remarkable thing about life in LEGO land, isn't it? It doesn't matter what was going on or what your job is or how much bumpy grass you have. It doesn't matter if you have brown hair, no hair, beard, or no beard. It doesn't matter if you're an astronaut or a policeman or a pirate or a prisoner or a deep-sea diver or Batman.

It doesn't matter.

You're yellow.?And you're smiling.

I'll tell you this, I sure felt like a giant LEGO character that Christmas morning. I smiled the whole time.

But it wasn't because of HIS PRESENTS.

It was because of HIS PRESENCE.

But that Christmas shared with the army of deep sea diving LEGO men was the last Christmas 5 stockings hung from the mantle.

From then on there would always be room for

one

more

stocking.

His long, slender red and white striped stocking never got put up again above that fireplace. If I had known that in the midst of those '95 Christmas festivities, I would have done things differently. I would have forgotten about LEGO city and the toys and the candy and the pajamas, and I would have simply snuggled with him. We could have sat by the fire and not said a word. Just us two.

Father.

And son.

After that you don't think much about Santa or toys. Your Christmas wish isn't for Santa to come down your chimney, it's for your dad to walk through the front door. You don't care what kind of shoes or skateboards or computers are in the living room waiting for you on the couch. None of it matters. No gift, large or small, matters because you know the one thing on the top of your list, the one thing above all the toys and the games, is to have your family together again at Christmas. But deep down you know that it just won't happen. You know that Santa can't do that. He can't go down to his workshop and tell the elves to round up your dad.

Now, 19 years later, things are different. Christmas can always be tricky in how it takes our minds to times long gone, loved ones not here this year, and memories of a life that seems like it never existed. But oh how I am grateful for those Christmas memories with him. I am thankful for those days; days characterized not by yelling, but laughing. I love to just sit and think back on the joy of those years with him.

Sure, it reminds me of his absence, but more importantly it reminds me of his presence. And that's a good thing.

Because those days are reminders of great holidays; reasons to be grateful for time that was precious, no matter how short it might have been.
This Christmas, your family may be messy. That's OK. Most of us are messy on some level. But one thing we can all do is to give the gift of a wonderful day filled with love. Then no matter what happens down the road, when kids look back on where they've been, they will remember the wonderful gift of YOUR PRESENCE.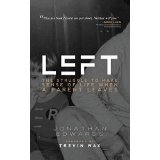 Jonathan will be popping in to read your comments and encouragement!
ABOUT THE BOOK: Whether you've been left by a parent, or know someone who has, LEFT: The Struggle To Make Sense Of Life When A Parent Leaves
 will give you hope as you tread through the treacherous waters of abandonment and loss. Jonathan's book is filled with stories of young men and women who have grappled with the void when a parent leaves, and gives you hope that the wound can heal, the hurt can subside, and the hole can be filled with the One who loves you best. This is an excellent resource for single parents trying to navigate the the rough waters of parenting alone, as well as for the husband or wife who is trying to understand the hurt of his or her spouse's broken home. If you are the one who has been LEFT, you'll no doubt understand your hurt a bit better.