When my husband, Steve, was in high school, he worked various jobs and was notoriously frugal. His twin brother, Dan, and their best friend, Mike, were not quite so thrifty.
Dan and Mike did have odd jobs from time to time, but their funds disappeared as quickly as they got them. Steve was a saver, and they knew it.
Steve had a little brown wallet from childhood with a horsehead on the front and a zipper on the top. It was his "saving wallet," and he kept it safely tucked away in his sock drawer.
Occasionally, Steve, Dan, and Mike would get together to plan an adventure such as a weekend trip to the beach or just a night out on the town for pizza and putt-putt.
"Let's just pool all our money together in one big pile," Dan and Mike would say. "Steve, get out the horsehead. We'll put all our money on the table and combine it. We won't worry about whose is whose."
They knew that Mr. Thrifty would have about thirty dollars to match each of their one dollar contributions. It was a great deal for them. For Steve, not so much.
I've been thinking about the horsehead wallet here lately. Even found a picture of one.
And I've been thinking about how Jesus invites us to put our resources on the table with His.
"Just put what you have in with what I have," He says. "Let's make one big pile. What's mine is yours. We won't worry about whose is whose."
The Bible actually has a word for that. It is co-heir. Paul wrote, "You are a co-heir with Christ" (Romans 8:17).
It's a common practice for folks in their golden years to put the final touches on their Last Will and Testaments.  Some take certain family members out of their wills and add certain family members in.
Some are constantly shifting assets based on how someone behaves toward them, how much time or attention they give them, or their perception of how much someone loves them. It's nothing new.
But God, our Heavenly Father, never does that. Never.
[tweetherder]God does not write us in the will for good behavior or take us out if we misbehave.[/tweetherder] He has given us an inheritance and then placed a seal on it that cannot be broken.
Here's what Paul tells us about our inheritance:
In him we have obtained an inheritance, having been predestined according to the purpose of him who works all things according to the counsel of his will, so that we who were the first to hope in Christ might be to the praise of his glory. In him you also, when you heard the word of truth, the gospel of your salvation, and believed in him, were sealed with the promised Holy Spirit, who is the guarantee of our inheritance until we acquire possession of it, to the praise of his glory." Ephesians 1:11-14
You didn't earn this inheritance. God is not giving it to you because you were particularly good. He did it because it" pleased him to do so" (Ephesians 1:5).
Being a co-heir with Christ means that you get what He gets. Does that blow your mind? It certainly does mine.
When will you receive this inheritance? You already have! Notice the verb tense in Ephesians 1:11: "In him we have obtained an inheritance."
It is simply up to you to know it, believe it, and act on it.
By the way, my husband doesn't have his horsehead wallet anymore, but he is still very thrifty…except when it comes to loving others. In that regard he is ridiculously LAVISH and holds nothing back!
If you are willing to move past knowing to BELIEVING this truth, simply leave a comment that says, "I am a co-heir with Christ."
Want More?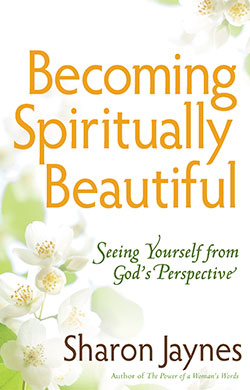 To learn more about who you are, what you have, and where you are in Christ…your new identity as a child of God, see my book, Becoming Spiritually Beautiful: Seeing Yourself as God Sees You. Believing you are who God says you are can change everything!