If you're one of my many single friends, and you really don't like when I blog about marriage, let me encourage you. These blogs are only for a season. Believe me, I remember the days when I loathed Valentine's Day. I couldn't wait for the red and pink to disappear. If the marriage blogs stir up icky feelings, please just delete them.  or read them store the info away for a day when they won't feel so icky. But please don't unsubscribe for good. You are loved! This is only for a season.
In my first job as a dental hygienist, I noticed how the all-female staff, as well as the patients, admired the doctors in the building where I worked. I admired them too!
They were a wonderful group of talented men who were gifted and skilled in their chosen profession.
As a young woman in my early twenties, I wondered how the doctors' wives felt about the praise their hubbies received from other women all day long.
Amazingly, a few years later, I had the opportunity to find out for myself.
After working for two years, I decided to go back to college. While there I met and married Steve Jaynes, a young dental student.
When he started his practice, I remembered the admiring women from the years before, and I made a commitment that of all Steve's admirers he would have from the day he opened his practice until the day he retired, I was going to be his number one fan!
And it wasn't long before I realized that admiration and appreciation are the golden keys to unlocking his heart.
Dr. Willard Harley, in his book, His Needs Her Needs says:
When a woman tells a man she thinks he's wonderful, that inspires him to achieve more. He sees himself as capable of handling new responsibilities and perfecting skills far above those of his present level. That inspiration helps him prepare for the responsibilities of life. Admiration not only motivates, it also rewards the husband's existing achievements.

When a wife tells her husband that she appreciates him for what he's done, it gives him more satisfaction than a paycheck.

Click & Tweet!

 A woman needs to appreciate her husband for what he already is, not for what he could become, if he lived up to her standards. For some men—those with fragile self-images—admiration also helps them believe in themselves.
So where does your husband go for admiration and appreciation?
He goes somewhere. All men do.
Does he go to work in hopes of hearing "Job well done"?
Does he go to the ball field in hopes of hearing "Way to go, man"?
Does he go back home to mamma to hear "I'm so proud of you, son"?
Does he work late hoping for a few compliments from the gals in the office?
Does he feast on compliments from patients or clients?
Does he hang out at the gym flexing and building his biceps?
Tell me, where does your man go to be admired and appreciated?
How wonderful when that place is in your heart, in your arms, and in your home.
If you have been withholding admiring words from your husband, it may feel strange to begin.
First and foremost, be authentic—be real.
If you contrive admiring words, he'll be able to tell. Start with one compliment or one word of appreciation.
It may be as simple as saying "thank you."
Soon the admiration will begin to flow…hopefully both ways.
Look for ways to give your husband a compliment every day.

Click & Tweet!
Pay attention to him and take note of his appearance, behavior, and character qualities. Then sprinkle a few compliments his way.
Your husband may be confused or skeptical with this sudden showering of praise. He may say, "What's up with the compliments all of a sudden?"
If that's his reaction, just say, "I'd forgotten what a wonderful man I'm married to, and I'm realizing it more and more every day!
Here are some ideas from my book, A 14 Day Romance Challenge
Make a list of 10 to 15 reasons you appreciate or admire your husband and send it to him in an email, tape it to the steering wheel of his car, or post it on Facebook, making sure to tag him in the post.
Write your husband a note, thanking him for something he did for you. It could be as simple as thanking him for working hard for your family, cutting the grass, or keeping up with your insurance.
Fill one helium balloon for each year you've been married. Attach a love note to the ribbon of each balloon. Place the balloons over your bed so when he comes into the room he sees the cloud of balloons with love notes hovering from the ceiling.
Make him a little card the size of a credit card that says "Lifetime Member of the AAA Club of Marriage. I Admire, Adore, and Appreciate You." Slip it into his wallet.
Put a note in his wallet that says, "You mean more to me than all the money in the world."
Leave a comment and share one thing you did or will do today to show your husband you appreciate or admire him. We will randomly pick one comment to receive a free copy of my new book, A 14-Day Romance Challenge: Reigniting Passion in Your Marriage. Click on the book cover to read free chapter, watch a fun video, and sign up for free bonuses with purchase before January 31.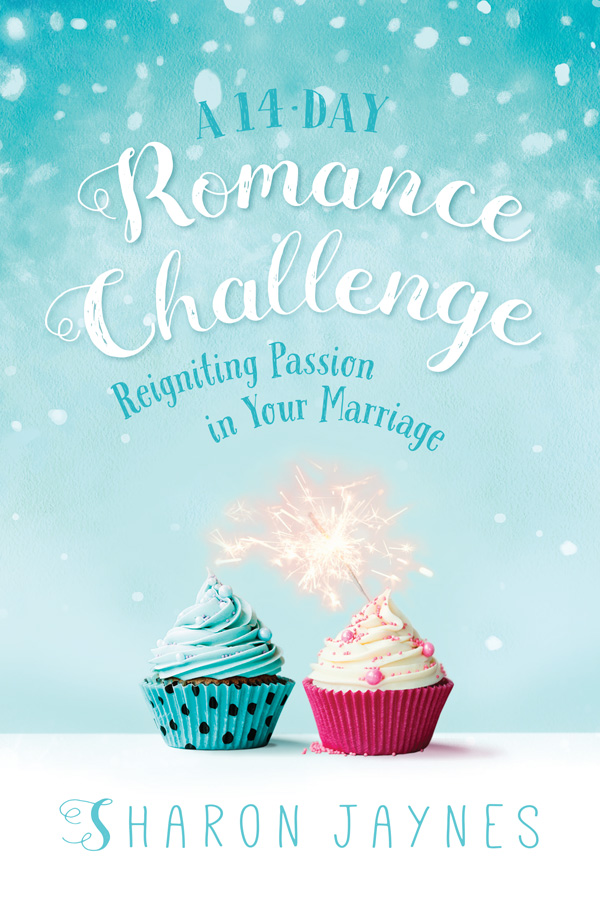 Does your marriage need a little help in the romance department? Has it grown ho-hum in the daily routine? If so, it's time to spice up your relationship and rekindle the passion with hundreds of creative ways to show your man just how much you love him.
This book offers heart-stirring inspiration and simple ideas that will put a smile on your husband's face and a spark in your marriage. Get ready to…
* wow your guy with simple acts of affection he'll treasure for a lifetime
* wake up the passion that was God's idea in the first place
* watch your marriage grow stronger and your love grow deeper.
Take the 14-Day Romance Challenge and make your husband feel like the luckiest man on earth.