[typography font="Old Standard TT" size="35″ size_format="px" color="#3aa6c7″]S[/typography] everal years ago, I came across the following. It was a letter that could have been written by Mary, the mother of Jesus. At the beginning of each holiday season, I pull it out and read it again to help me keep Jesus the focus of this grand celebration we call Christmas.
I want to share this poignant reminder with you as we seek to keep Jesus the center of our lives, the focus of the season, and reason for the joy of Christmas.
Dear Joseph,
Last night I had the strangest dream. And I don't understand it not really. But think it was about a birthday celebration for our Son. Well I think that's what it was about. People had been preparing for about 6 weeks. They had decorated the house and bought new clothes and gone shopping many times and bought elaborate gifts. 
But it was peculiar though because you see, the gifts weren't for our Son. They wrapped them in beautiful paper and tied them with lovely bows and stacked them under a tree. Yes! A tree, Joseph, right in their houses. They decorated a tree.
The branches were full of glowing balls and sparkling ornaments. And there was a figure on top of the tree that looked something like what an angel might look like.
Oh, it was so beautiful. Everyone was laughing and happy and all excited about the gifts. They gave gifts to each other, Joseph, not to our Son. I don't even think they knew Him. They never mentioned his name. Doesn't it seem odd for people to go to all that trouble to celebrate somebody's birthday when they don't even know Him. I had the strangest feeling that if our Son had gone to this celebration, He would have been intruding.
Everything was beautiful, Joseph. Everyone was full of cheer. But it made me want to cry. How sad for Jesus, not to be wanted at His own birthday celebration. I'm glad that it was only a dream. 
What if it would have been true?"
Love,
Mary
I wonder if that stirred your heart as much as it did mine. I want to make sure that is NOT true in my home, don't you? All through the month of December, I'm going to share ways to keep Jesus the focus of the holiday season from my book, Celebrating a Christ Centered Christmas. And I've love to hear your ideas as well.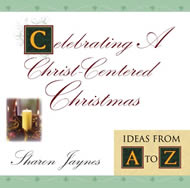 Here's my first idea:
1. Pray for the people who send you Christmas cards.  We place all our Christmas cards in a basket by the kitchen table. At dinner time, we pull out two cards and pray for the person or the family who sent the card. We continue this through Christmas and into the New Year until every sender is prayed for.
2. Now you share one of your ideas. I've got my pen and notepad ready!