He sat behind me in the airplane. He didn't speak, but I felt him rummaging about. His occasional kicks and presses against the back of my seat. Little boy noises. Restless, "get me out of here," stirrings.
And then I saw fingers. Five little fingers exploring the space between my and my neighbor's seats.
Little finger tips. Then a hand. A well-suited arm.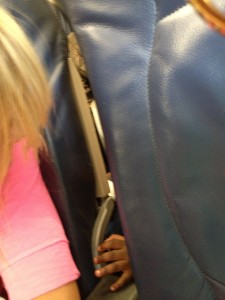 I held up my hand  to the space filled with trust, and he grabbed hold. No fear. Just trust.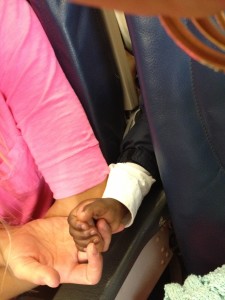 Jesus' words painted with little  fingers. "Let the little children come to me, and do not hinder them, for the kingdom of God belongs to such as these. Truly I tell you, anyone who will not receive the kingdom of God like a little child will never enter it." Mark 10:14-15
"Like a child of God…" Simple trust. Unadulterated faith. Reaching through the space and grabbing hold. Groping through the cracked and broken places of life and grasping tight. A Sudden Glory.
That is my prayer for you this weekend. Grab hold. Grasp tightly. Trust.
Sharon