Have you ever wished you could have a different life story? If so, keep reading.
"Mommy, tell me a story."
That was a common request when my son was a little guy. Whether riding in the car, getting a haircut, or being tucked in at bedtime, Steven loved for me to tell him a story. The one requirement for my made-up tales was that Steven had to give me the first line. "Okay, buddy," I'd say, "What's the first sentence?"
"Once upon a time there was a leaf . . ."
"Once upon a time there was a snail . . ."
"Once upon a time there was a tree . . ."
"Once upon a time there was a dragon . . ."
And so, the tale would begin.
Everybody loves a good story, but not everybody loves their own story.
Mistakes pile high like weeks-old laundry.
Shame whispers, "If they only knew."
Tear-stained pages warp and cause the volume to fall open to unwanted pages.
Dog-eared corners mark traumatic happenings we keep going back to in order to make sense of it all.
Some pages have spots worn thin from rubbing a mental eraser over words that won't go away. Lines we've tried to cross out instead stand out and taunt us. We've all got them—unwanted pages. Yes, I'd like a different story, please.
For most of us, it is not the whole of our stories that we don't like, but just certain parts. Our tragedies, traumas, and too-dark-to-tell memories may be different, but the pain is the same.
A husband left.
A boyfriend cheated.
A friend betrayed.
A parent abused.
A boss misused.
A disease ravished.
A steering wheel jerked.
A gunshot fired.
A child died.
I don't know the difficulties you've been through, but I do know your story didn't end there. There is more to be written, and God is even now dipping his pen into the inkwell of wholeness, writing your story and mine into His larger story. God turns broken stories into beautiful prose and unwanted pages into stunning narratives of victory. That's not just a promise; it's a bedrock truth—one I know from personal experience.
God never intends for us to stay stuck in our past pain. He longs to heal the broken place and fill the empty spaces. Click & Tweet! The Bible says this about Jesus through the prophetic words of Isaiah:
The Lord has anointed me to proclaim
good news to the poor.
He has sent me to bind up the brokenhearted,
to proclaim freedom for the captives
and release from darkness for the prisoners,
to proclaim the year of the Lord's favor
and the day of vengeance of our God,
to comfort all who mourn,
and provide for those who grieve in Zion—
to bestow on them a crown of beauty
instead of ashes,
the oil of joy
instead of mourning,
and a garment of praise
instead of a spirit of despair. (61:1-3 NIV)
Isn't it amazing that God can take our darkest chapters and turn them into our greatest victories? He can, you know. But He does require our cooperation. Great beauty can come from our marred and tattered stories. Immense light can emerge from our darkest and desperate days. It is only when we turn the broken pieces of our lives over to God that He shows us how to have a better story.
I want to encourage you today. Don't get stuck in the pain place or the shame place. Keep moving ahead and pray for God to show you how to turn your mourning into dancing.
LORD, sometimes I just don't like my story. However, I know that You can use every single page to bring glory to Your name. Help me to release the burden of my past to You, and to use what I've been through for good. In Jesus' Name, Amen.
What is one difficult chapter in your life that God has used for good? Click on comment to share. I'd love to hear about it.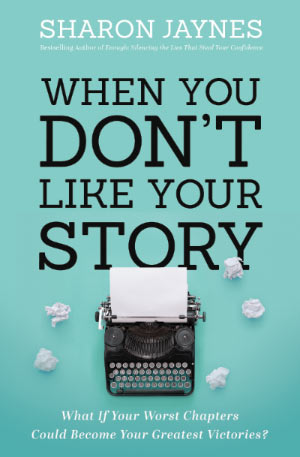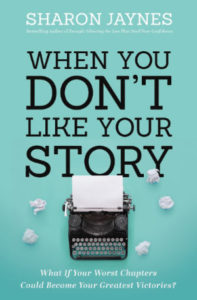 We all have pages of our stories that we wish we could rip out and throw in the trash. Chapters of heartache from what has been done to us and shame over what has been done through us. God doesn't want to rip out those stories, but repurpose them for good. If you're ready to turn your worst chapters into your greatest victories, know this, God is ready too. So, sink deep into God's life-changing truths in Sharon's book, When You Don't Like Your Story: What if Your Worst Chapters Could Become Your Greatest Victories. The next chapter is just beginning.
Includes an in-depth Bible study for individuals and groups. Downloadable Bible Study Videos also available.
Need prayer? Click on our Prayer Wall to share.