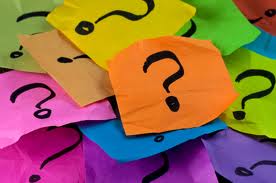 I can't believe I'm going to do this, but here goes. Starting in September, I'm going to start writing a special blog post called Tough Question Tuesdays.  Quite often I get emails from my readers with really tough questions. I mean tough. My heart longs to answer each and every one of them, but if I did, I wouldn't have time to write books, blog posts or devotions.
So here's what I'm going to do. I'm going to set aside one day a we
ek to answer tough questions. I'm going to pray over the questions that come in my email box, and pick one to be question of the week. I'll post the question and my response on a Tuesday.
Some questions that I get are very similar. So even though a posted question might not be your exact question, the post could be the answer to your question as well.
Let me make this perfectly clear…I don't have all the answers. I've spent my whole life asking God tough questions…and I am still asking Him tough questions.  And while I don't have all the answers, I know the One that does. I read the Book that does.
One thing I won't be doing on Tough Question Tuesdays is giving advice on personal situations. I don't know what God is doing in your life through the circumstances you are facing. However, I might be able to point you to Scripture that helps you hear from God more clearly.
So, do you have a tough question? Ask away! It could be a question about Scripture or a question about how to apply Scripture to your life?  Rest assured, I'm not going to post the question asker's name…just the question. Tough Question Tuesdays is a safe place.
Here's you official invitation. Email your Tough Question to Sharon@localhost/sjold. And then be on the lookout for a reply in a Tough Question Tuesday blog post.
I'd love for you to invite your friends to sign up for my blog posts at Sharon@localhost/sjold. It could be that the posts are just what she needs to help her live fully and free in Christ.
I'm excited! This is going to be quite an adventure.
Living Fully and Free,
Sharon