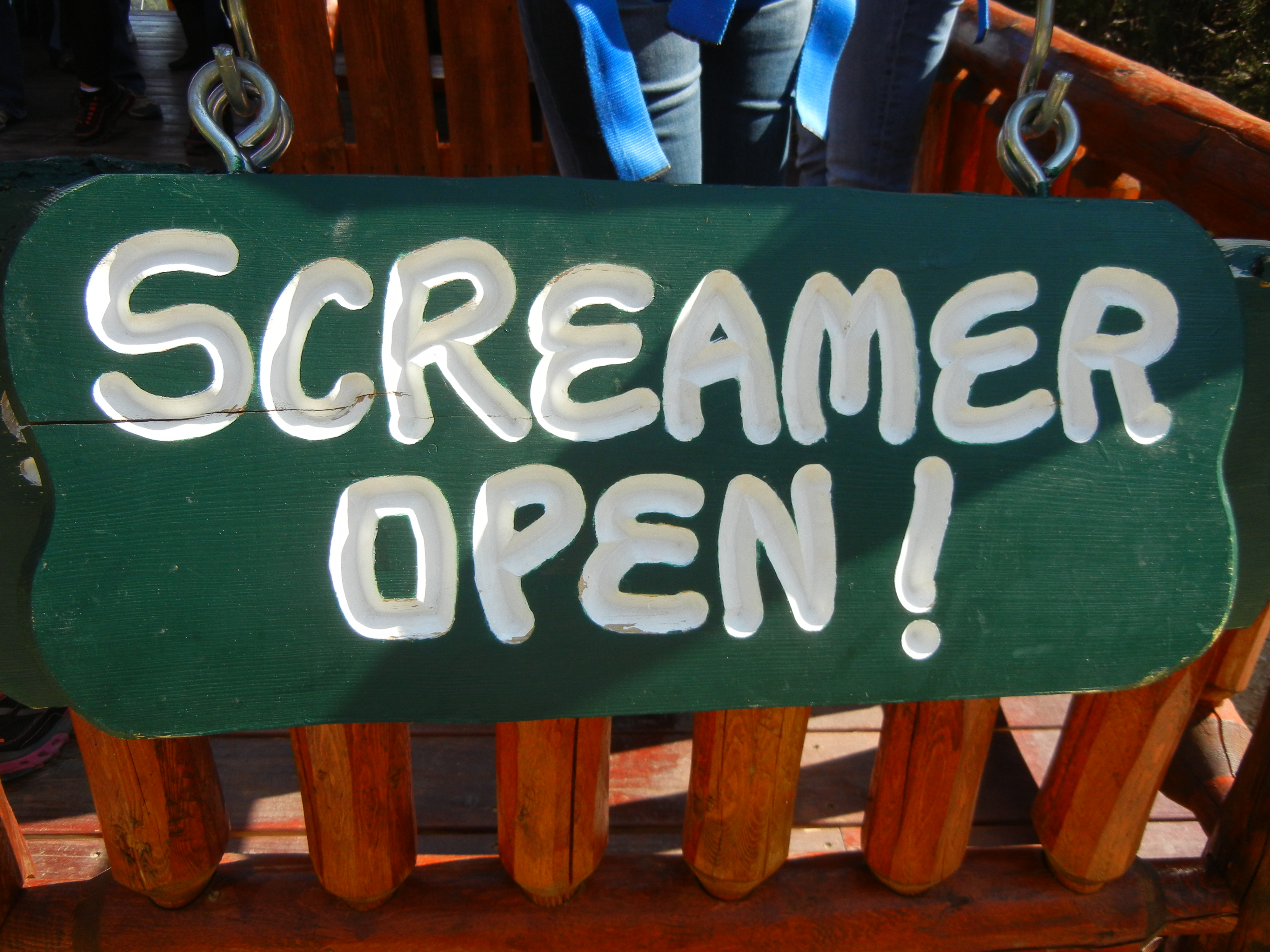 This could have been the dumbest thing I've ever done. Well, not the dumbest. Standing in line for 3 hours at a  Vera Bradley outlet sale that came to town was the dumbest. But this was a close second.
I spoke last weekend at Frontier Ranch in Buena Vista, Colorado.  It was an amazing weekend with women from Legacy Church in Albuquerque, New Mexico.  At the Ranch, they had this thing called The Screamer.
First, you climb up on this very high platform.
Then this kid fits you and two of your friends in tight, tight harnesses. You put a helmet on your head. (I'm convinced that this is just for looks. The helmet would do absolutely nothing to protect your brain if you fell. If you fell, you would not want your brain to work anyway.
You step to the edge of the platform and beg for forgiveness for putting the Lord, Thy God, to a test.
A young boy, who looks like he's about 14, has your life in his hands. He releases the cable and then you fly out into nothingness.
You, and your two friends scream. You just do. I'm the one on the end with my mouth open the widest.
I thought to myself…this is not the way I want to meet Jesus.
I use to think the Rapture would be fun. Now I'm not so sure.  (You know I'm kidding. Right?) The good news is, I lived. But I would not do it again.
There's not big spiritual lesson today. Just thought you might like to know what really goes on at women's retreats. Well, at least when you're hanging out with the wild and crazy Jesus lovin' ladies at Legacy Church in Albuquerque, New Mexico.
And here's another little tid bit of news…
The winner of the random drawing for Tuesday's blog post entries is Beth Ritchason. Here a picture of the butterfly she'll receive to remind her to look for moments of Sudden Glory. 
Do you like this little butterfly? Do you think I should offer more butterflies for random drawings from blog post entries? Just checking. Let me know.