Sharon's in-depth knowledge of Scripture, combined with an engaging story telling style, keeps listeners on the edge of their seats.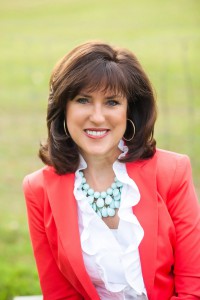 Whether it is a weekend retreat or conference keynote, Sharon's in-depth knowledge of Scripture and storytelling style keeps listeners on the edge of their seats. Peppered with laughter and salted with tears, Sharon shares how God miraculously transformed her family riddled with alcohol and abuse. God took a little girl bound by feelings of inferiority, insecurity and inadequacy and transformed her into a woman of courage and confidence. Her desire is to encourage, equip and empower women to discover their position and purpose as a child of God and a co-heir with Jesus Christ. She leads audiences on a spiritual treasure hunt to discover their true identity and see themselves as God sees them. Her messages inspire women to grasp the truth that can set them free, transform pain into purpose and become the magnificent creatures that God planned all along. No matter where a woman is on her journey toward the heart of God, Sharon helps them take the next step closer.
Sharon's presentations are excellent for a variety of women's events such as banquets, conferences, and retreats. Each topic is approximately 50-60 minutes and several can be woven together for conferences and weekend retreats.
Below you will see some typical topics and suggested event themes. However Sharon loves working with ministry coordinators to tailor each event to the unique needs and requests of the women. She  loves brainstorming with leaders to make each event fresh, creative, impactful, and meaningful.
---
Take Hold of the Faith You Long For
Let Go. Move Forward. Live Bold
Most women long to experience the abundant, thriving faith that Jesus came to give. However, many get stuck in the mediocre mundane faith that is less than what they'd hoped for. Sharon compares our faith to a trapeze artist who swings out, swings back, and then on the third swing takes hold of another bar to perform flips, twists, and summersaults. But what if he refused to let go of the first bar. He would be stuck hanging in the middle…which is where many of us are today. Paul wrote in Philippians 3:12, "I press on to take hold of that for which Christ Jesus took hold of me." In order to "take hold" of what Jesus has already taken hold of for us and placed in us, we have to "let go" of everything that holds us hostage and hinders us from doing so. We'll learn how to let go of insecurity and take hold of our true identity; let go of inadequacy and take hold of God's sufficiency; let go of the tendency to compare and take hold of our uniqueness; let go of a painful past and take hold of a purposeful future. Sharon camps out fireside with Moses at the burning bush to answer four questions that we all must answer to experience life to the full.  She'll show you how to turn stumbling blocks from the past into stepping stone in the present. Women leave ready to let go of all that hinders them from living life to the full, move forward to do all that God has fashioned them to do, and live bold in the adventurous faith.
---
The Transforming Power of Gratitude
Nothing closes our eyes shut to experiencing God's presence like ingratitude, and the cure comes in capsules of praise, thanksgiving, and a grateful heart. In this session Sharon shows how gratitude aligns your perspective with God's truth, awakens your senses to experience God's presence, affects those around you in positive ways, and adjusts your attitude to experience joy in all things. You'll learn how gratitude changes the lens through which you see your circumstances as problems grow smaller and God grows larger. Jonah taught us that the way out of the belly of the whale is praise. If a woman feels far from God, Sharon shows how praise and thanksgiving is the ramp to get back on the right road. WARNING: in this session, gratitude will be very contagious and each woman is sure to leave a carrier. (This is a single, stand-alone session, but can be combined with other topics. It works well as a final session for a multi-session retreat or conference.)
---
Living Fully and Free –
Living the Life You've Always Wanted…the Life Jesus Came to Give
Alternate Title: Experience the Ultimate Makeover
Based on Sharon's books, Becoming Spiritually Beautiful and I'm Not Good Enough…and Other Lies Women Tell Themselves
Jesus said, "I have come that they might have life, and have it to the full," (John 10:10). So what keeps us from experiencing that abundant life that we all long for? What keeps us from living in the freedom that Jesus gave His life for? What keeps us from entering our own personal Promised Land? In this session, Sharon shares how a full calendar does not mean a full life. She shares how feelings of inferiority, insecurity, and inadequacy can stand in the way of experiencing all that God has planned for those who love Him, (1 Corinthians 2:9). However, when we believe the truth of who we are, what we have, and where we are as a child of God, He turns our "I can't" into "God can." This liberating seminar also includes a session on Leaving the Past Behind and Taking Every Thought Captive. While this topic works well as a stand along keynote session, it is most effective as a multi-session conference or retreat. This conference is similar to Becoming Spiritually Beautiful, but wrapped in a different package presentation.
Click here to see expanded multiple session descriptions.
Click here to see expanded multiple session descriptions.
---
The Power of A Woman's Words
Based on Sharon's book, The Power Of A Woman's Words.
Words… one of the most significant forces in the universe… can be used for good or evil. Our words can change the course of a day… the course of a life. They become the mirror in which others see themselves. Our words can instill confidence into a child's heart, encourage a husband to accomplish great feats, fan the dying embers of a friend's smoldering dreams, cheer on fellow believers to run the great race of life with endurance, and draw the lost to Christ. Sharon inspires women to use words in positive ways as she explores the power we possess, the people we impact, the potential for change, and the profound possibilities when we harness this mighty force and use it to speak life to those around us.
Click here to see expanded multiple session descriptions.
---
Trusting God
Coordinates with Sharon's book, Trusting God (Co-authored with Gwen Smith and Mary Southerland)
"Just trust me." Those are the words we hear in movies just before someting bad is about to happen. And yet, we are told to trust God. In a culture where we tend to take control of our own lives, trusting God has become a religious platitude rather than a life-changing attitude. We say it, but do we mean it? And what does trusting God look like? In this session Shaon shows women how trusting God turns pitiful into powerful, fretful into faithful, and a worrier into a warrior. 1 Corinthians 2:9 says, "No eye has seen, no ear has heard, no mind has conceived all that God has planned for those who love Him." And when we trust God, those plans become an experiential reality in our lives! hang on to your hats! Trusting God takes you to amazing places!
This session is perfect for a one-time keynote or a multiple-session event.
---
Dreams of A Woman – God's Plan for Fulfilling Your Dreams
Based on Sharon's book, The 5 dreams of Every Woman.
The desires have been there for as long as we can remember: to be beautiful, to be a bride, to be a mother, to be a cherished daughter, and to have a best friend. But for many, life took a different turn than they expected. In this session, Sharon challenges women to dust off their hopes and dare to dream again – through God's eyes. She shares stories of both biblical and contemporary women: their broken dreams, interrupted dreams, and most importantly, restored dreams. Women realize that God still has dreams for their lives and has not forgotten them. She gives six steps to discovering God's plans for our lives and fills them with courage to take the first steps of faith. Sharon encourages women to place their hands firmly in His – take a deep breath and begin the exciting journey to a place they thought they'd never find: the dream God planned for them all along.
This topic is a perfect for retreats with multiple sessions or as one stand alone keynote.
Click here to see expanded multiple session descriptions.
---
Celebrating a Christ-Centered Christmas
Based on Sharon's book, Celebrating A Christ-Centered Christmas.
Much has changed since the God of the universe decorated the night sky with the star of Bethlehem and directed the choir of angels announcing Christ's birth over 2000 years ago. But we don't have to let commercialism rule in our hearts and homes. In this session, Sharon shares practical and inspirational ways, from A-Z, on how to keep Christ the focus of the holiday season. This session comes equipped with a "show and tell" as Sharon shows actual Christmas items from her book, Celebrating a Christ Centered Christmas, and demonstrates how to create a Christ-centered atmosphere in the home. She also shares her own personal testimony and how the Christ-child transformed her family and changed Christmas forever. This session is perfect for an outreach event!
---
How Jesus Broke the Rules to Set You Free
A Woman's Walk in Power and Purpose Woman
Based on Sharon's book, How Jesus Broke the Rules to Set You Free
Jesus told Philip, "He who has seen Me has seen the Father." So to discover what God really thinks about women, we have only to look at the ministry and message of His Son. In this session Sharon sets the stage for Jesus' arrival in Bethlehem to understand how women were treated and viewed. Then with the paintbrush of words, she shows the great lengths Jesus went through to minister to women. You'll see how He broke the rules to set women free:
Mary, Jesus' mother ~ from ordinary days to extraordinary purpose
Mary Magdalene ~ from rejected to chosen
The Samaritan Woman ~ from empty to full
The Woman Caught in Adultery ~ from condemned to forgiven
Mary of Bethany ~ from excluded to included
You'll leave feeling invigorated as you see how He sets women free from painful pasts and free to purposeful futures, how He saves us and then sends us, and how He pulls women from the shadows of society to play leading roles in the most important story of all time.
---
Your Scars Are Beautiful To God
Based on Sharon's book, Your Scars Are Beautiful To God.
Like the spine of a good book, scars, by their very nature imply there's a story to tell. While some are on the surface, most are hidden in deep recesses of the soul. But like buried treasure, God's longs for us to unearth those jewels, come out of hiding, and invest those scars in the lives of others. Just as the disciples recognized the resurrected Jesus when they saw His scars, others will recognize the Healer Jesus when we show them ours. In Your Scars are Beautiful to God, Sharon takes us on a journey to discovering peace and purpose in the pain of our past by rejecting the lie of disqualification, resisting the fear of rejection, and releasing the power of our own personal stories. Learn to see your scars through God's eyes – your scars are beautiful to God.
---
Becoming A Woman Who Listens To God
Based on Sharon's book, Becoming A Woman Who Listens To God.
Women long to hear God's voice – not as a once-in-a-lifetime experience but on a daily basis. They desire to see His fingerprints on the pages of their busy everyday lives. The good news is that some of God's most memorable messages were not delivered while men and women were away on a spiritual retreat but right in the middle of the hustle and bustle of everyday life. Like wise, God speaks to us in our everyday lives. The question is – will we listen? Will we recognize His still small voice? In this session, Sharon takes a fun, tender look at how to recognize some of the wonderful and unexpected ways God speaks to us today through the Bible, prayer, creation, circumstances, and people who cross our paths. She also explores barriers that hinder hearing God's voice and bridges that help. Women learn to sense God's presence in their own lives and listen to the One who loves to talk to them most.
---
Becoming The Woman of His Dreams
Based on Sharon's book, Becoming The Woman of His Dreams.
Do you want to become the woman of your husband's dreams? The woman who makes him sorry to leave in the morning and eager to come home at night? Sharon interviewed hundreds of men to discover just what a man longs for in the woman of his dreams – and you might be surprised! In this session Sharon teaches seven qualities every man longs. Sprinkled throughout are glimpses of men's hearts as Sharon honestly shares their responses to the survey. She also tells real life stories of restoration – all wrapped in biblical principles. Based on the book by the same title, this session will help make a weak marriage strong and a good marriage great.
---
Being A Great Mom, Raising Great Kids
Based on Sharon's book, Being A Great Mom, Raising Great Kids.
What is every mother's heart's desire? To be a great mom and raise great kids! In this session, Sharon inspires mothers of all ages and helps them understand they have the most important job on earth. She shares seven qualities of great parenting, wrapped in heart tugging stories and heart changing biblical principles. Using the acrostic B-L-E-S-S-E-D, moms learn how to be a beacon, listener, seed-sower, self-esteem builder, example-setter, and diligent. Get ready for lots of laughs and even a few tears as you explore what it means to be a great mom.
---
Building Confidence as a Leader
Whether you are a Women's Ministry Director, Bible study teacher, God's representative in the workplace, or a mom leading the next generation to greatness, God has called you to lead with the confidence. You can be sure that if He has called you to it…He will see you through it. Learn how God transforms feelings of insecurity, inferiority and inadequacy into confidence, competence, and courage. What made the difference between a reluctant Moses who begged God to choose someone else and a confident young David who ran toward the giant with a rock and a sling? David knew God's power working through him could accomplish anything. You can have that same God-confidence when you grasp God's perspective on your calling. You'll leave this session feeling empowered to lead as God works in you and through you to impact the world for Christ.