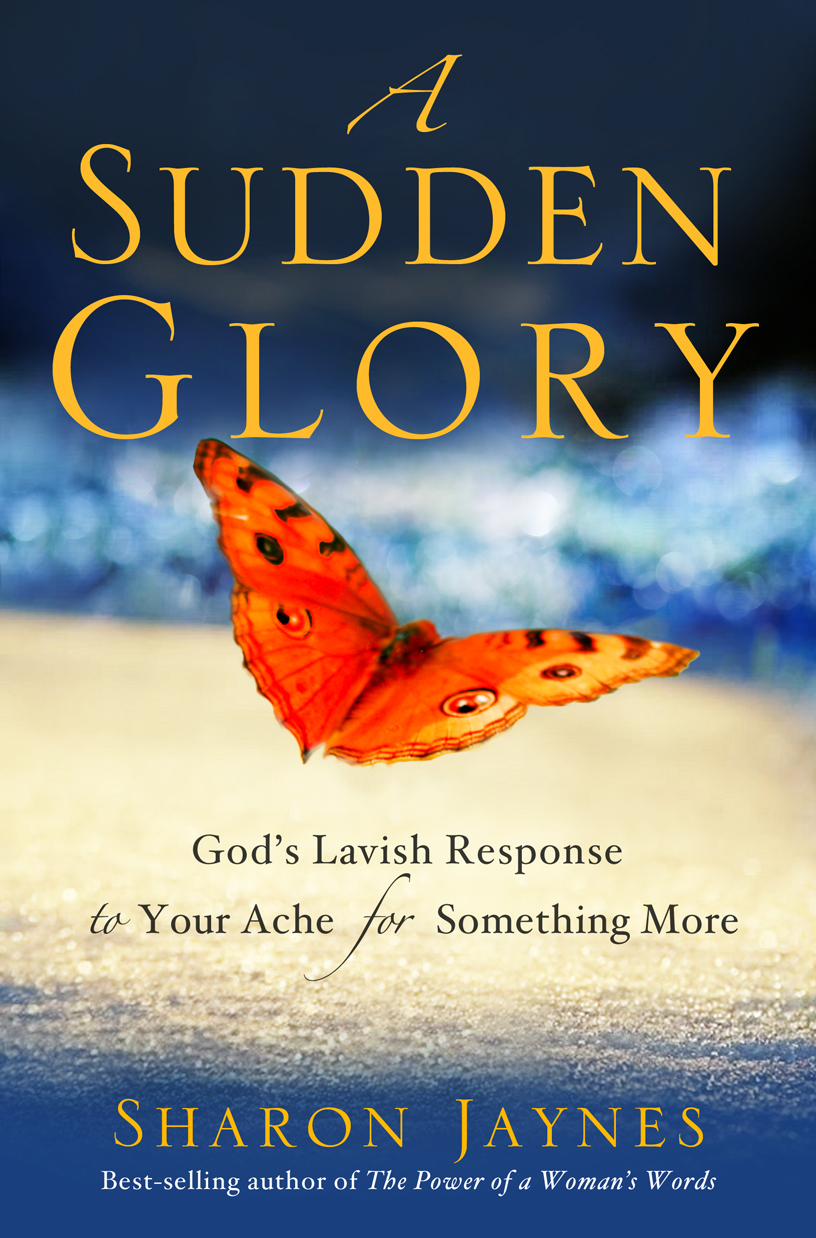 NEWS FLASH: IF YOU READ TO THE END OF THIS TOO LONG POST, YOU COULD WIN A FREE BOOK:)
Yesterday was the launch day for A Sudden Glory: God's Lavish Response to Your Ache for Something More.  For the rest of this week I am going to be talking a lot about this new message that has helped me have a more intimate relationship with God than ever before.
This is a temporary launch excitement. Don't worry that I'm going to be flashing pictures of my new "baby" like a grandma on steroids. I'm just so passionate about this message and hope you'll join the celebration to help spread the word. A Sudden Glory is a message that will help women:
Stop feeling like they are constantly disappointing God.
Start enjoying God's relentless romance drawing her clos
Stop feeling like God is far away.
Start living in constant union and communion with God in intimate relationship.
Stop striving to discover what God wants from her.
Start seeing what God wants for her…the abundant life Jesus came to give 
Stop carrying around the constant ache for something more.
Start experiencing God's lavish moments of sudden glory to satisfy her longing heart.
Stop looking for the mysterious formula to make an intimate relationship with God a reality.
Start enjoying God's presence in all of life…all of it.
Just writing those bullet points gets me excited all over again. You gals on my blog are my family, so I thought this was the best place to ask for help spreading the word.
What can you do? Thought you'd never ask.
. Rent a plane and write an announcement in the sky.  For everyone who doesn't have access to an airplane, here are a few other ideas.
. For those on twitter, share a tweet. Here are a few premade tweets just for you! Just click on the tweet to post. Also, at http://localhost/sjold/a-sudden-glory/tweetables/ there is a bunch more inspirational tweets that you'll just love. It's a great place to go it you want to tweet something inspirational.Click on the text to Tweet!

Rather than ask what God wants from you, He wants you to ask what He wants for you. #ASuddenGlory http://sjayn.es
 
Don't let the busyness of life crowd out the Source of life. #ASuddenGlory http://sjayn.es

Erase the lines between the secular and sacred and all of life becomes an act of worship. #ASuddenGlory http://sjayn.es
 
Glory moments abound when we tune into God's frequency and listen. #ASuddenGlory http://sjayn.es
 
Praise keeps you alert to glimpses of sudden glory all around. #ASuddenGlory http://sjayn.es
As soon as you start reading the book, post a comment on FACEBOOK and/or link to your profile page, or send a TWEET   letting friends and followers know you're reading (and enjoying!) the book.
Recommend the book to your women's ministry. It has a comprehensive Bible study guide in the back that is perfect for small groups.  Let them know they can download a free sample chapter and watch videos at http://localhost/sjold/a-sudden-glory/
Start a discussion about the book on your blog or on e-mail loops you're a part of. If you let me know about it, I'll pop by for a visit.
If you have a website or write a newsletter, or a blog consider featuring it. I'd love to pop in a guest blogger or do an interview for your site.
For those on Pinterest…Pin It!  Here's the link to click for the pin of the book cover. http://localhost/sjold/a-sudden-glory/
Here are some of my favorite quotes from A Sudden Glory to pin on your Pinterest Boards
Word of mouth is always the best way to spread the word and create a buzz. Whether you tweet about it, pin it, share it on Facebook or simply tell your next door neighbor, you'll be spreading the message about how to experience God's presence in a more intimate way than ever before.
HURRAY! You made it to the bottom. Now, here's the fun part. If you send the link to the landing page for A Sudden Glory, http://localhost/sjold/a-sudden-glory/ , to 5 friends who long for a closer, more intimate relationship with God, filled with moments of sudden glory, you'll be entered in a giveaway for a FREE COPY. I'll randomly pick 5 names from the comments. So share away and be blessed!