Sharon's in-depth knowledge of Scripture, combined with an engaging story telling style, keeps listeners on the edge of their seats.
Whether it is a weekend retreat or conference keynote, Sharon's in-depth knowledge of Scripture and storytelling style keeps listeners on the edge of their seats. Peppered with laughter and salted with tears, Sharon shares how God miraculously transformed her family riddled with alcohol and abuse. God took a little girl bound by feelings of inferiority, insecurity and inadequacy and transformed her into a woman of courage and confidence. Her desire is to encourage, equip and empower women to discover their position and purpose as a child of God and a co-heir with Jesus Christ. She leads audiences on a spiritual treasure hunt to discover their true identity and see themselves as God sees them. Her messages inspire women to grasp the truth that can set them free, transform pain into purpose and become the magnificent creatures that God planned all along. No matter where a woman is on her journey toward the heart of God, Sharon helps them take the next step closer.
Sharon's presentations are excellent for a variety of women's events such as banquets, conferences, and retreats. Each topic is approximately 50-60 minutes and several can be woven together for conferences and weekend retreats.
Unshakable Faith (Or: Oh, The Places You'll Go! )
The Bible tells us, "No eye has seen, no ear has heard, no mind has conceived all that God has prepared for those who love Him" (1 Corinthians 2:9). In this session (or series of sessions), Sharon camps out fireside with Moses at the burning bush to answer four questions that we all must answer to experience life to the full. While God had a great plan for his life, Moses doubted his true identity, questioned God's timeless sufficiency, worried about his ruined credibility, and failed to see his pre-ordained God-given ability. By answer each one of Moses objections in our own lives, we'll be ready to experience the adventurous life of faith that God intended all along, see our past as stepping-stones rather than stumbling blocks, and have an unshakable faith no matter what God calls us to do or go through.  Sharon also visits the battleground with David to learn how to have an unshakeable faith that slays giants, moves mountains, and says "yes" to God.  Women leave with the confidence to turn "I can't" into "God can."  
This presentation works well as a one-session Key Note, two session series, or a three session series. Oh! the Places You'll Go! graphic provided.
[/box]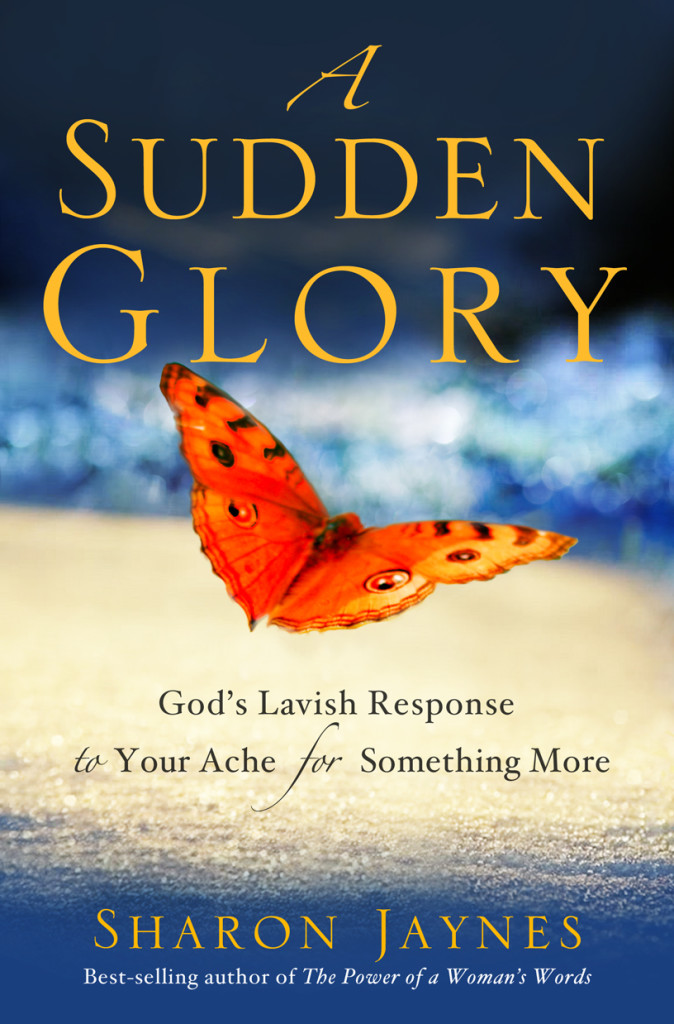 The Transforming Power of Gratitude
Based one small portion of A Sudden Glory: God's Lavish Response to Your Ache for Something More

Nothing closes our eyes shut to experiencing God's presence like ingratitude, and the cure comes in capsules of praise, thanksgiving, and a grateful heart. In this session Sharon shows how gratitude aligns your perspective with God's truth, awakens your senses to experience God's presence, affects those around you in positive ways, and adjusts your attitude to experience joy in all things. You'll learn how gratitude changes the lens through which you see your circumstances as  problems grow smaller and God grows larger. Jonah taught us that the way out of the belly of the whale is praise. If a woman feels far from God, Sharon shows how praise and thanksgiving is the ramp to get back on the right road. WARNING: in this session, gratitude will be very contagious and each woman is sure to leave a carrier.  (This is a single, stand-alone session, but can be combined with other topics. It works well as a final session for a multi-session retreat or conference.)