Becoming Spiritually Beautiful – CD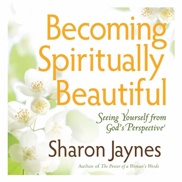 Women long to be beautiful. However, may fail to realize that true beauty begins on the inside and works its way out. Learn to let God transform feelings of inferiority, insecurity, and inadequacy into courage, confidence, and captivating beauty that comes from knowing who you really are-God's marvelous masterpiece.
In this session, Sharon Jaynes combines powerful stories from her own life and the lives of other women with truths of Scripture to encourage, equip, and empower you to walk as a woman who knows she is dearly loved, uniquely created, and greatly valued. You'll begin to see yourself as God sees you and feel radiant as never before.