Archive for the Prayer/Spiritual Warfare Category
"For our struggle is not against flesh and blood, but against the rulers, against the authorities, against the powers of this dark world and against the spiritual forces of evil in the heavenly realms" (Ephesians 6:12 NIV).
When God created man, He stepped back and said: "It is not good for the man to be alone. I will make a helper suitable for him," (Genesis 2:18).
The Hebrew word translated "helper" that is used for woman is ezer. It is derived from the Hebrew word used of God and the Holy Spirit, "azar." Both mean "helper" – one who comes alongside to aid, assist or rescue. Ezer appears twenty-one times in the Old Testament. Two times it is used of the woman in Genesis 2, and sixteen times it is used of God or Yahweh as the helper of His people.
The remaining three references appear in the books of the prophets, who use it in reference to military aid. Interestingly the sixteen times the word, ezer, is used of God, it also carries military connotations.  "O LORD, be my helper," David cried (Psalm 30:10 NASB). "My father's God was my helper; he saved me from the sword of the Pharaoh," Moses proclaimed (Exodus 18:4).  Clearly, the word "ezer" holds a place of great honor. It is a portrait of great strength.
Theologians William Mounce, in his Complete Expository Dictionary of Old and New Testament Words paints a poignant picture:
With so many references to God as our helper, it is obvious that an ezer is in no way inferior to the one who receives help. This is important because this is the word that God uses in Genesis 2:18 when he says about Adam, "It is not good for the man to be alone. I will make a helper suitable for him." God then forms Eve as his ezer.  According to God's design, therefore, the man and the woman, the husband and the wife, have been designed by God to stand together and help each other fight the battles of life. And God is there as the divine ezer to fight with them."
I was surprised to discover that even the Proverbs 31 woman, this woman who has been showcased as a godly role model for centuries, was referred to in military terms. "An excellent wife, who can find?" the passage begins. "Her worth is far above jewels" (Proverbs 31:10 NASB). The New International Version calls her "a wife of noble character." The Amplified Bible describes her as "a capable, intelligent, and virtuous woman." The Hebrew word that is translated "excellent" or "virtuous" can also mean "wealthy, prosperous, valiant, boldly courageous, powerful, mighty warrior." Did you catch that? "Mighty warrior."
I'm not suggesting you replace your jeans with battle fatigues, brooms with rifles, and stilettos with army boots. But I am suggesting that God has given you an amazing role as a prayer warrior on your husband's behalf.
There is a spiritual battle going on all around us, and Paul urges us to be prepared, armed and alert. Paul wrote to the Corinthians: "Though we live in the world, we do not wage war as the world does. The weapons we fight with are not the weapons of the world. On the contrary, they have divine power to demolish strongholds," (2 Corinthians 10:3-4).
In my book, What God Really Thinks about Women, I noted the following:
God did not create woman simply because man was lonely or needed a reproductive partner. He intentionally fashioned woman to complete man-to love with him, work with him, rule with him, live life with him, procreate with him, and to fight alongside him. She was a female image bearer in this mysterious union of marriage. Woman was and is a warrior called to fight alongside man in the greatest battle that was yet to come-a battle not fought on the battlefield with guns, but on our knees in prayer.
Through prayer, the enemy's plans are intercepted. Through prayer, the powers, principalities, and authorities of Satan's realm are defeated. Through prayer, the power and provision of God flows into the lives of His people.
Jesus said he has given you power and authority to "overcome all the power of the enemy,' (Luke 10:19). "The one who is in you is greater than the one who is in the world," (1 John 4:4). You are an ezer, uniquely fashioned and supernaturally equipped to pray for your husband.
Let's Pray:
In today's prayer, I'll lead you through how to pray for your husband from head to toe.
Dear Lord, today I pray for my husband, from head to toe.
His Head –That he will look to You as Lord of his life. (1 Corinthians 11:13)
His Mind – That he will have the mind of Christ and think as the Holy Spirit would lead him and not the flesh. (1 Corinthians 2:16)
His Eyes –That You will keep his eyes from temptation and that he will turn his eyes from sin. (Matthew 6:13, Mark 9:47)
His Ears – That he will hear Your still small voice instructing him. (1 Kings 19:12, Psalm 32:8)
His Mouth – That his words will be pleasing to You. (Proverbs 19:14)
His Neck –That he will humble himself before You and be strong, courageous, and careful to do everything written in Your Word so that he will be prosperous and successful. (James 4:10, Joshua 1:8-9)
His Heart-That he will love and trust You with his whole heart. (Deuteronomy 6:5;  Proverbs 3:5)
His Arms-That You will be his strength. (Psalm 73:26)
His Hands-That he will enjoy the work of his hands and see it as a gift from You. (Ecclesiastes 3:13, 5:19)
His Ring Finger – That he will be true to our marriage vows and that our love will never wane. (Proverb 3:3; Malachi 2:16)
His Legs – That he will stand firm in his faith and not waver. (Psalm 62:6)
His feet – That You will order his steps and that he will walk in Your truth. (Proverbs 4:25, Psalm 26:3)
What Do You Think? 
Consider asking your husband for some specific ways that you can pray for him today.
Look up each of the Scripture references above and make the prayer for your husband specific to his particular needs.
Find one friend with whom you can pray for your marriage. Commit to pray for each other's marriage on a regular basis.
If you prayed for your husband today, from head to toe, click over to my blog page and say, "I've got him covered!"
Want More? 
I don't think there is any other role for a wife than to pray for her husband. If you would like a laminated card of verses to pray for your husband from head to toe, click over to my webpage to check it out. It will fit into your Bible for quick reference.
14-Day Romancing Your Husband Challenge: How would you like to join your girlfriends in a 14-day Romancing Your Husband Challenge? Click over to www.sharonjaynes.com, click on the challenge sign-up button in the right column of the home page, and your 14-day challenge emails will begin.  The chance to sign up will end February 28th. Come on girlfriend, February is the love month – it's time to spice up your marriage.
Click here to comment

202
My yoke upon you and learn from me, for my yoke is easy and my burden is light,"
 (Matthew 11:28-230 NIV).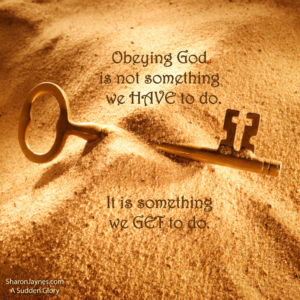 Here's a question. Do you think obedience to God is easy or hard? Hmmm. Obedience may seem hard at first, but in reality, obedience is the easy way. It is difficult to cope with the messes we get into when we don't obey. The consequences of sin are hard to deal with. Think about the times you have disobeyed or turned your back on God. What were the results? Easy? Hard?
Satan will try and convince you that obedience is much too hard, that it carries too high a price, but he will never tell you the cost of not obeying God. He will never tell you the glory moments you will forfeit by refusing or ignoring God's invitation to join Him.
Practicing Acts 17:28 (In him we live and move and have our being.) will never lead to sin. When we wrangle from God's embrace and set out on our own, that's when we get in trouble. God isn't telling us to obey to make life difficult. God wants us to obey to make life less difficult. The end result of obedience is the blessed way…smooth moves.
Jesus said, "Come to me, all you who labor and are heavy laden, and I will give you rest. Take My yoke upon you and learn from me, for my yoke is easy and my burden is light," (Matthew 11:28-30). The yoke is simply a farmer's understanding of the divine dance of obedience. When two oxen are yoked together, they move as one—walking in tandem to the bidding of the master. Usually, an older, more experienced animal is yoked with a young upstart. The apprentice ox learns from the more seasoned ox as they walk along tethered together. If the younger animal tries to surge ahead, the yoke chokes at his neck and slows him down. If he lags behind, the yoke chafes at his neck and prods him to hurry along.
And what does Jesus say about this yoke? It is not hard. It is not difficult. It is not heavy. It is easy. It is light. Being yoked to Jesus actually makes life much simpler…smoother…more peace-filled.
God said to the people of Israel: "If only you had paid attention to my commands, your peace would have been like a river, your righteousness like the waves of the sea." (Isaiah 48:18). A river flows unhindered over rocks and boulders as it moves from one place to the next. It flows around them, over them, and past them—all the while smoothing rough edges. A river doesn't strive to get from one place to another. It simply flows. That is the glory life of living and moving and having our being in Christ. We simply flow with a sacred inner calmness. Sometimes circumstances will be like tumultuous white-capped rapids, other times like a lazy gentle stream. But the life in union with Jesus keeps flowing. Moving forward. And in the journey, we catch glimpses of sudden glory in the scenery as we move between life's banks.
Obedience is so much more than following a list of do's and don'ts. Practicing religion rather than enjoying a love relationship with Jesus is like trying to plow the field alone. It will exhaust you rather than energize you. You will feel like a martyr and then wonder why others around you seem to be so joyful in their calling. Obedience because of our love relationship energizes our lives. Obedience out of a sense of duty or law drains. Always drains.
Religion operates on a "works of the law" principle: "I obey God, therefore, I am accepted by God." Relationship operates on the gospel of grace principle: "I am accepted by God through the finished work of Jesus, therefore I obey—because I love and trust Him."  We're going to talk more about that in the next chapter. This is important to understand because until we grasp the difference, we will never experience the joy of living and moving and having our being in Christ.
Obedience is a response to love. Jesus said, "If anyone loves me, he will obey my teaching. My Father will love him, and we will come to him and make our home with him. He who does not love me will not obey my teaching," (John 14:23-24).
Sometimes relinquishing control and following Jesus' lead through obedience can feel uncertain or awkward, like when your dance partner leads you into a new move for the very first time. But each time you say yes to God, a new passion and peace flows through your veins until eventually, hopefully, a total transfusion of Christ-centered living replaces self-centered stubbornness. Intimacy becomes sweeter. Passion grows stronger. Glory moments become easier to see. Unique glory moments…selected especially for you.
 Let's Pray
Dear Lord, thank You for loving me enough to provide boundaries in which to experience the abundant life. Help me to obey You quickly and fully, so that I can experience all that You have for me. I don't want to miss a single blessing because I've chosen to walk through the wrong door. In Jesus' Name, Amen.
 What do you Think? 
Think of a time you flat out disobeyed God. What was the outcome?
Think of a time you willingly obeyed God. What was the outcome?
Which outcome was the best in the long run?
There's an old saying in the South… "Dance with the one who brung you." (I know  that's incorrect English. But it correct "southern.")   So here's the question…Are you willing to dance with the One who made you? Remember before you answer…He has to be the leader.
If your answer is yes, click on to my blog post at www.sharonjaynes.com and say, "I'm dancing with the One who made me, and I'm following His lead!"
 Want More?
On November 28th, I'll be doing a Live Stream Video. What in the world is that? It is a time for us to meet "face-to-face."  All you have to do is  go to livestream.com/waterbrookmultnomah and voila, you'll be part of the party. I'll be talking about God's lavish reponse to your ache for something more, answering questions that you can ask right there on the spot via you own computer, and giving away lots of goodies. So please come!!!! 9:00 ET, 6:00 PST.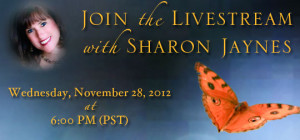 My new book, A Sudden Glory: God's Lavish Response to Your Ache for Something More, is all about raising your expectations to experience the full, abundant life that Jesus came to give. If you've settled for a ho-hum, so-so, Christian life, it is time to start enjoying the abundant life Jesus came to give. God wants you to experience His presence every day through moments of sudden glory where He makes His presence known. Ready to get started? Download a free sample chapter or watch the videos on my website! AND come to the live stream event!
Click here to comment

72
"Don't be deceived, my dear brothers (and sisters). Every good and perfect gift is from above, coming down from the Father of the heavenly lights, who does not change like shifting shadows" (James 1:16, 17 NIV)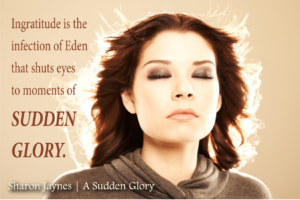 Adam and Eve lived in a perfect world. All their needs were cared for. They had perfect communion with God and each other. They were "naked and unashamed." The only restriction placed on them was that they were not to eat of the tree of the knowledge of good and evil located in the middle of the Garden. God warned them, "If you eat of it, you will surely die."
As they basked in the light of God's love, darkness slithered into the Garden with his plan to kill, steal and destroy the image bearers. And how did he do it? He did it with the most powerful weapon of all…lies.
"Now the serpent…" The great deceiver clothed himself as a serpent and slithered up to Eve with a game plan to destroy God's prized possession. He didn't come with a sword, or a gun, or even a knife for his attack.  He simply wielded lies.
The serpent knew Adam and Eve would not buy into a radical flamboyant denial of God, so he slithered into the garden with a twist and a turn of the truth. He began by causing Eve to doubt… "Did God really say you must not eat from any tree in the garden?" (Genesis 3:1).
Satan knew exactly what God had said. He was simply trying to confuse Eve. Perhaps he was evaluating just how well she knew the truth. He found out.
"We may eat fruit from the tress in the garden," Eve replied, "but God did say, 'You must not eat fruit from the tree that is in the middle of the garden, and you must not touch it, or you will die" (Genesis 3:3).
Bingo. She didn't know the truth that well after all. God never mentioned not touching the fruit.  That seems like a pretty good idea, but it was not what God said.
Second he denied God and lied about the consequences of disobedience. Satan said, "You willnot surely die." (3:4). He didn't even try to disguise the deception. He told a flat-out lie.
And finally, he told her she could be like God: "For God knows that when you eat of it your eyes will be opened, and you will be like God, knowing good and evil (Genesis 3:5). In other words, "God doesn't know what He's talking about. He's holding out on you. You don't need Him. You can be your own god."
Eve rejected the truth and believed the lie. She believed that she could be like god…in control of her own life. "When the woman saw that the fruit of the tree was good for food and pleasing to the eye, and also desirable for gaining wisdom, she took some and ate it.  She also gave some to her husband, who was with her."
And as she sunk her teeth into the forbidden fruit of deception and the lie slid down her delicate throat, the temptation settled in her soul and fermented into shame and condemnation. Her husband, who chose the woman over God, also felt the sickening rot of sin settle in his very soul. Suddenly shame and fear entered the world, and Adam and Eve hid from God like wayward children.
All temptation is an attempt to get us to live our lives independent of God. Satan is not very creative, but he is very affective. And he has been lying to us ever since. Why?  Because it works.
Every one of his lies springs from the idea that happiness is just a decision away. Satan wants you to believe God is holding out on you. You can be like God. You can be your own god.
Rather than being thankful for what we do have, he points out what we don't have. Think about it. Eve had at her disposal every tree in the garden except one.  Every one! That is a smorgasbord of goodness! But rather than being thankful, she bought the lie that the one thing she couldn't have was the one thing that would make her happy. I would be happy if… Is any of this sounding familiar to you? It should. Satan uses the same tactics with us that he used with Eve. Ingratitude is the infection of Eden, and it is cured with praise.
Eve believed the enemy's lie over God's truth. His plan worked. But what the serpent did not know was that God's amazing plan of forgiveness and grace was about to unfold. Satan did not win the battle for man's soul in the garden. Jesus Christ won the war on Calvary's Cross. When Jesus said, "It is finished," and then breathed his last, He made a way for all mankind to regain all that Adam and Eve had lost. 
Let's Pray
Dear God, help me to recognize the lies of the enemy.  I am so thankful for all that You have given me.  I commit, right now, that I will not entertain thoughts that "I would be happy if…" but rather praise You for all that You have given me: freedom in Christ, eternal life, access to You though prayer, salvation, redemption, purpose. I love You.
In Jesus Name,
Amen.
What do you Think? 
When was the last time you said or thought, "I would be happy if…"?
What does that thought imply?
Where does true joy come from?
The way we fight Satan's lies is with the Truth. What is one lie he has told you and the truth that proved him wrong? Leave a comment and share your answer.
Here's one of mine. Lie: You can't do anything right. Truth: I can do everything through Him (Christ) who gives me strength. (Philippians 4:13 NIV)
Want More? 
Are you ready to begin seeing yourself as God sees you?  Are you ready to begin living the abundant life that God planned all along?  Well, let's grab hands and begin the journey of walking in the truth together.  My book, I'm Not Good Enough…and Other Lies Women Tell Themselves, will open your eyes to the truth and set you free from the lies. Just visitwww.sharonjaynes.com, read a sample chapter or watch the video trailer to begin the amazing journey.
Click here to comment

33