Archive for the A Sudden Glory Bible Study Category
Lesson Ten
From Glory to Glory
Day 5
I'm so proud of you for finishing the study of A Sudden Glory! I hope God has opened your eyes to see Him, your ears to hear Him, your heart to sense His presence. I would love you to share what impacted your life the most from this study. And don't forget to come back often and share your moments of Sudden Glory. Just click on http://sharonjaynes.com/share-glory-moments/ or visit www.sharonjaynes.com, click on A Sudden Glory at the top of the page, and then the Share Your Moment button.
This was my first on-line Bible Study, and I'm still learning what works and what doesn't work. In a few days you'll be receiving a survey for you to tell me what you loved about the study, and how you think it could be better.
So congratulations! You're the first graduating class of my on-line Bible study series. I'll be doing this same study in the Fall of 2013, so if you enjoyed it, be sure to tell your friends.
Thank you so much for linking arms with me as we've grown in grace together.
Here's a Pin for Lesson Ten for the Pinterest gals.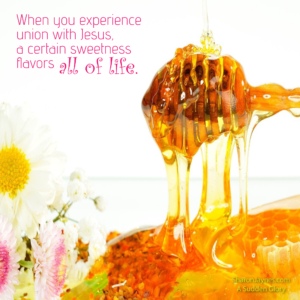 Click here to comment

6
Lesson Ten
From Glory to Glory
Day 4
Day four of each week has extra Bible study questions that are not in the Bible Study Guide. These are for on-line Bible study participants who want to dig a little deeper.
1. In question 3 we looked at Revelation 21-22. What is planted on each side of the river running through the great street in glory? Revelation 22:2
Where have you heard of that same tree before? Genesis 2:9
How does Jesus describe himself in the following verses? John 10:10, John 14:6
2. David just couldn't wait to talk about how he had seen God's glory. What did he say about this in Psalm 145?
In order to tell of sudden glory moments, he had to be looking for and expecting them. As you go about your day, how has this study helped you be more in-tuned to recognizing God's presence?
How does Isaiah echo the Psalmist's sentiments? Isaiah 12:4-6
Let the redeemed of the Lord (that's you), tell their story! Psalm 107:2
3. Your final assignment is to click over to the Share Your Moments page and tell one of your most memorable moments of Sudden Glory where God made his presence known to you personally.
Click here to comment

1
Lesson Ten
From Glory to Glory
Day 3
1. Answer questions 6-12 in Lesson 10 of the Study Guide.
2. Can you remember my definition for the "glory ache" and "a sudden glory?" See if you can say it from memory. If not, go back to lesson 1 and refresh your memory.
3. What a journey! What a sudden glory! Let's share our answers to question 12. List five truths
from A Sudden Glory you are now applying as you live and move and have your being in Jesus.
Click here to comment

6